European Officials Say Boris Johnson's Post-Brexit Wishlist Is "Delusional"
The Leave campaigner and frontrunner to succeed David Cameron has claimed the UK will have access to the single market while also being able to limit EU immigration, but EU government officials told BuzzFeed News this was impossible.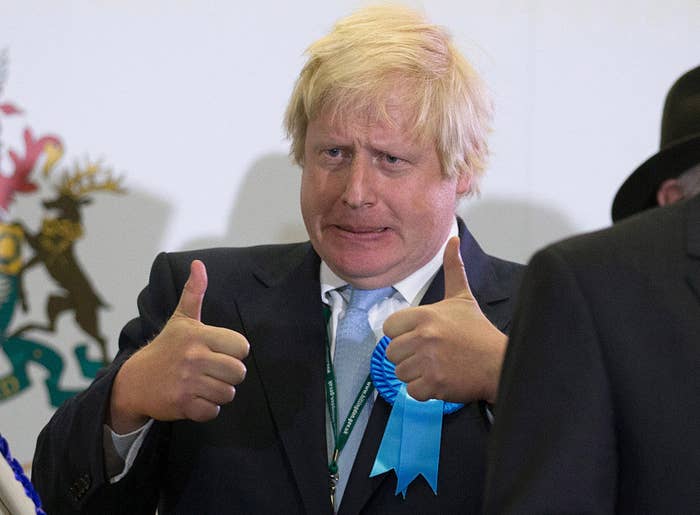 Senior EU government officials have told BuzzFeed News that Boris Johnson's promise of a post-Brexit Britain with access to the single market and none of the obligations is "delusional".
The Vote Leave campaign leader used his weekly Telegraph column, published on Sunday night, to set out for the first time his views on what the Brexit deal would look like for the UK.
He said Britain would be able to access the single market without sending "a substantial sum of money" to Brussels. While British people "would still be able to go and work in the EU; to live; to travel; to study; to buy homes and to settle down", he said, the UK would introduce a points-based immigration system that would restrict the number of EU citizens entering the country.
"What can I say about BoJo's column? It's a little bit delusional. I don't see how these suggestions could happen," one senior European government official told BuzzFeed News on Monday.
Some have interpreted Johnson's column as sign that Johnson and the Tory Leavers are aiming for a Norway-style model to continue to access the single market as a member of the European Economic Area (EEA).
But European governments have made clear that access to the single market and freedom of movement go hand in hand.
"Cherry-picking is not on the menu. There is no freedom of movement of goods without the freedom of movement of people," one EU official told BuzzFeed News.
"This is not about retaliation, nor is it just about the UK," said another government official. "It is about the integrity of the EU, and the equal treatment of all member states. Any special treatment towards one member state would ultimately make the whole weaker.
"Countries such as China would rather trade with each member state bilaterally so Europe's position is weaker than if it acts as a bloc."

Another said: "You cannot decouple the four freedoms [movement of goods, trade, people, and capital]".
That position is also shared across the four main eastern EU countries: Poland, Slovakia, the Czech Republic, and Hungary. They have let it be known that continued full access to the single market would mean freedom of movement, and no restrictions on any of the rights – benefits included – of their citizens in the UK. The four see this as a red line in any future negotiation.

There is a growing feeling in many European capitals that leaders of the Leave camp misunderstand the single market, and the principle of reciprocity.
"The Norway EEA model would come with free movement," said the eurozone government official. "Moreover, even in a free trade agreement the principle of reciprocity would apply: You cannot have the freedom of movement for Brits, and a points system for EU nationals going to Britain."

Johnson's claim that Britain could have both access to the single market and restrictions on EU migration was also met with scepticism by the vice chairman of German chancellor Angela Merkel's CDU party, Michael Fuchs.

"It's not for free," he told BBC Radio 4's Today programme, referring to single market access. "Nothing is for free. Sorry, this is the world."
Responding directly to a tweet asking if Johnson's column was "chutzpah or a dangerous loss of reality", Fuchs tweeted that it was "a bit of both. There ain't no free lunch."
EU governments have said that the Norway option would be the most feasible route for the UK.
But officials have privately expressed bewilderment at why the UK would go though a referendum, and a cumbersome negotiation, to ultimately end up in an arrangement that involves accepting most of the current rules and regulations, including freedom of movement, while still paying into the EU budget at similar levels to current net contributions but losing any chance to influence future rule-making.
One European official shared the following tweet with BuzzFeed News on Monday to describe the feeling:
All the officials BuzzFeed News spoke to on Monday were adamant that a strong trade relationship and cooperation were in everyone's interest, and there is a will to find a deal that works for everyone.
But any special treatment of the UK would be politically impossible – "and mad", enticing populists elsewhere – an official said. Merkel reiterated on Monday that ensuring EU cohesion and preventing contagion were top priorities.
The EU's institutions and member states have closed ranks on a common message over the past couple of days: There will be no talks until the UK government triggers Article 50, the formal mechanism to exit the EU.
On Monday afternoon, Merkel met French president Francois Hollande and Italian prime minister Matteo Renzi, and agreed that there would be no formal or informal talks before Article 50 is triggered.
The European parliament is expected to adopt a resolution tomorrow stating that a "new relationship between the UK and the EU may not be agreed before the conclusion of the withdrawal agreement".
The EU's 27 remaining member states have been just as clear. On Monday morning, a spokesperson for Merkel, who some had suggested would take a softer stance, also rejected the idea of informal exit talks.

Merkel's spokesperson said on Monday that while the German government respected that triggering Article 50 was the UK's prerogative, and that the UK needed time given David Cameron's resignation, they want to avoid a stalemate.

Also on Monday, David Cameron and chancellor George Osborne said Article 50 would not be triggered until a new prime minister was in place, and the UK had established what deal it wants. But BuzzFeed News understands that member states are prepared to wait until the end of the year at the latest.

However, it is unclear what would actually happen if Britain simply delays pressing the button. "Frankly, nobody knows," said a eurozone government official. "Legally it's up to the UK to trigger Article 50 but there would also be political considerations should stalemate continue beyond the autumn."