Good afternoon. Today ALL HELL BROKE LOOSE in the Labour party.
The drama started after former mayor of London Ken Livingstone decided to give his views in the wake of the Naz Shah debacle, telling BBC Radio London it wasn't possible to criticise Israel without facing accusations of anti-Semitism.
And within minutes a bunch of Labour MPs called for him to be suspended from the party.
So far, so Labour, but then one MP, John Mann, decided to confront Livingstone about his views in Millbank Tower. Then Mann chased him down the street, shouting at him.
Which was slightly awkward, because at the time Livingstone was on the phone to LBC, attempting to defend his views.
And even worse, was about to go on TV.
Here Livingstone is telling the viewers of BBC2's Daily Politics, and a rather unimpressed Nick Clegg, about his views on Hitler.
It didn't go all that well.
And it was about to get worse.
At the end of the interview, Livingstone admitted things had escalated a bit.
And now people were wondering where he would strike next.
Meanwhile, the Tories were watching the carnage unfold.
Would Labour's press team save the day?
Would the party's leader step in?
Come to think of it, where was Jeremy Corbyn?
Pity all the people trying to catch up by this point.
Things then took a twist as Livingstone sought shelter from the assembled press in a toilet.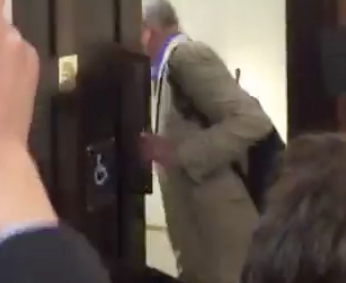 Then he escaped, but was chased by a dog.
Whereupon Labour announced he was suspended.
All this, on Ed Balls Day, of all days.