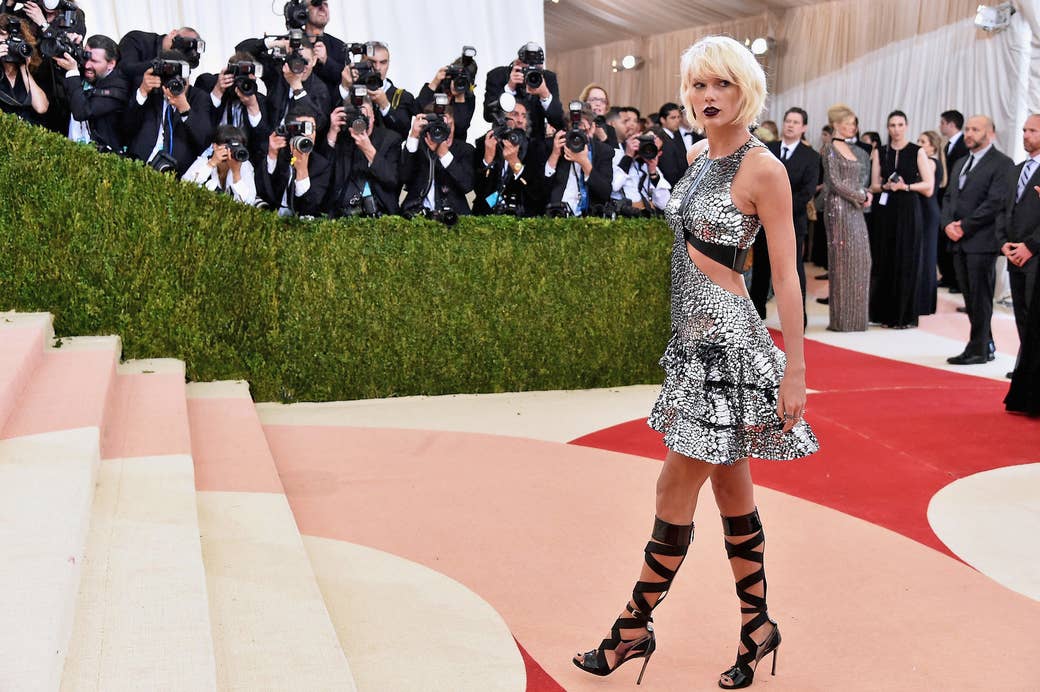 Taylor Swift's reputation is a complicated mess. Love her or hate her, she knows this and we know this — it's what her newest album (uh, Reputation), is all about. One would need a corkboard and miles of red string to sort out the full medley of exasperation that has accompanied conversations about Taylor Swift over the past few years.
In one quadrant of tacked-up evidence are Swift's celebrity feuds, generally juicy but also exhaustively long-running. In another, you'd find everything about Swift's personal life that alternately grates and thrills (depending on your preferences). Move over a little from there and you'll find Swift's image itself — willowy, blonde, and aggressively white. Perhaps, in an awkward corner close by, are the white supremacist fans who've claimed her as a figurehead. In any blank space, you'll find her political silence and her idiosyncratic ways of communicating with the public. Somewhere scattered among all this is her actual music — as genre-torn as ever, but permanently catchy. Altogether, you've got a map without roads, the landscape to how we view a public figure who is alternately aggravating and illuminating.
But can Swift's way of doing things keep up with the mounting pressures of a culture whose priorities have shifted?
With the release of Reputation, an album whose concept hinges its title on Swift's persona and how we view it, the pop star's ability to navigate the tangled web surrounding her name is front and center. Swift remains one of the most powerful figures in entertainment today, with a large bevy of stans who would still follow her anywhere. But can Swift's way of doing things keep up with the mounting pressures of a culture whose priorities have shifted?
In a behind the scenes clip for the "Look What You Made Me Do" music video, Swift talks into the camera about the decision to wear the same dress in the video that she wore to the 2014 Met Gala, which is colloquially known as the start of Swift's 1989 era. "This is the shot of, like, me in a grave, as if I was buried in that dress," she said. "Which is an interesting and thought-provoking idea." That era, after all, is known in Swiftian history as the period of time when everything went off the rails and the public turned on her.
But the 1989 era started off downright swimmingly. In fact, the time between November 2014 and July 2015 was one of the most fruitful eras of Swift's career. It wasn't just her longtime stans who were doing what they do best (stanning); she had won a lot of mainstream goodwill, with a very well-received album, a public declaration that she'd grown to consider herself a feminist, and a music video that poked fun at the persona people had long lampooned her for.
In the slide from 2014 into 2015, Swift's strategy was working. As Time critic Sam Lansky wrote of 1989, "Thematically, too, Swift breaks from the past, skirting victimhood and takedowns of maddening execs, critics and romantic competitors. Instead, there's a newfound levity. Not only is Swift in on the joke; she also relishes it."
Then, in July 2015, the nominations for Video of the Year for the 2015 MTV Video Music Awards were announced. Swift was nominated, for the music video for "Bad Blood." Nicki Minaj, who was not nominated for the daring, if not provocative, video for "Anaconda," tweeted an accusation that the VMAs were more likely to celebrate "other" girls for their accomplishments — "women with very slim bodies." Swift jumped into the conversation, literally making it about her: "I've done nothing but love & Support you," she wrote on Twitter. "It's unlike you to pit women against each other. Maybe one of the men took your slot.." Minaj responded with confusion: "Didn't say a word about u."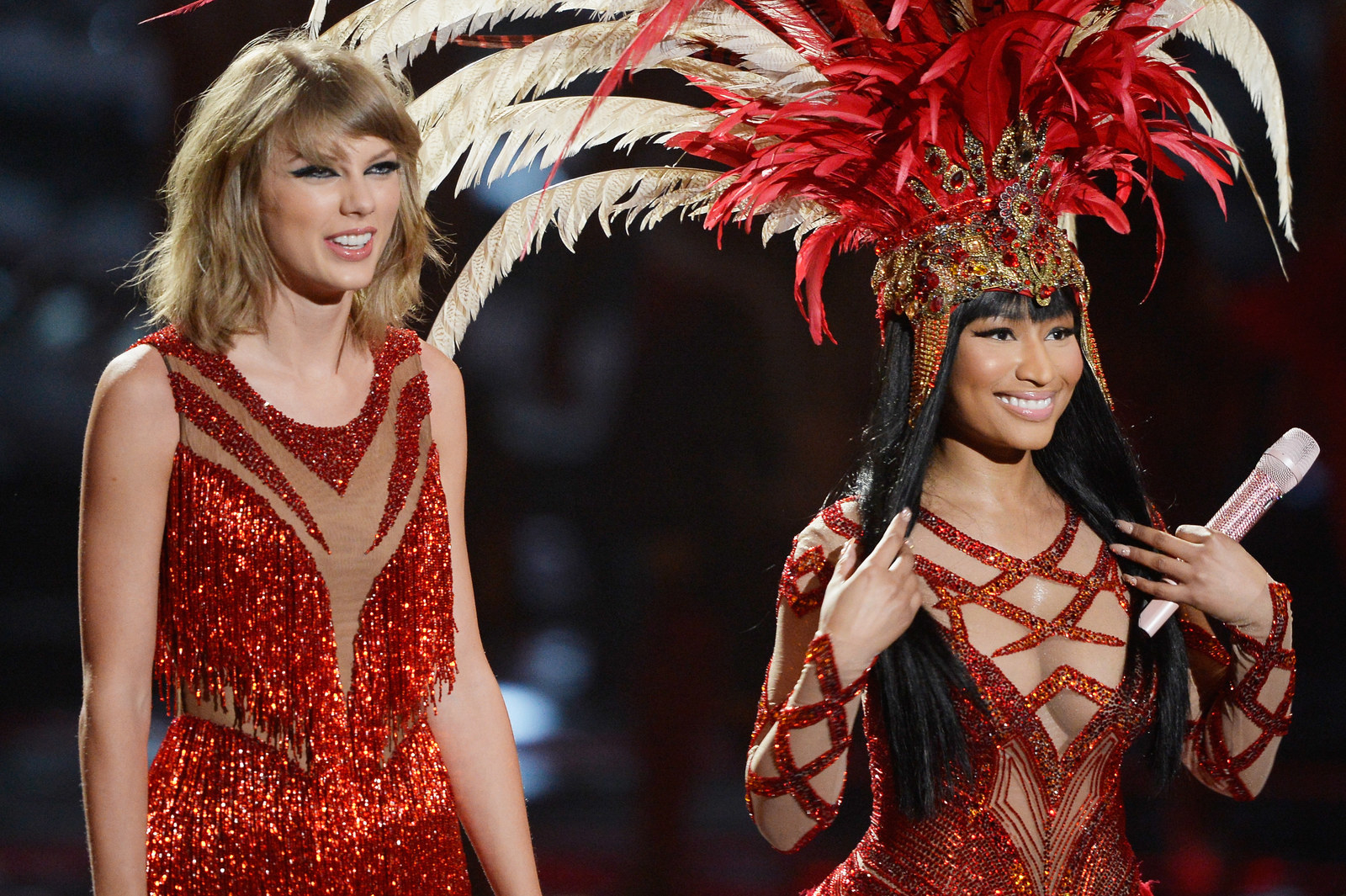 Anyone who follows Swift knows the general outline of her most famous feuds. Much has been made of Swift's falling-out with Katy Perry, and of her alarmingly long-standing beef with Kanye West. Perhaps most epically, in the history of Swiftian-Shakespearean drama, came the moment in July 2016 when Kim Kardashian West posted a video to her Snapchat that appeared to show Swift agreeing to endorse West's song "Famous" — or, at least part of it — despite that Swift eventually took a public stance against the song. Every one of these episodes is part of the swirling excess of the Swift narrative. The Kardashian–West incident, in particular, acted as the climax that culminated in Swift being publicly branded a "snake" on social media for the perceived lie. Soon after, Swift left the public eye for a stretch of time before re-emerging to release Reputation. And the resulting album, which leaked yesterday — a day before the official release today — spends a considerable amount of time seemingly blaming Swift's reputational fallout on the feud with West and on a too eager media.

It would be naïve to discount the impact of the Snapchat videos that came out of Swift's back-and-forth with West; they branded her ("snake," "liar," "image manipulator") in a way that has stuck. But to blame Swift's entire image problem on West or the media is to ignore a crucial element that came into the forefront of American culture around the 1989 era as well. As Swift was dealing with all the public drama surrounding her name, other cultural conversations were speeding along. In the US, Swift's battle with Kardashian faded into the background as the country was swallowed whole by an election that brought conversations about sexism and white supremacy to the forefront of everyday politics.
It's a bleach stain that's never really left Swift's persona.

These conversations never entirely fade into the background, of course, and were absolutely present when Minaj called out the racism of the VMAs during Swift's 1989 era. When Swift inserted herself into the conversation, she stepped into something much bigger than herself. Swift apologized quickly — swiftly — after an onslaught of backlash. "I missed the point, I misunderstood, then misspoke," she wrote. "I'm sorry, Nicki." The pair even capped it off with a joint performance at the VMAs. But it was too late: Swift had already linked herself to an ever-growing conversation about the damage racism can do — especially when that damage presents itself as white innocence and/or oblivion. It's a bleach stain that's never really left Swift's persona, and one that took on an even more intense tenor after the 2016 election.
Predating the Minaj incident but potentially egged on by it, Swift has long had a curious issue: Nazis love her. Ever-blonde with a public presence linked to ideas of purity, images of Swift have circulated in alt-right internet circles for years. "We are certain that as soon as the Nazis saw her, they were magnetically drawn to her sculpted Aryan form and angelic demeanor," Andrew Anglin, founder of neo-Nazi blog the Daily Stormer told Broadly in 2016. "The entire alt-right patiently awaits the day when we can lay down our swords and kneel before her throne," he said, "as she commands us to go forth and slaughter the subhuman enemies of the Aryan race."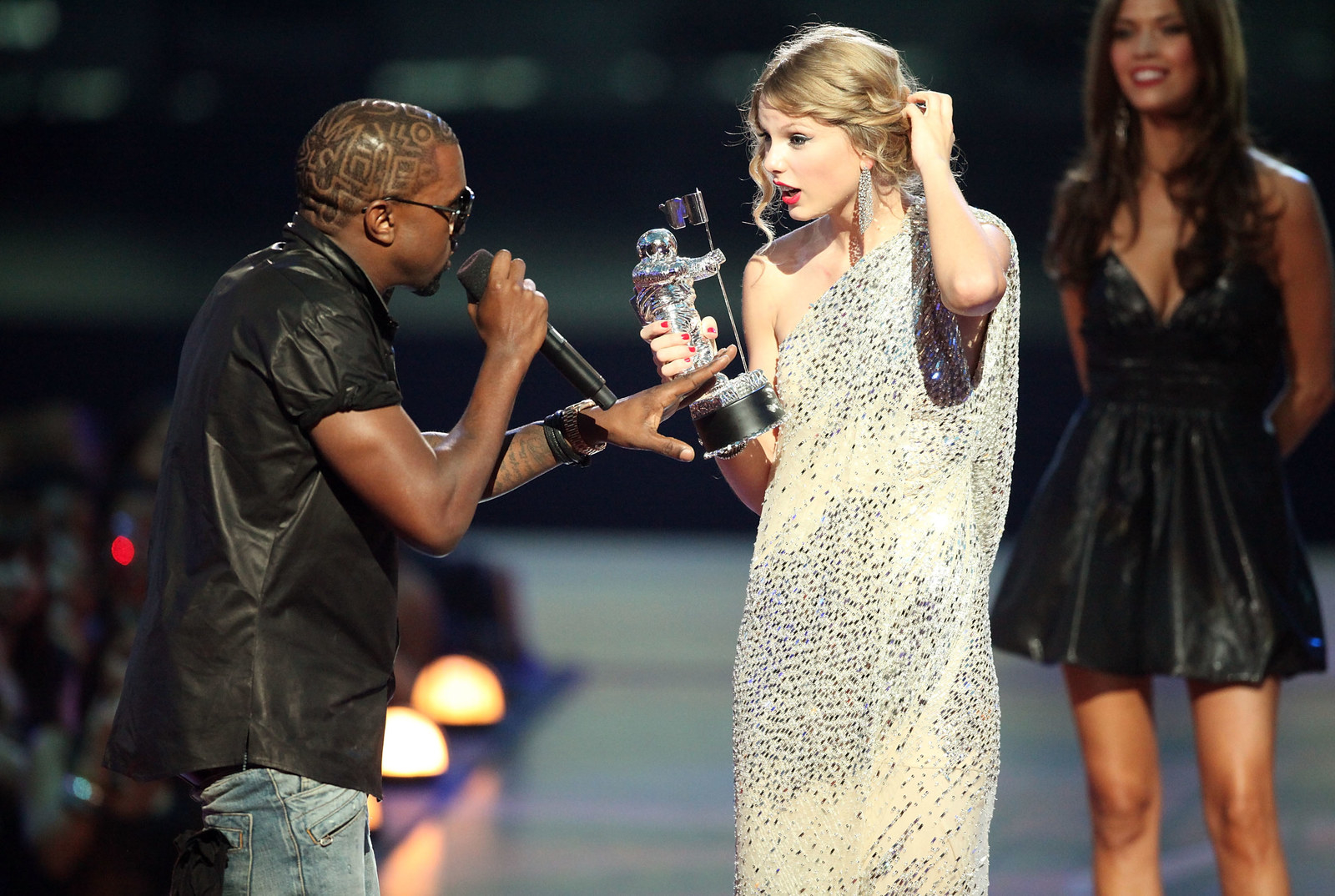 The Nazi connection is not one Swift has ever courted, at least not in any active, provable, or logically tangible way. But it's not one she can seem to shake off, either. And as white supremacist groups take center stage in the news cycle more and more throughout 2017, the connection grows more troublesome for Swift. As a public entity, Swift's strategy around politics has been silence throughout most of her career — so much so that the fact that she has previously publicly distanced herself from the groups has been drowned out by her lack of public endorsement for any candidate in the 2016 election. Oh, and that persistent perception (or running joke?) that she voted for Donald Trump.
Swift's relative silence on politics may have worked for the majority of her career so far. But by the time the 1989 era came to a close, a lot of Swift's standby strategies had already proven themselves outdated. And as a sizable portion of the US entered panic mode politically, the perceived stakes of anyone's silence seemed to grow exponentially.
In 2017, Swift's team spotted a PopFront blog post by Meghan Herning titled "Swiftly to the alt-right: Taylor subtly gets the lower case kkk in formation." In October, Swift and her lawyers sent a letter to Herning, threatening a defamation lawsuit if she didn't retract the post. Then the American Civil Liberties Union got a hold of the letter and publicly called out Swift's "attempts to suppress constitutionally protected speech," as ACLU of Northern California attorney Michael Risher told Entertainment Weekly. In the letter, Swift's lawyers do state the pop star's opinions on the alt-right: "Let this letter stand as yet another unequivocal denouncement by Ms. Swift of white supremacy and the alt-right," they write, calling associations of Swift with white supremacy "disgusting." But they also state that the letter is confidential, and not to be published. And when the statement did go public, it was via a scolding by the ACLU. Swift's representative did not respond to multiple requests from BuzzFeed News for comment.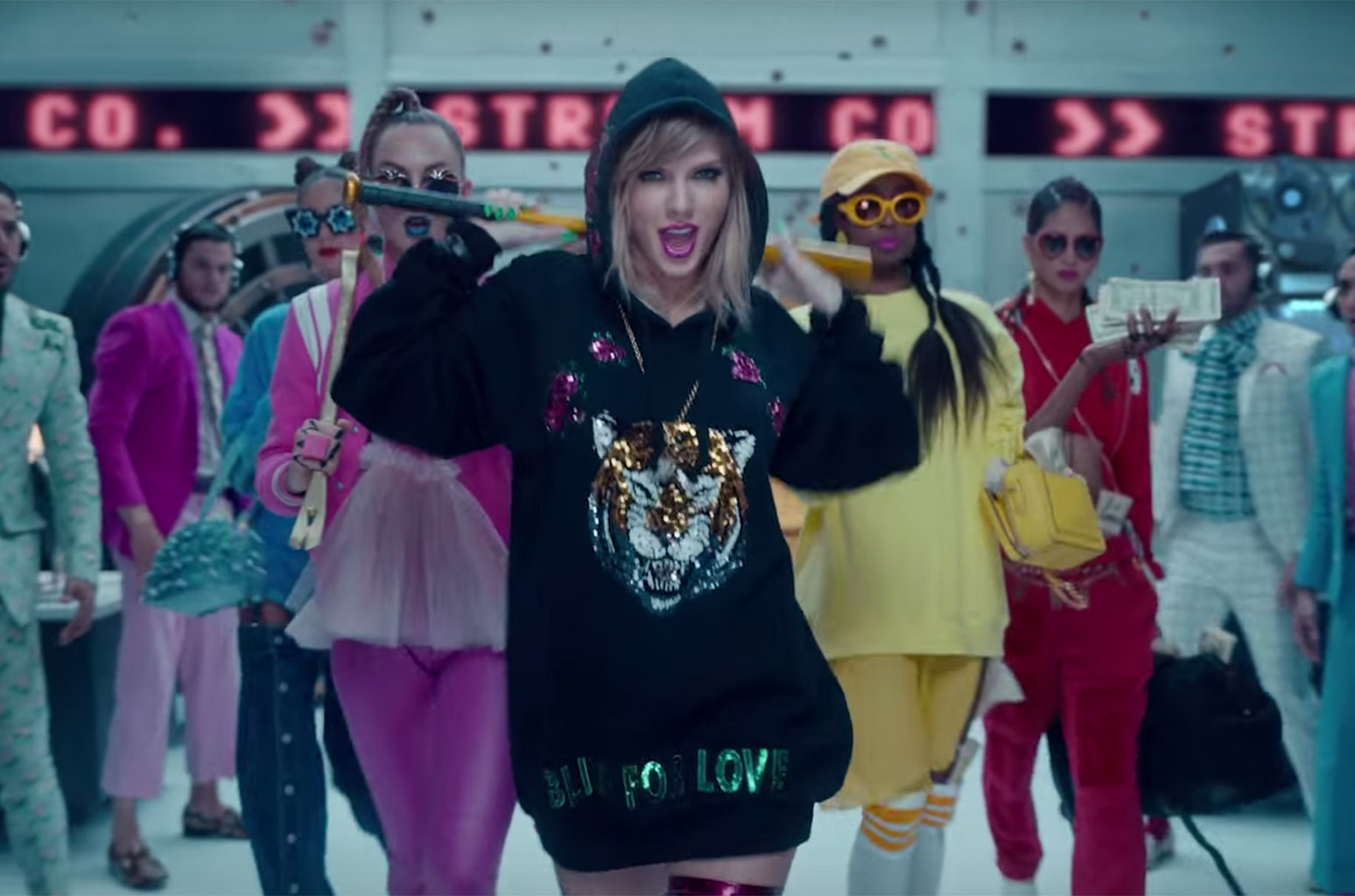 Silence is not uncommon for the biggest celebrities. Beyoncé, for example, effectively stopped giving interviews when she reached a certain level of prominence. She's practically made an art of selective silence, and it's a choice that has proven effective in guarding her personal life and even certain parts of her personality from the public. But Beyoncé is also exceptionally skilled at toeing the line of silence, but without crossing over into perceived complicity with embedded forces like white supremacy and misogyny. Beyoncé did endorse a candidate in the 2016 election (Hillary Clinton), and her renowned visual album, Lemonade, is as political as it is intimate. Beyoncé's silence and her speech alike fuel her power, shoring up her gates against the particular kind of public backlash that has accompanied Swift's persona in the last two years. Of course, by nature of that very history of racism and misogyny, Beyoncé has always had a much higher bar to clear than Swift to reach similar kinds of success.

The world around Swift is not at all limited to the feuds and relationships that have marked her narrative. But watching the strange dance she does between engaging and retreating in her relationship to the public — and listening to Reputation — one gets the impression that she thinks it is. Consider how many times conversations around Swift circle back to the perception that she hasn't grown, matured, or changed. That's a sticking point in part because the culture Swift's persona exists in has evolved to see her in a very different context, while that persona hasn't evolved to account for the world around her. Most of Swift's public reactions to the world revolve around, well, what the world is saying about Swift. That can work sometimes. After all, Swift still remains heavily popular — even now, her power of perception hasn't faded irreparably, and certainly, her economic power does not show signs of waning. But through the lens of a culture, especially a popular culture that involves progressives actively battling white supremacy, Swift is intrinsically linked to whiteness and privilege. And in 2017, she is still absenting herself from the cultural conversation while simultaneously trying to center herself in it.
Perspective is everything. While it may not destroy an artist's cultural power — their ability to remain relevant and capture audiences time and again, it can eventually make or break a reputation. ●
CORRECTION
The founder of the Daily Stormer is Andrew Anglin. A previous version of this post misspelled his name.