The Sun Has Been Forced To Correct Its Inaccurate "Ramadan Train Wreck" Story
The paper had to correct a story that said rail accident experts had claimed a driver's Ramadan fast caused a train derailment.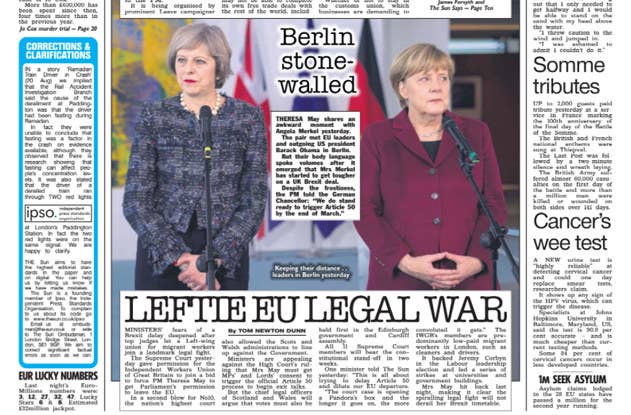 The Sun has been forced to print a page 2 correction over a claim a train crash in June was caused by a driver who was fasting during Ramadan.

IPSO, the press watchdog, said the paper had made a "significantly misleading statement" in an article headlined "Ramadan train driver in crash", published on 20 August 2016.
The Sun reported: "A Muslim train driver crashed after going without food or drink for 15 hours during Ramadan," adding: "Rail accident experts claimed his fast caused the rush-hour derailment that led to three days of disruption."
Within the article itself, however, it went on to report that "the Rail Accident Investigation Branch [RAIB] was unable to conclude that fasting was a factor in the crash".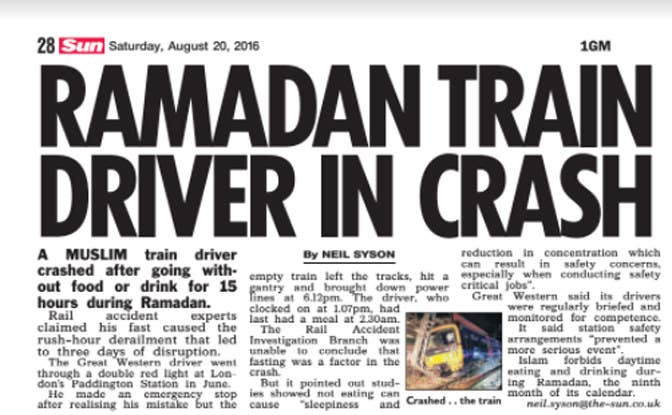 After a complaint from Miqdaad Versi, a management consultant from London, IPSO said the misleading statement in the article resulted from a failure to accurately interpret the RAIB report, "representing a failure to take care not to publish misleading information".

The watchdog said the newspaper has since published a correction identifying the misleading statement, and that the article under complaint has now been permanently removed from the newspaper's website during the referral period.
In response to the correction by The Sun after his complaint to IPSO, Versi said: "Creating a link to the faith of the driver and the Islamic act of fasting without any evidence is totally unacceptable."
He added: "In today's environment where Islamophobia and bigotry have become more and more normalised, I hope the Sun will avoid creating stories that unfairly depict Muslims as the 'bad guy' and will introduce safeguards to deter future inaccuracies."
The Sun has been contacted for comment.
It's not the first time the press have had to publish corrections following official complaints by Versi.
In April, IPSO ruled that a Daily Star article headlined "UK mosques give cash for terror" published on 22 November 2015 was "significantly misleading."

In July, IPSO ruled MailOnline was wrong to use "Islamic honour killings" in a headline about a story published in May that claimed a woman was stabbed to death.

In his complaint Versi had said "honour killings" are rooted in culture, not religion.
In September last year, the Mail on Sunday apologised for and corrected a story from the summer that said "Muslim gangs" were behind an attack on an immigration enforcement van in east London.
Versi said the article's headline was "incendiary" and criticised the piece as Islamophobic. The Mail on Sunday amended the online article, removing all reference to Muslims.