British news sites published a breaking story yesterday about a gunman wearing a suicide vest, shouting "Allahu Akbar", and opening fire in a Spanish supermarket.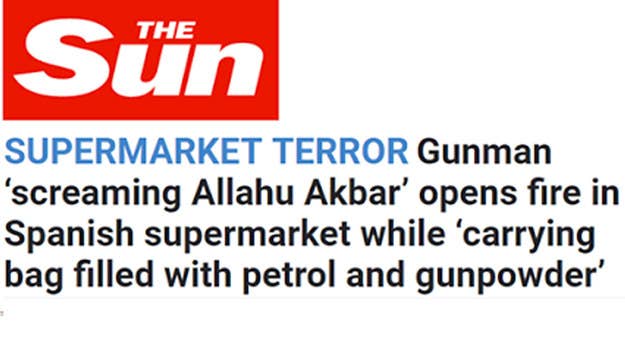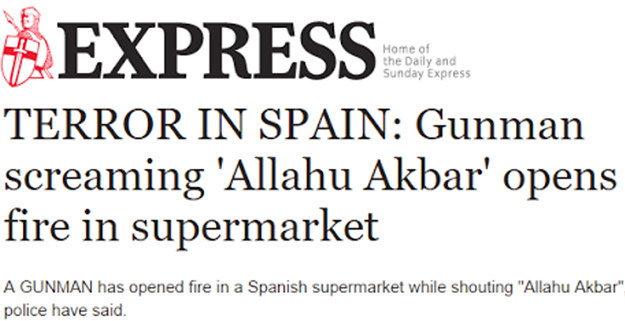 The Mail Online article published on 11 January tells the story of a man who fired a shotgun in a supermarket in Spain's northwestern region of Galicia. The report began: "A gunman has opened fire in a Spanish supermarket shouting 'Allahu Akbar.'"
It added: "One employee confirmed that he had shouted the Arabic phrase for 'God is great' before he began shooting."

The Mail Online story received a considerable reaction on social media, and was shared 19,000 times.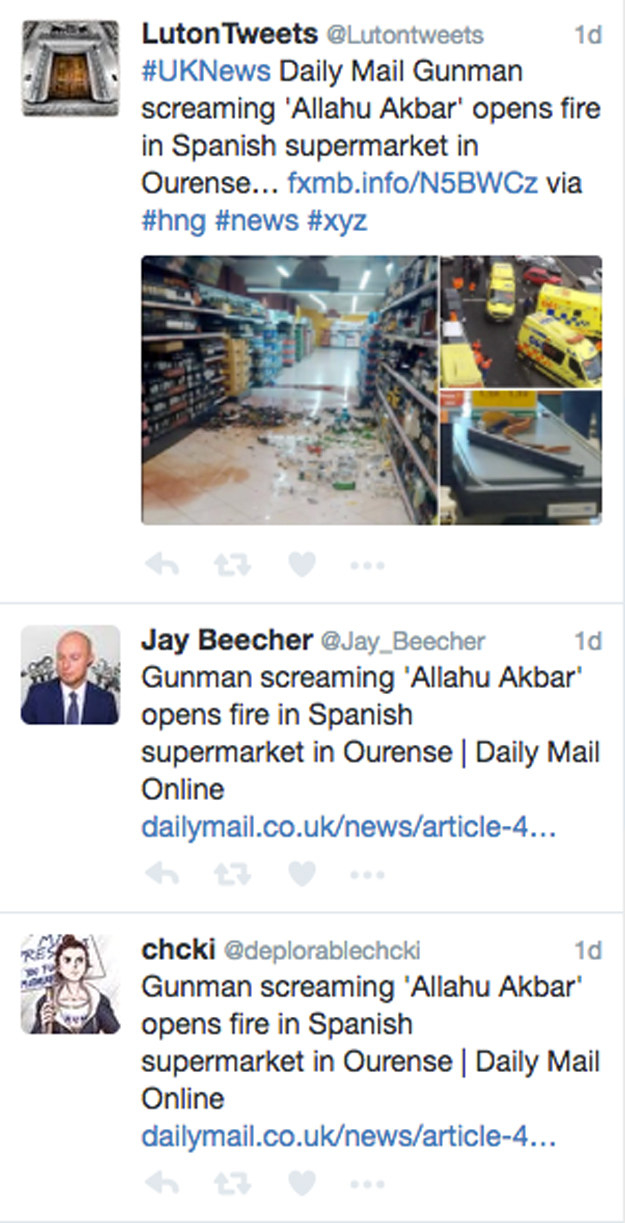 This breaking news tweet received hundreds of retweets: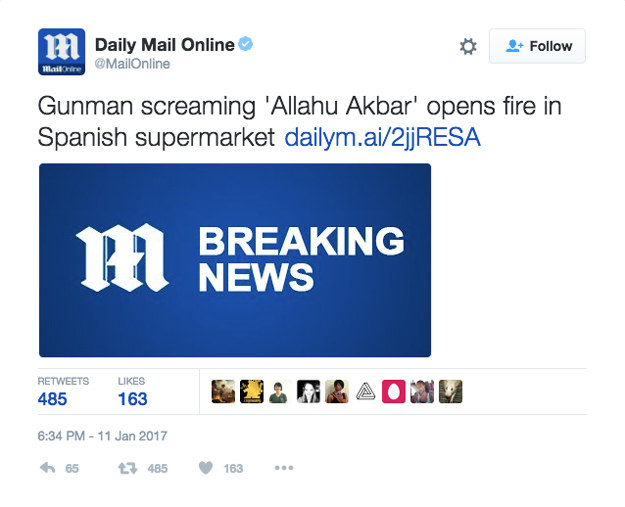 The Mail story has been shared on various pages including those of the far-right group Britain First and supporters of the anti-Muslim Dutch politician Geert Wilders, while the Express article was cross-posted on the blog of Pamela Geller, an anti-Muslim commentator from the US, who added: "It. is. Islam."
However, since publication of the articles, Spanish news sites, including those for English-speaking expats, have dismissed the accounts in the story being widely shared online, with the Spain Report writing a piece headlined: "Mercadona And Police Refute British Reports Of Jihadi Suicide Attack In Spanish Supermarket."
The article gives details of the incident that differ to what was first reported in the British press. Spanish police and Mercadona, the supermarket chain, both confirmed to the Spain Report that a man fired shots at a store in the city of Ourense but said it was not part of a terrorist attack and refuted claims reported by The Sun and the Daily Mail.
According to the version of events in Spanish media, the shots caused damage to the drinks aisle, but no one was hurt. An off-duty policeman in the shop at the time attempted to calm the man down before back-up arrived.
In a statement to BuzzFeed News, a spokesperson for Mercadona confirmed: "The shots fired at a store in Ourense (Galicia) were not part of a terrorist attack. He did not shout "Allahu Akbar" and he wasn't wearing a suicide vest.
"He is a Spanish national with some kind of decreased mental faculties, as the police has said. He was born in the Basque country and he was shouting in his local language (this has been the reason of the confusion)."
"He had no terrorist link at all," a police spokesperson told the Spain Report. "It was not a robbery either. At one point in the video footage, he can be seen eating a banana and smoking a cigarette," the article went on to say.
This version of events tallies with other contemporary Spanish-language reports, which were more guarded about what he said.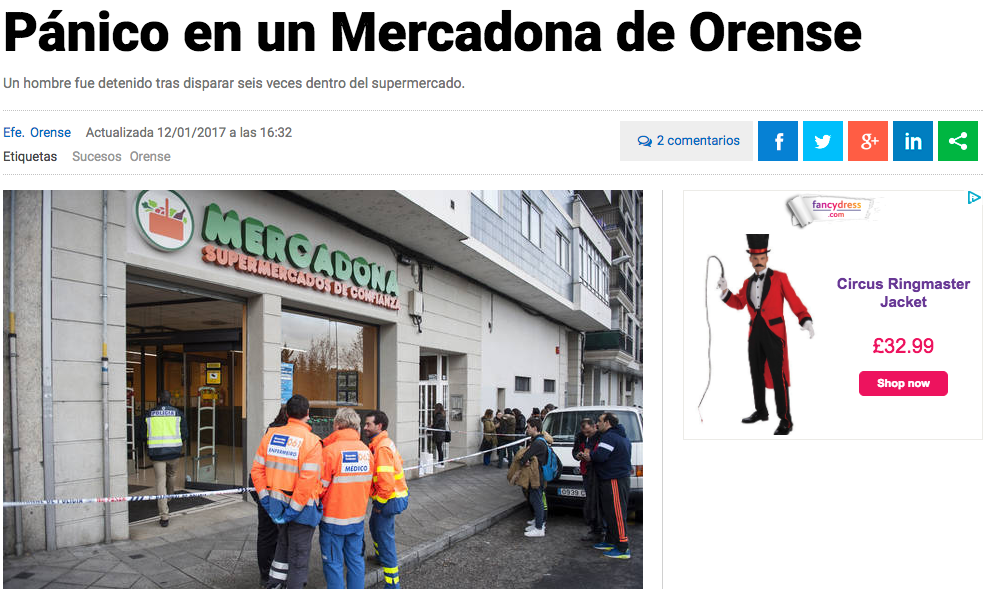 Speaking to BuzzFeed News about the way the story had been reported in Spain compared with the British press, Matthew Bennett, the editor of the Spain Report, said: "There had been nothing in the Spanish press, it wasn't the typical response of a major story when these major stories happen. There had been no huge social media reaction in Spain. Apart from a few local stories there wasn't very much coverage in Spain.

"If it had been true we would have known about it."
He added: "I picked up the phone and spoke to some sources. Nothing spectacular I'm afraid. No huge investigation."
Police told local newspaper La Region that a witness had been mistaken and added that they had discounted any suggestions of jihadist links. The Olive Press, another Spanish news website, wrote: "Despite reports from Spanish and UK press, he is not believed to have shouted 'Alahu Akbar', the Arabic phrase for God is Great."
The Local, a European English-language news website, reported in its story headlined "Man detained in supermarket shootout was 'not jihadist'" that the 35-year-old, who was detained by police after the incident at lunchtime on Wednesday, was said to have a mental illness.
Miqdaad Versi, who monitors media reports on Muslims and Islam and who has forced a number of retractions and corrections by national newspapers, has since complained to the Independent Press Standards Organisation (IPSO) about the inaccurate reporting by the three newspapers.
The Sun has since changed its headline on this particular story:
Versi said: "There have now been a number of stories on this false claim and it has even been shared by the far right. It is appalling that such articles can be written with so little care for the truth – and even now, whilst The Sun has at least corrected their story, it has done so without even acknowledging or apologising for their error. This is just not good enough and we need much stronger policies in place to prevent such stories being written in the first place."

On Twitter he pointed out how headlines on the Express and Mail Online stories were yet to be corrected and said they were more "false".
BuzzFeed News has contacted the local police and the relevant newspapers for comment.
UPDATE
The Sun has now apologised for the error. The paper's digital managing editor, Victoria Watson, told BuzzFeed News: "We reported claims made by La Region in good faith and removed them as soon as they were found to be false. We acknowledged this in the copy and have since added a correction to the story."