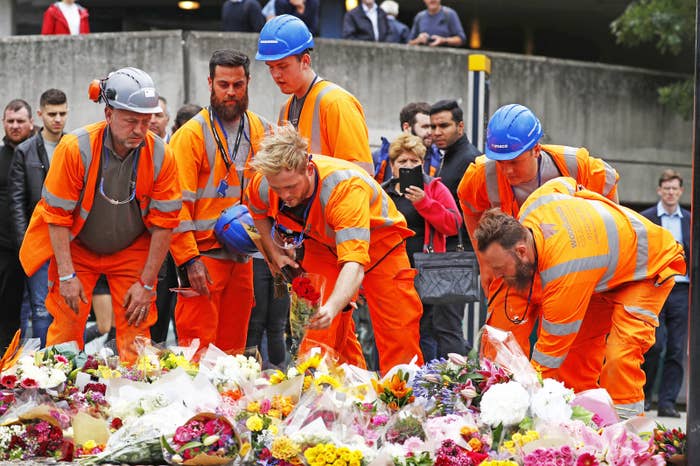 Questions are being raised about how authorities handled intelligence after there were reports that the London Bridge attackers had been reported to anti-terror police at least twice.
Following the attack on Saturday night that killed seven people and left 21 in critical condition in hospital, neighbours and former friends have told the press how they had contacted authorities after becoming concerned over the suspect's extremist views.
Police had made 12 arrests during a raid at flats in Barking over the weekend. Officers searched two addresses in east London in Newham and Barking on Monday morning.

A man claiming to be a former friend of the perpetrators, who did not want to be named, told the BBC Asian Network he had contacted police after comments the suspect had made over previous attacks, and is reported to have said authorities had failed to act and take action.
"I phoned the anti-terrorist hotline and spoke to the gentleman," he said.
"I told him about our conversation and how and why I think he has been radicalised."
He said: "I did my bit, I know a lot of people did, but the authorities didn't do their bit and that's what's shocking."
A woman named Erica Gasparri also told the Guardian she had reported her concerns about the suspect's extremist views to police two years ago, after she feared he was radicalising children in a local park.

The suspect is also said to have appeared in a Channel 4 documentary last year about British jihadis, and was involved in a filmed altercation with police after an Islamic State flag was unfurled in Regent's Park.

Peter Neumann, director of the International Centre for the Study of Radicalisation and Political Violence at King's College London, has questioned why well-known radical Anjem Choudary who was convicted of supporting ISIS last September, had avoided being charged for so long.
BuzzFeed News contacted the Home Office for comment – we were then referred to the National Police Chiefs' Council, who then referred us to the Metropolitan police.

This morning Cressida Dick, the Met police commissioner, would not comment on identities but confirmed officials "believe" they knew the identities of the three attackers, and said the police service needed to "step up a gear" following the London Bridge attack.

"We have made a number of arrests, we are trying to find out whether anyone was helping them and to understand the background to this attack as best we possibly can," she said speaking to Sky News.
Dick continued: "There will no doubt be questions to ask ourselves about whether we knew anything about the individuals who committed this attack, what we knew, and what it meant.
"We do have literally thousands, tens of thousands, of people who we would regard as persons of interest. We have fantastically powerful intelligence powers, we will know something about these people," she added.
It is the the third such incident on British soil this year. Salman Abedi, who murdered 23 people at an Ariana Grande concert at the Manchester Arena last month, was said to have been reported to authorities on five separate occasions in five years.

This was reported to have included two people who knew Abedi while he was a college student making separate calls to an anti-terrorism hotline to warn police about his extremist views.
However, Ian Hopkins, chief constable of Greater Manchester Police told the BBC last week: "At this stage I have no other information other than what is on our system about his theft, receiving stolen goods, minor assault... Five years ago, so he would have been 16/17.

"Abedi was not known to the Prevent programme, was not on any sort of Prevent agenda."
After the Westminster attack, it emerged that Khalid Masood was once investigated by MI5 in relation to concerns about violent extremism, with Theresa May telling the Commons he was "a peripheral figure."

Mak Chishty, the commander for engagement at Scotland Yard, flanked by Muslim leaders including Mustafa Field of Faith Forum, an interfaith group, read out a statement and said after three attacks there must be a "step change" in counter-terror.
When asked what assurances would be given to the Muslim community if they reported concerns that they would not be buried in a pile of paperwork, Chishty said he could reassure the public the information would be evaluated.
He said: "The information is so important. We will treat that information with respect, we will guarantee anonymity, there will be a confidential process round that so you can talk to us with safety. We want to generate confidence within Muslim communities to make sure they feel supported, encouraged and feel safe talking to us, and we'll deal with it in a proportionate way and keep them updated as we do that as well."
On Monday May emerged from a meeting of the government's emergency Cobra committee and said: "Enough is enough."

At a press conference she defended her policies when questioned on cuts of 20,000 police officers, and on control orders being watered down.
May said she when control orders were knocked down in the courts she had ensured police and security services had the powers in their remit to be able to "deal with people who would do us harm."
"We have enhanced the police, we have ensured the security and intelligence agencies have the powers they need through the Investigations Act."
When pushed over her record in failing to prevent such attacks, May said: "Over the last three months we have had the three attacks, and said police and security services had "foiled five other attacks".
May added: "What we have seen is an increase in tempo and a change in the terrorist threat, as I said with terrorism breeding terrorism and that's why it's absolutely right that we look at our response to that and we adjust our response as we always do when we see the terror threat evolving and the means of the terror threat evolving."