Protesters Say Staff At The Bahrain Embassy Chucked Hot Water On Them From A Balcony
A spokesperson for the embassy in London's Belgravia said they were looking into the incident.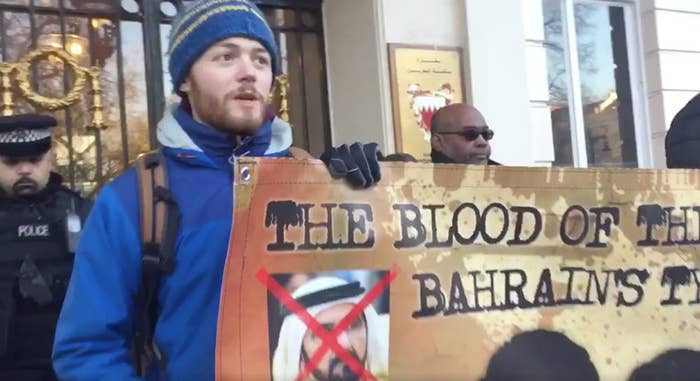 Protesters outside the Bahraini embassy in London on Friday morning have claimed staff threw hot water at them from a balcony above.
The small group of campaigners had gathered at the embassy to demonstrate against the executions last weekend of three men in the Gulf state.
Sayed Ahmed Alwadaei, the director of advocacy at human rights group the Bahrain Institute for Rights and Democracy (BIRD), told BuzzFeed News he witnessed the incident. He said: "I've seen it – someone threw hot water on the protesters holding placards of the three men executed in Bahrain."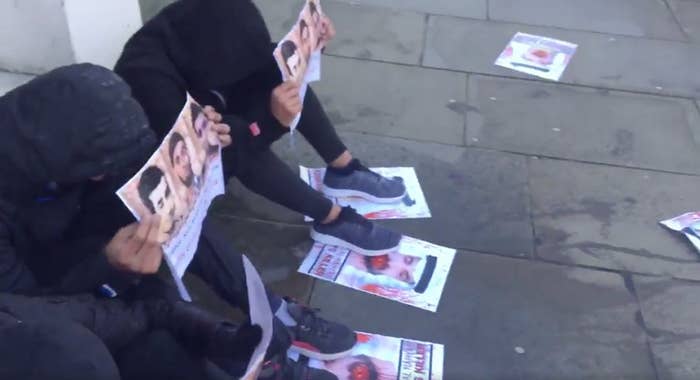 "We complained to the police, who said they are investigating," Alwadaei said. "The police is going to request CCTV recording from the embassy. They are aware and witnessed it."

In a statement, Scotland Yard said at 8:45am police were informed of a gathering of people with banners and posters. "Subsequently a report came through of common assault, which is being investigated," the spokesperson said.
A 17-second clip posted on Twitter showed a protester with a visibly wet banner and two people dressed all in black sitting at the foot of the steps to the embassy in London's Belgravia, holding posters of the three executed men.
"We're outside the Bahraini embassy and someone's just thrown hot water from the embassy on to the protesters, which is clearly really dangerous and I think symptomatic of Bahrain's attitude to protesters," said Sam Walton, the protester holding the banner in the footage.
In a separate tweet Walton added: "And we arm this state. Thankfully they only had hot water today."
Walton later told BuzzFeed News: "I've never seen security act in such an amateurish and dangerous manner. Today the Bahrain embassy has shown us they have no respect for democracy or protest.
"They only have words and hot water in London, but in Bahrain it's birdshot, CS gas, torture, and executions."
In response to the tweets, Stewart McDonald, the SNP MP for Glasgow South, said he would take up the issue with the UK Foreign Office:
The handful of human rights activists had turned up outside the embassy to protest against the execution on Sunday 15 January of Ali al-Singace, 21, Abbas al-Samea 27, and Sami Mushaima, 42, who had been convicted of killing three policemen. Human rights campaigners claim they were not given fair trials.

Activists are urging Britain to discuss human rights issues with its Gulf ally. They have raised concerns that the UK has spent millions of pounds since 2012 to train Bahrain human rights mechanisms, which they claim "whitewashed" Bahraini abuses.
The UN High Commissioner for Human Rights said this week he was "appalled" at Bahrain's killing by firing squad of torture victims. The recent executions are the first in Bahrain since 2010.
A Bahrain embassy spokeperson told BuzzFeed News: "We are looking into this and it happened between 8:30am and 9:00am and no diplomat was in the building.
"We do share the embassy with two neighbours. We're looking into it and at this point do not know what happened."