Meet barbers Hussain Jamali and Andy Sarsby.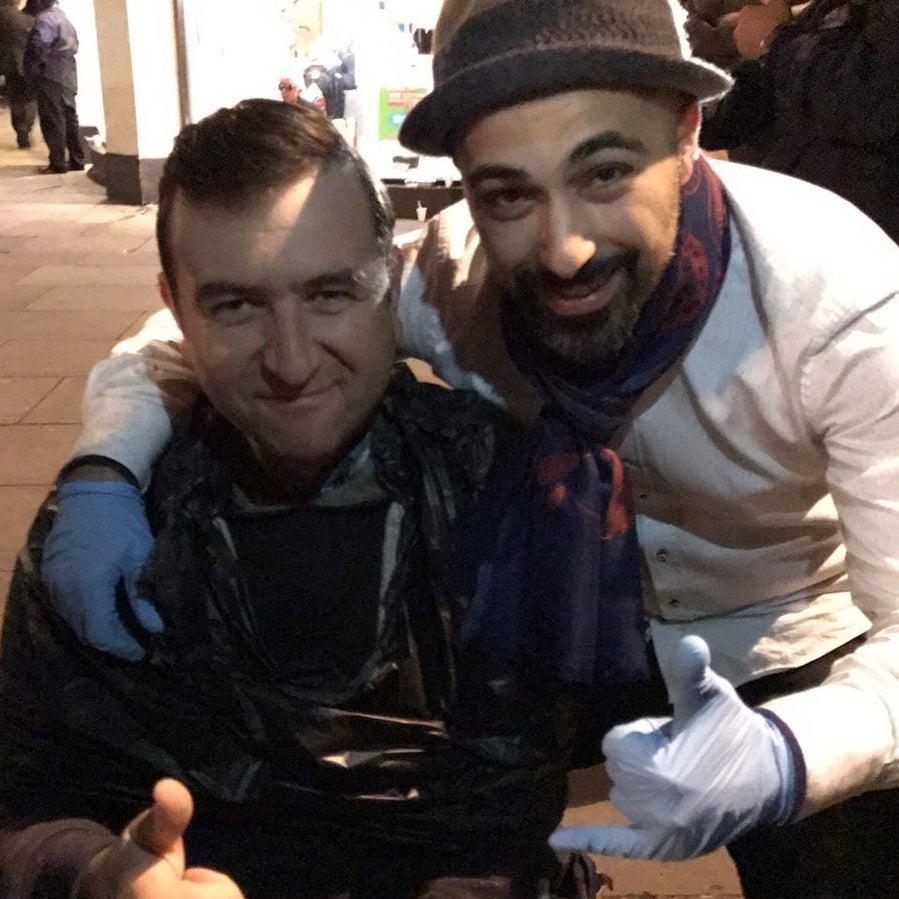 They work together at a barber's in Mill Hill, in north London. But on some Saturday evenings after work, Jamali sets up a mobile barber service opposite Charing Cross station, in the heart of London, where he cuts the hair of homeless people for free.
On 8 October, the first week of both the Islamic and Jewish New Year, he and Sarsby cut the hair of around 20 homeless people.
Jamali's service is part of a drive from the social justice campaigning group Who Is Hussain, which each week sets up a stand offering free food to homeless people and passers by in the heart of central London.
Jamali, 30, who said his clients include Arsenal footballer Alexis Sánchez, said getting involved and offering his skills was "healing" for him, as he had been homeless himself.
He grew up in Rotterdam, the Netherlands, after leaving Iran via Russia with his mother, he said. His father, from Iraq, joined the family when he was a teenager. Jamali settled in London after experiencing a painful breakup and travelling for 15 years. And so he wanted to do what he could for other people who were struggling.
"When I cut a homeless person's hair I talk with him and he talks with me, there are these beautiful stories," he said. "Stories of what he's been through."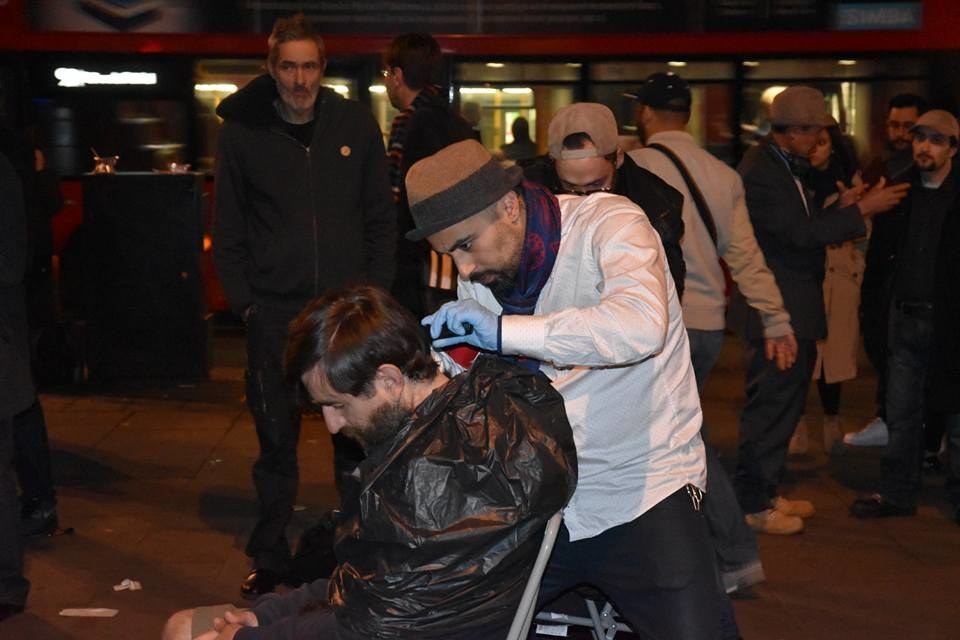 "I worked from 8am to 6pm and straight away I came to Charing Cross and felt so much better," Jamali, who has now been a barber for 16 years, said. "There's true medicine in helping others."
He said he'd experienced many unforgettable moments when cutting the hair of London's homeless, especially when someone asked for a "skinfade" – a detailed sculptured cut – at 9pm when there was no light.
"I'm like, 'Dude are you serious?'" he said. "Then I say, 'You know what, I'm going to make you happy,' and call two volunteers from Who Is Hussain and give him a skinfade, which is 45 minutes in the salon and is £40.
"Another guy, he's Irish, is always angry at himself. But when he sits with me and has a haircut, he's the loveliest man in the world,.
"I found no one really helped him, and because I cut his hair he really appreciated that. I think he's angry as people can't see the struggle he's had."
Sarsby, 24, is now involved in the project too.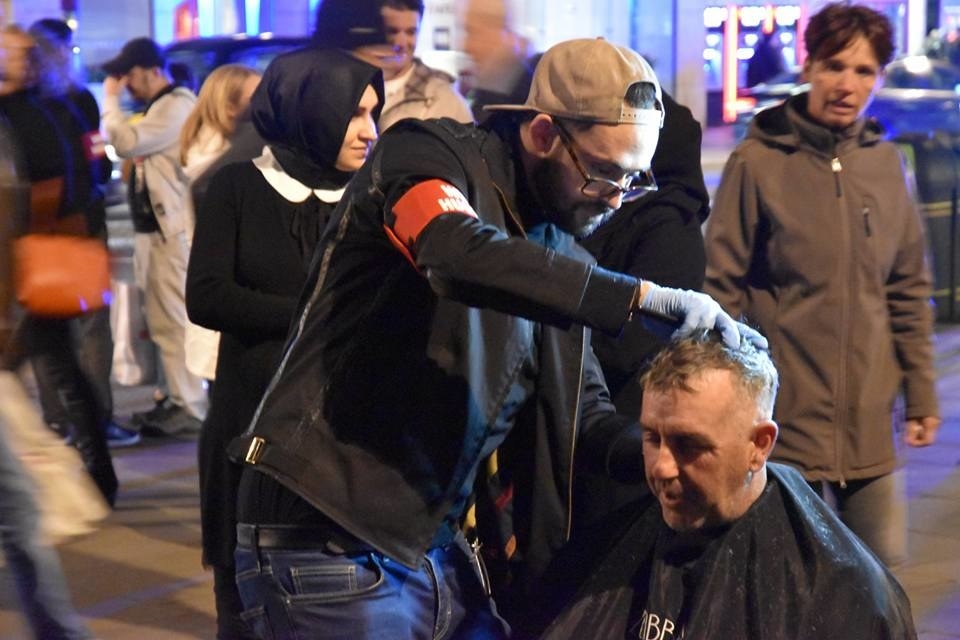 Sarsby said: "The power of giving people a haircut is an amazing thing. Only a select few people are able to get in the personal space of random people – doctors, dentists, and hairdressers – and it's a position that shouldn't be abused and takes a lot of responsibility."
"Being a hairdresser is an amazing gift," he said, adding: "There's a lot of people out there that a haircut can really help – talking to them and making people really happy about themselves, and for people who don't have an awful lot."
He said when he turned up for the first time on 8 October, there were about 20–30 people. "As soon as we pulled the chairs out, honestly there [were] about 50, 60, 70 people who just appeared out of nowhere, which was quite amazing really. I found it very inspirational."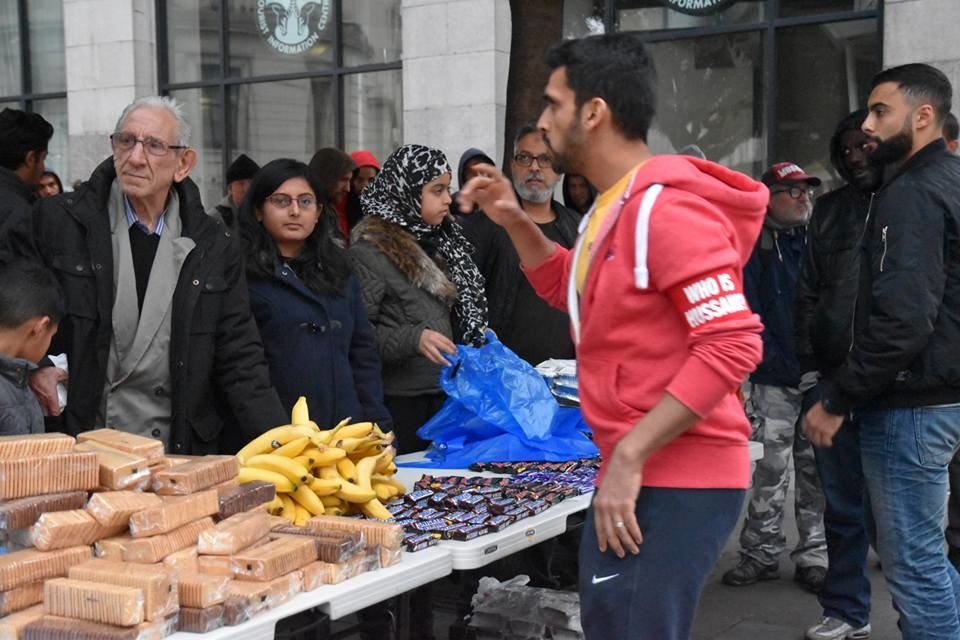 The first person's hair he cut was long, and they asked for a mohican. "So I gave him a mohican and this guy came back an hour later and said: 'Andy, Andy, I owe you a beer.' And I was thinking, All I did was cut your hair. He said, 'You don't understand, you don't understand. I pulled.'
"And I couldn't stop laughing – for half an hour to an hour before I saw him he was so downbeat, and then he comes running back so happy with a smile on his face. It really was amazing."
Sarsby, who is Jewish, said working on the project was spiritually uplifting, as it took place after Rosh Hashanah, the Jewish New Year, and during the 10-day period before Yom Kippur, or the Day of Atonement.
"That's the holiest 10 days and the more good deeds you can do the more likely you're going to be inscribed into ... what we say is the Book of Life," he said.
"So it was also quite poignant for me, with the time of year, and for me personally it was an eye-opener."
Shah Abbas Mir, events coordinator for Who Is Hussain in London, said many of the people who got a free haircut hadn't had a trim in months, adding: "The smiles of people were priceless."
He said the free haircuts were significant during the Islamic month of Muharram and around the day of Ashura, when Shiite Muslims commemorate the death of Hussain ibn Ali, the grandson of the prophet Muhammad, at the Battle of Karbala in 680 CE.
"It is based on the principle of Ashura," he said, "which is about restoring honour and dignity for the forgotten ones, looking after people and fighting for all of humanity and just causes.
"It's not just about cutting hair for free, but about someone ... making people feel good and empowered."
For Jamali and Sarsby, it's just the start: They are hoping to print out T-shirts next time.