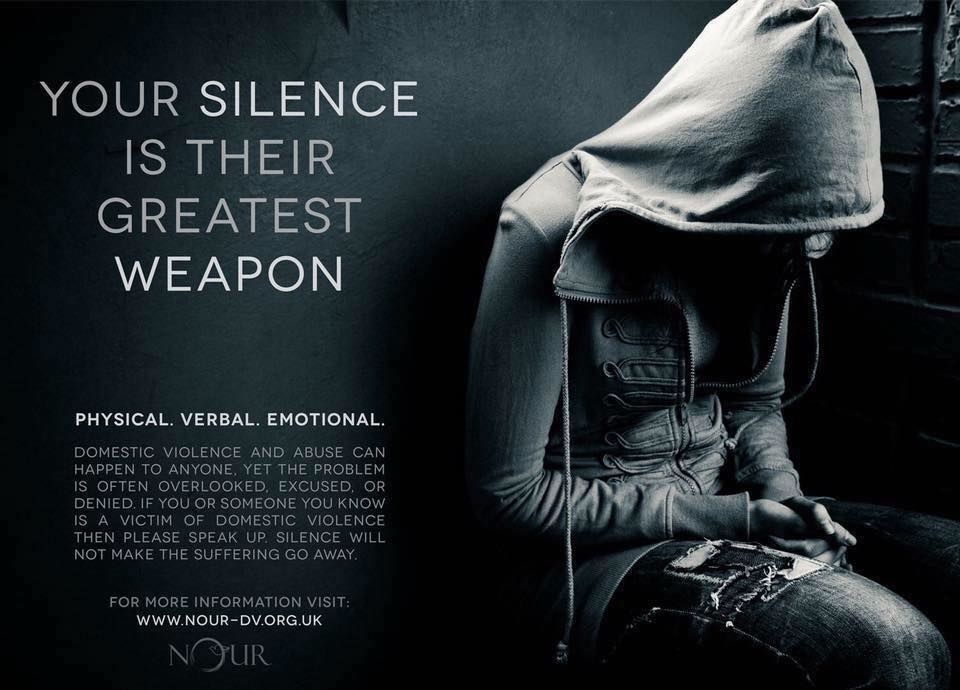 Every so often over the last few years, a message has been sent out over WhatsApp about an event to raise awareness about Nour, an east London charity that campaigns against domestic violence.
There are many domestic violence charities across the country, including Behind Closed Doors in Leeds, Staying Put in Bradford, Muslim Women's Network, and Imams Against Domestic Abuse.

Yet faith-based advice was an area Nour cofounders Mahfuja Ahmed and Morium Ali felt was lacking in services in east London when they set up the charity during their third year at university.
The organisation has helped hundreds of women since it was founded in 2011, Ahmed said, and there are 10 women currently on their caseload.
The charity has one counsellor who oversees the work, as well as qualified legal advisers and Islamic advisers, and are keen to emphasise domestic violence affects both men and women. The aim next is to set up a longterm helpline, as the current one operates just one hour a week.
This week the campaigners organised a domestic violence awareness campaign, including a video on Monday, a Facebook Live event with an Islamic scholar, a "Seed of Hope" fundraiser, a khutbah or Friday sermon campaign, a pampering event, and a "Say It" street event.
The hashtag #ItsNotVisible is being used on Twitter to encourage people to talk about the issue, with 1 in 4 women in the UK suffering from domestic violence (DV) in their lifetime.
"Me and my friend cofounded this together. We were discussing issues our community faces and the topic of domestic abuse came up and we thought, Is there anything for Muslim women?" said Ahmed, an ethical trial practitioner at a London hospital.

"I'm from the Bangladeshi community and we hear all the time about controlling, coercive behaviour, abusive behaviour, verbal abuse," she said.
"You see it, you hear it all the time but no one says anything because it is such a taboo subject, and people think it's a personal and a home issue and no one should get involved, and are just scared to talk about it.
"Growing up I have seen it – not directly within my family, but I've seen it on a broader spectrum across my friends and family – so I know it does happen in the Bangladeshi community and in the Muslim community, but there was nothing out there at that time."
The Nour website has a Q&A section, with frequently asked questions such as "What does Islam teach about the status of women?" answered with verses from the Qur'an.
She said women who approached the charity had previously experienced a lack of cultural awareness or advice from a faith-based perspective over issues such as divorce or reconciliation.
Nour's floral posters are circulated around social media, advertising coffee mornings, women-only pampering sessions, and "inspirational talks" that provide a safe space for Muslim women to meet, pulling in crowds or around 40.
It's a grassroots initiative by young women who hope to raise awareness of a problem that sees two women killed every week in England and Wales but gets little attention compared with other fundraising efforts, Ahmed said.

"We're told a life is a life and we know domestic violence takes lives. It's not only the victim but there are children involved too," she said. "There's a cycle that needs to be put to an end."
A huge obstacle for the women of Nour, which now has a 15-strong team, has been getting the word out through local institutions.

"We did a few fundraisers outside – bucket collections in Whitechapel – and a few men approached us and said, 'This is our own personal issue and women shouldn't get involved', 'You're going to ruin our women', and 'Why are you putting up our dirty laundry?' So we did get a backlash," Ahmed said.

Ahmed does not believe that raising awareness of DV is a "feminist" issue, she said.
"You can only face it head-on, and we're not a feminist organisation … we have a strong Islamic ethos and try and strive our charity through this Islamic ethos, but we also get called feminists."
Asked whether there was a fear of the far-right picking up on the initiative, Ahmed said: "When we started, Islamophobia wasn't as rife in 2010, and how Muslims would be perceived didn't cross our mind at all. It was more how Muslims perceive us and how they would accept this program and organisation we want to establish."
Ruzina Begum, 24, a school teacher who does outreach work for Nour, said when she first got involved there was a campaign involving putting up posters on toilet doors to raise awareness of the issue. "I contacted public libraries, restaurants, and community centres," she said, yet she found there was minimal appetite to support an independent and self-funded domestic violence charity.
To counter this, one of the events for Nour's domestic violence awareness week saw the charity host a Facebook Live with a male scholar, Mufti Liaquat Zaman, to highlight the taboo issue of domestic abuse within the community. Nour also circulated a Friday sermon on domestic violence for mosques to use, and there have been efforts to get the wider public involved as well.
Last Easter, the campaign group released yellow balloons from Trafalgar Square with messages of support to DV survivors.
"The idea was people would receive a balloon from a stranger. And people were surprised it was Muslim women doing this initiative, but once they found out they got involved," Begum said.
"As a community we should be supportive. What I learned about domestic violence cuts across races even if you're wealthy or from a middle-class background."
Though she's come up against reluctance to discuss the issue, Begum said she believes things are changing: "The younger generation are exposed to a wider world. They're looking into Islam and getting away from culture."