How The Grenfell Tower Community Helped Themselves – Because No One Else Would
The inside story of how local volunteers came together to open up refuge centres, collect donations, create a database of survivors, and provide legal advice – while the authorities were nowhere to be seen.
In the sweltering June heat three days on from the Grenfell Tower inferno, survivors and local residents met in a hall at Al Manar mosque, just a 10-minute walk from the blackened skeletal tomb that now dominates the west London skyline.
The room was packed with at least 200 people, many of whom were fasting for Ramadan. There wasn't even standing room left.
A middle-aged woman sitting at the front was devastated. She had lived on the fifth floor. "We are the victims and will talk about our problem now."
She screamed at the organisers: "No, no, you don't understand, I was there. I saw a lot of people in the fire, and I saw children."
"I saw. I am lucky. I cannot eat. I cannot sleep. I just cry, I just cry," she said in broken English, as women behind her audibly wept.
A resident sitting next to her took the microphone. "We were on the fifth and second floor," he said. "As you can see, she is extremely traumatised and in shock from what happened. Today we came as residents to get answers and speak to people with legal expertise and unify the Grenfell Tower residents.
"People lost neighbours and friends and are scared as they are living under the thumb of the same criminals. People lost everything apart from the clothes on their back."
This was the first meeting in which residents and locals who had been evacuated from nearby buildings had been given a chance to come together, voice their grievances, and get answers. The stories were harrowing. It was tense. And their search for answers was frustratingly fruitless.
People had been scattered in hotels in nearby areas, or staying with family and friends. And once again nobody in authority, be it local or central government, could give them the information they need.
"Where are the councillors? Where are they? They are nowhere to be found," shouted another local.

It was that question, asked many times in the hours and days following the tragedy, that would lead, the following week, to Theresa May apologising in the House of Commons for "a failure of the state, local and national". The official response, she said, was "not good enough".
Instead, local people themselves had to step in to fill the vacuum, spontaneously organising and coordinating an emergency response to the worst disaster on British soil for a generation. BuzzFeed News spoke to members of the local community who, overnight, found themselves running a major relief operation.
People like Sayed – his name has been changed at his request – a resident of a nearby block in his early twenties, who volunteered since the first day. Outside the mosque after the meeting, as other volunteers laid out long mats and placed water and fruits on them as the sun went down, he was handing people forms to fill in so he could compile a database of the families affected by the fire.
"If I had known the council was not going to show up, on 7pm on day one I would have called the UN to get assistance because people are sleeping on blankets on the floor," he told BuzzFeed News. "If the government didn't want to do anything they could have at least called someone who can."
He said the biggest obstacle was a lack of communication, which was why volunteers had come together to assess the needs of residents and find out where their temporary accommodation was to provide food and moral support. But as members of the community, he said, there was only so much they can do.
He, like many of the volunteers, was scathing about Kensington and Chelsea council. "As much as I hate them, we have to be in bed with the devil to help them," he said. "That's just the honest truth, to help the victims.
"I understand the community and the outrage, I'm outraged as well. I am putting this aside until these residents are sorted."
He continued: "People are really traumatised – you saw the gentleman inside. He was shouting and he has every right to. He's lost friends. The council needs to be transparent. people are waiting for their loved ones."
Out of this fury at the lack of a proper official response, conspiracy theories have emerged. Sayed said there was anger at what locals believe was a playing-down of the scale of the fire and that he believes the death toll is in the triple digits: "They are using a tactic to de-escalating the situation. … They are releasing the deaths slowly so people will get bored of the story and move on."
He added: "This is our 9/11 and we've come together and we need to stick together – just because this isn't a terrorist attack and just because we're not all wealthy doesn't mean we shouldn't be heard."
Local resident Abraham Chowdhury, who has been the lead coordinator for the voluntary emergency response, was key to getting the Westway sports and fitness centre on Crowthorne Road to open up as a refuge centre for residents on the morning of the fire.

As well as organising the local response, Chowdhury also met London mayor Sadiq Khan and the Queen when they came to visit, and told them that if they were going to thank anyone for the relief efforts, they should thank the local volunteers. He was up watching the news when he got a call from a friend saying his uncle and nieces were on the top floor of the tower. "I was just shocked," he told BuzzFeed News.
"I just turned up at one of the stations and it was complete havoc – there was no system, no one knew what they were doing, everyone was just packing bags at any of the centres."
When he got to Westway, just down the road from Grenfell, the door had just opened and "people started shoving in bags. It was havoc."
When the directors of the sports centre arrived, Chowdhury said there had to be some sort of organisation: "I literally took the lead as coordinator and designated people in different areas and told them exactly what to do. I had a floor plan [drawn up] to quickly drop where the bedding, the food, clothing – dump things and we'll organise it. So that's how it happened."
He said the volunteers began making beds, fearing how many people had perished: "We knew there were survivors, but we didn't know how many there were, and so many survivors were scattered all around.
"We saw dribs and drabs coming in and from the surrounding flats – it was just frustrating as there was no one there. We tried to have a system [where] people come in, go downstairs, register with the council, and then help themselves to the donations and whatever they need and find a rest place. But most of them in those few days were staying with family.
"But it's just really frustrating for volunteers because there was no coordination and we had to ask councillors – the local borough had no idea what was going on and left us to deal with it, basically."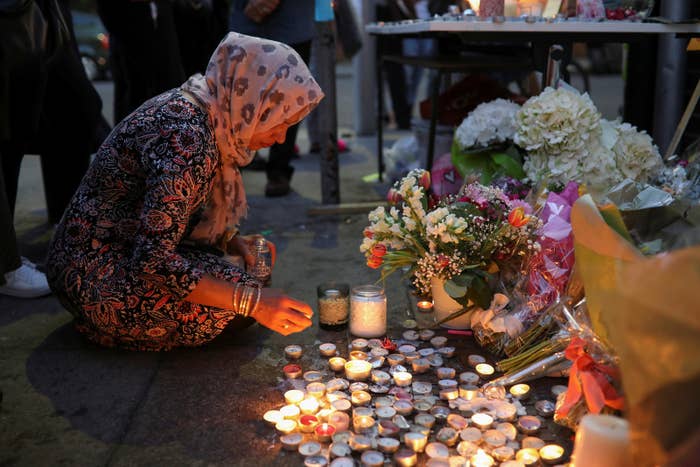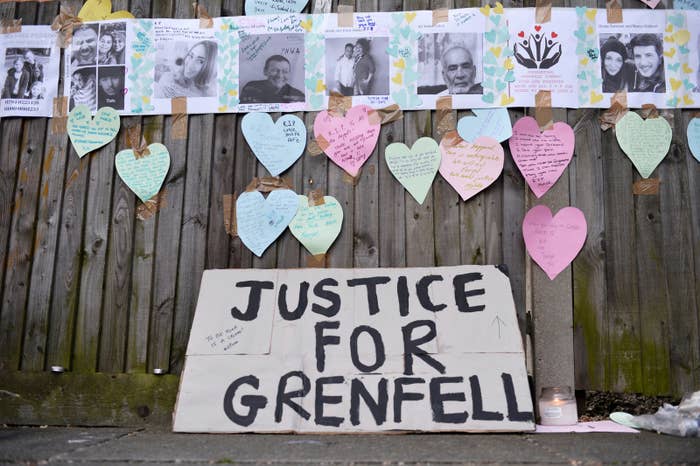 There was a huge quantity of donations in the first 24 hours – so much that it became overwhelming. The mountain of donations left in the basketball court or "the cage" at Westway was so much, volunteers were sorting items by sizes and even colour.
In the absence of an official emergency response, there were many charities on the ground from the first day, including Muslim Aid, Human Appeal, Penny Appeal, National Zakat Foundation, and Islamic Relief. They had handed out bottles of water and also set up iftar for people to break their fast. In a statement Muslim Aid said it and Islamic Relief had raised over £73,000 for affected families and collected over 60 tonnes of supplies.
When asked last week how they would be distributing the donations, charities said it would be done through the local authorities. When BuzzFeed News contacted Kensington and Chelsea council on Friday 16 June about who was distributing donations, the local council replied in an email: "The Red Cross will be taking on responsibility to collate and distribute. Please contact them directly." Yet that was not the case at this point, and the Red Cross was called to step in later. Even after 48 hours, hundreds of volunteers were still sorting and packing boxes of donations to be packed in vans and cars and sent to warehouses or storage centres.
Samra Said, who works in providing humanitarian relief in places such as Somaliland, said she had been working at sorting boxes from the early hours on Wednesday and managed to secure four units at a nearby storage centre for the surplus donations.
"Families want a dignified way of collecting donations, they want a dignified way of taking, and mainly they want cash so they can start over in the short term," she said.
Lotifa Begum, coordinator from the British Muslim Emergency Response unit, which was set up at the end of last week, said a coalition of charities had come together to provide services such as bereavement support, emotional support, therapies, and counsellors to support residents and families, and had carried out a needs assessment from family visits.
"These families are mourning and they have not had time to come to terms with everything, she said. "The psychological trauma and impact of this is something charity aid workers are able to respond to."
Within 24 hours, a stall had been set up at the mosque by the National Zakat Foundation (NZF), a British Muslim charity, providing grants for any residents affected by the fire. Iqbal Nasim, the chief executive of NZF, said charities were going directly to hotels asking affected residents what they needed, and that his charity was providing emergency cash. By Saturday evening, NZF had already given out £20,000 to about 50 sets of people.
Nasim said: "The main thing to highlight now is we need clear organisation and communication from the authorities. Because at the end of the day we shouldn't be having to do this.
"The council themselves should be pulling together a residents meeting – a survivors, victims, residents meeting. A clear public meeting so everything can be dealt with and handled and clear communication can take place."
Back at Westway, Chowdhury said: "I had a team to go out and collect a database, I had to keep trying to get a team to log donations from big companies but that disappeared, someone stole a laptop. It's beautiful to see a community [come together], but it's also sad you see looting happens. People start looting – it's just sad, taking advantage of society."
He said the council had only arrived at Westway by 6pm on Wednesday.
"There was no effort in any sense or form from the council. All they did was swan in, I mean I've talked to them directly about this. They swanned in, they set up a place in the corner and said: 'This is housing.'
"At the same time as they were setting up, there was victims coming in and people evacuated from the houses, and actual victims from the tower just coming in. So it was just havoc, people from the tower just coming in."
He said it was the volunteers had created some sort of organisation, and if Westway looked well set up, it was because volunteers had spent days working on it. Yet now, he said, everyone else wanted media opportunities to take credit. He criticised the photo opportunity when victims of the Grenfell Tower visited Theresa May at Downing Street following the protest at Kensington Town Hall, saying: "It was so fucking whitewashed."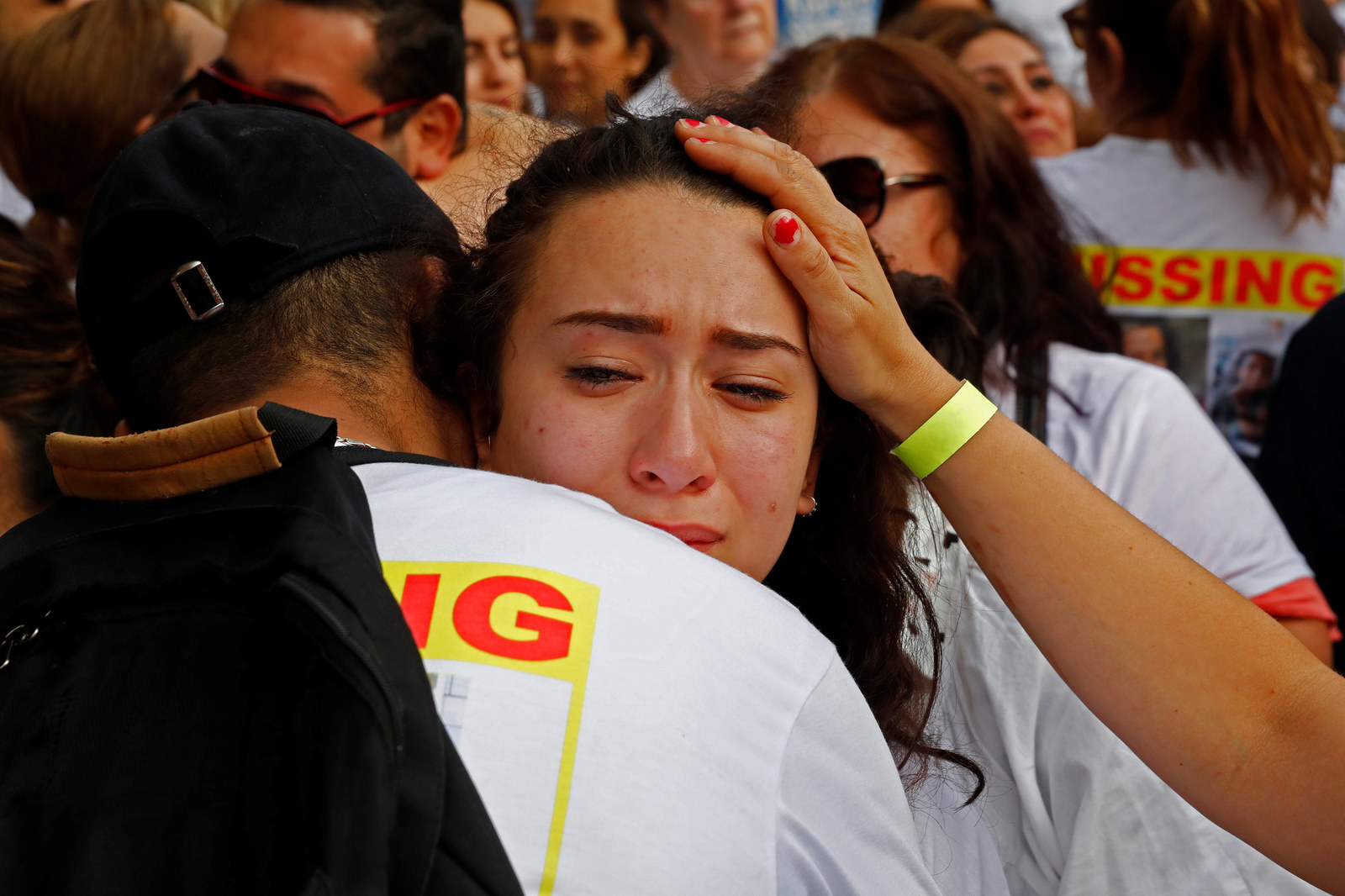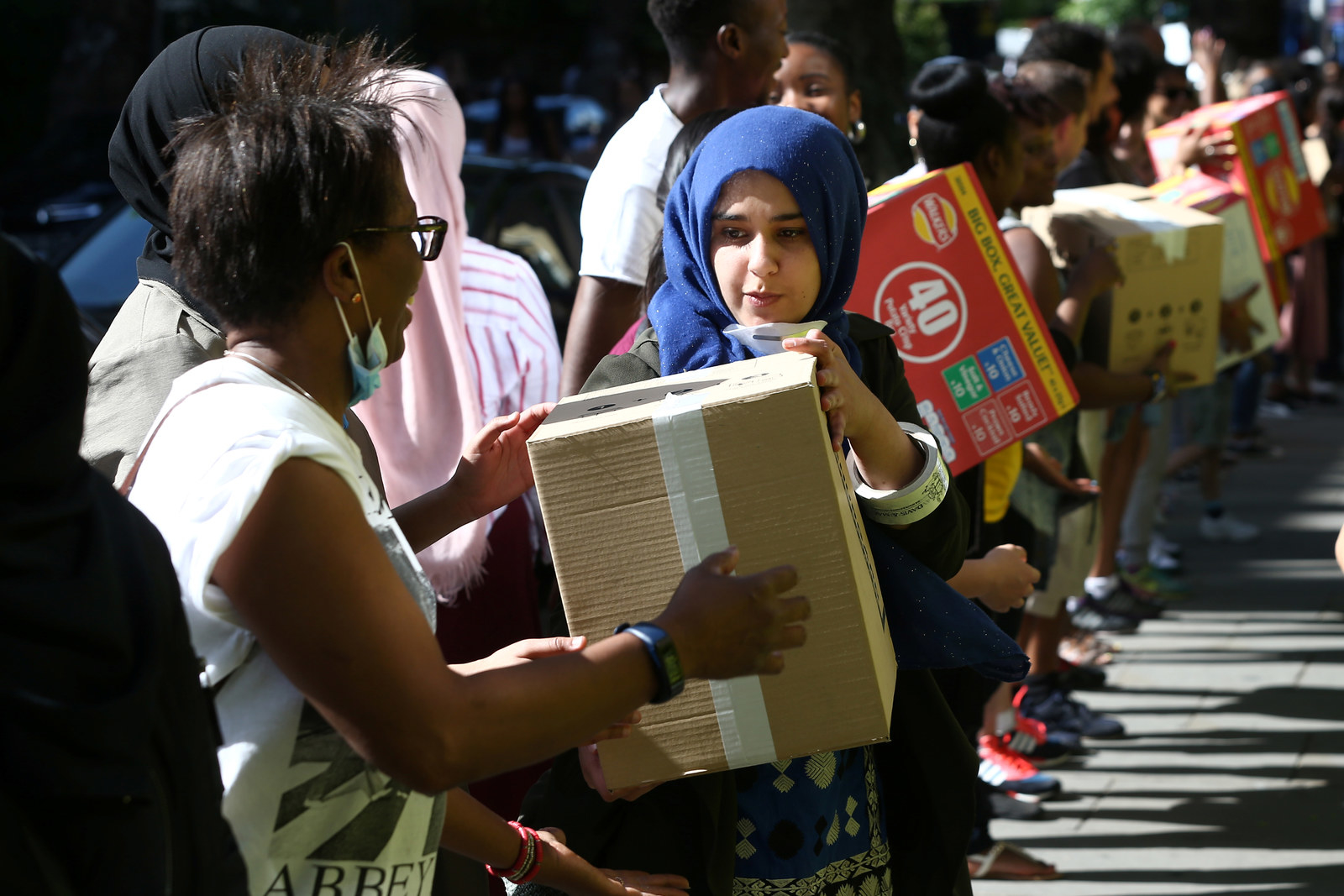 "The general feel when you walk around, the public will know what's going on," Chowdhury said. "It was all of us together. They all did their bit, everyone did their bit.
"The council arrived and they just swanned in and they kind of liaised with us, basically. I had to liaise with them a lot."
He said that in the first few days Kensington and Chelsea council "were really rude" and that he had to have a go at one of the councillors. "She was just yelling at the volunteers and I said, 'Do not yell at the volunteers. They are here. We're here dedicating our time and you are working eight-hour shifts getting paid for something like this.' I literally couldn't hold it." He said people were angry, understandably so, and that he's having to do his best to keep things calm at Westway.
By Sunday, Ealing council had stepped in, as BuzzFeed News was the first to report, and by that evening a Grenfell Fire Response Team had been set up involving councils across London. By midweek, Chowdhury said, many volunteers who had worked with families wanted to do a slow handover "to build that trust with the people from the council, and they're going to send several people down to liaise with the families and do a handover".
One issue for many volunteers was the issue of rotating people from the council and changes in shifts, so they would be constantly faced with different people to deal with. "They never did a proper handover," he said, "so every time a new person came we had to do a brief thing, and all the volunteers were getting pissed off.
"It's really frustrating and as a team we just stuck together. We're not going to leave these people: They trust us, they trust the volunteers, they trust the community. They don't trust the people out there."
He said his main concern was there are so many volunteers who had "worked effortlessly" in the the two three days without any sleep, yet now "you've got these big charities coming in and sweeping us to one side".
"I've just been telling the other volunteers, 'Go out and tell your story, don't let any of this go away,'" he said, adding that he was advising them to be selective with media.
Chowdhury said that just the day before it had been so exhausting for him that he had broken down. One of his biggest concerns, he said, is for the volunteers he has been leading "who have also lost friends and family". "Now they are emotionally drained and I am trying to get them some sort of bereavement counselling."
The handwritten notices about the residents meeting were posted alongside other emergency numbers and missing people posters. They announced a "legal information meeting for all evacuees and responders" and said lawyers representing some of the affected families were giving out information on possible next steps. Abbas Nawrozzadeh, one of the cofounders of Grenfell Legal Support, a voluntary liaison service between those affected by the Grenfell fire and legal representatives, had organised the meeting.

The shock of what he has been dealing with over the last week was evident when he spoke to BuzzFeed News. "My friends were affected, they lost their father," he said. "I feel a connection with everyone here now, and it's taken its toll and you can hear it in my voice.
"In the first few days we came down and it was chaos. I came to visit the family and tried to make sure everything is OK.
"They needed provision, and they needed housing immediately, and they had things to do with the coroner – and what I saw was chaos.
"Never again can we have this socioeconomic disparity between the richest of the rich and the poorest of the poor. And the fact that the poorer communities were effectively window-dressed for the richer communities to ensure their [house] values and prices didn't decrease. And what did they do, they went with substandard and unsafe cladding to do that, which is such a disgusting thing."
He said volunteers had to step in as the council wasn't equipped, and that the response had been "a shambles".
"And these volunteers have suffered trauma," Nawrozzadeh said. "These volunteers have had to hear the horror stories about what's happened."
He added: "It's the council mishandling of everything. They are not treating people with respect and dignity that should be afforded to them." He gives the example of how he believe the council should put a moratorium on rent on evacuated homes where people have now been told to go back – only to find no gas or hot water.
"There was a meeting with them [authorities] yesterday about how in a really demeaning way people are having to go to the Westway centre to take baths and showers. We've got lots of Muslims there, Muslim women, and they don't have access to facilities," he said, adding that there was cultural insensitivity from the authorities. "There's not understanding of it."
He also pointed to the way residents had been scattered in various temporary accommodation and said they had been in "isolation".
"The fact they've been dispersed in this way has led unfortunately to the community facing a blackout from the world," he said. "They don't understand what is going on in the other communities."
It's caused tensions and anxiety for these volunteers, he says. "A lot of these volunteers are breaking down, after a few days of little sleep and loads of work and trying to get things together. Literally feed people, and provide sanitation … People are running around trying to get things to people, such as cash donations."
He said there had been one bit of chaos after another, and that residents have come "out of the frying pan into the fire" in dealing with the authorities.

At the same time, he said, lawyers from different firms had come to see affected residents, handing out their business cards and "promising the world to people and taking advantage of people at a very early stage". He is trying to ensure the lawyers who are involved have credibility, compassion, and the capacity to take on the mammoth task of representing the residents and families.
As a result, Nawrozzadeh felt it was important to call a meeting to talk to residents about their legal rights. He said he will be advising residents about preserving evidence, handing out legal fact sheets, and making sure families and residents are at the heart of shaping a public inquiry.
Due to the lack of communication, he said volunteers had set up a mass texting service, letting residents know about updates and about upcoming meetings.
"The council have been obstructive fundamentally obstructive to the provision of proper access to justice by isolating members of the community, and not providing them with the provisions to access legal services, and that's where we come in and have taken responsibility."
He added: "Justice is only justice if it is timely. I don't think it would be justice if an inquiry is completed in 20 years." He said he doesn't want the justice to take as long as the 27-year campaign by victims' families into the death of 96 football fans at Hillsborough in 1989.
"That's not justice, he said, "because people have died in that time, people have gone mad trying to figure out what's happened in that time. We have to have a timely inquiry that's streamlined and led on a collaborative approach and understands and listens to the residents."