These Inspirational Muslim Women Have Found A Way To Support Each Other In The Workplace
"It's about creating an environment where people don't feel out of place, and saying: 'This is yours.'"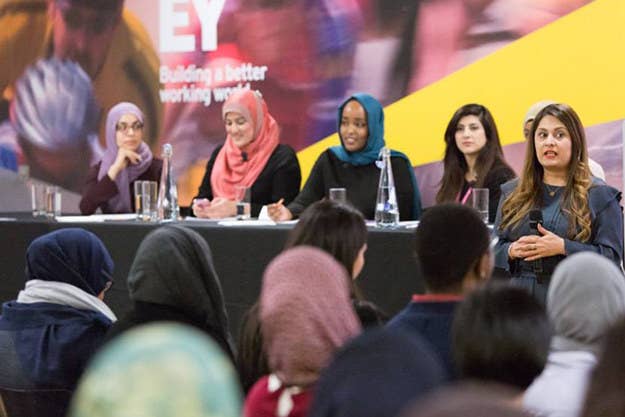 A team of graduates have set up a mentoring scheme to tackle the "triple penalty" Muslim women face in the workplace, as new research shows women from ethnic minority backgrounds are "left behind" when it comes to pay gap progress.

Muslim Women Connect, a new mentoring network for professionals, has been inundated with requests since its launch earlier this year.
Its founders are Noreen Niazi, 24, and Aamira Patel, 24, who'd had enough of what they saw as depressing statistics of Muslim women doing well in school but not progressing in the workplace.
They were also tired of hearing about their friends' lack of access to competitive career paths.

The initiative could not be more timely in light of a new study analysing the gender pay gap by ethnicity, published on Monday, which highlighted that women of Bangladeshi and Pakistani heritage are most likely to be underpaid in the UK. The disparity between them and white British-heritage men, the group the gap is measured against, is 26%.
The group behind the study, gender equality charity the Fawcett Society, also found that black women of African heritage have seen virtually no progress in closing the gender pay gap with white British-heritage men in two decades, with a full-time pay gap of 21.4% in the 1990s shrinking only very slightly to 19.6% today.
"We have to address pay inequality for all, and look behind the headline figures to get a true picture of what is going on," said Sam Smethers, chief executive of the Fawcett Society. "We also have to understand and address the combined impact of race and gender inequality."
She added: "As a minimum the ONS [Office for National Statistics] should routinely collect and publish this data."
It backs up recent findings published by the Social Mobility Commission, which concluded there was a "broken mobility promise" for British children of Bangladeshi and Pakistani origin, who have outperformed other ethnic groups to achieve rapid improvements at every level of education yet are unlikely to be employed in managerial or professional jobs.

At the 27 January launch of Muslim Women Connect, women from different backgrounds packed out a conference room overlooking the River Thames at London Bridge, sipping juice from flutes while commuters rushed across the street below. It was a Friday night, and more than 150 women had turned up.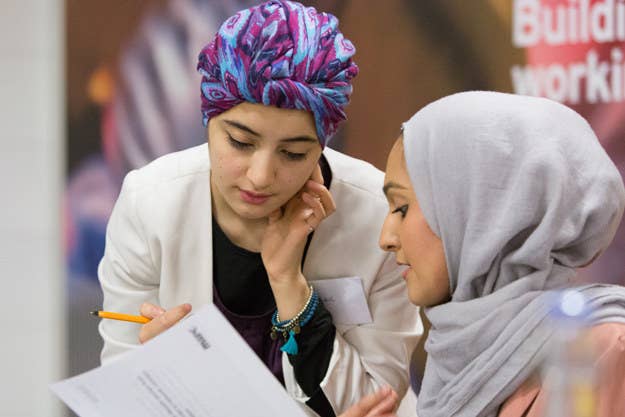 Speaking at the event, Patel told BuzzFeed News there had been huge interest in the launch, despite the network being a startup with no website and very little advertising.
"You [can] feel the spirit in the room," she said. "The energy present, people ... mingling, talking, exchanging business cards... Someone came up to me and said she'd exchanged her business card seven times. That's pretty incredible on a Friday night at 9pm."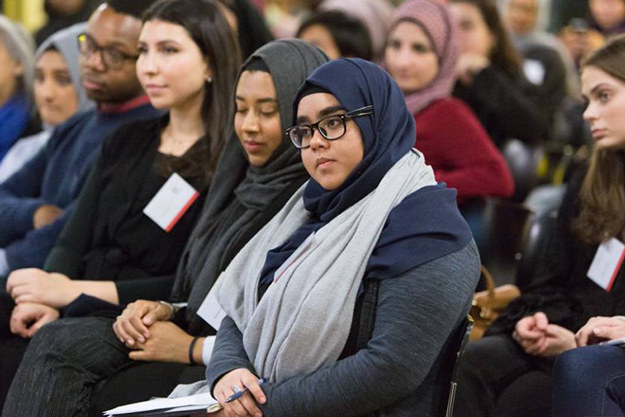 The network has a three-pronged approach: First, it aims to inspire women by giving them access to a network of women in various industries – the sold-out launch event, for example, had Rimla Akhtar, the first Muslim woman on the FA Council, the UK's football governing body, on the panel.
Second, it wants to provide a safe space for Muslim women to talk about issues such as Islamophobia in communities and the workplace. And third, it's looking to take its message to young women by introducing a school speaker programme.
"We just find a lot of young Muslim women don't have mentors and we don't know why," Niazi said. "I read a report a while ago from the women and equalities committee which was about how Muslim women are the most socially and economically disadvantaged. When you're looking at Muslim women in the workplace they usually have a triple penalty: for being a Muslim, for being a woman, and usually for being a person of colour."
She added: "There are things out there, but there's nothing by Muslim women, for Muslim women. There are so many different mainstream organisations and we're just trying to be really grassroots, taking what's already out there and channelling it the right way."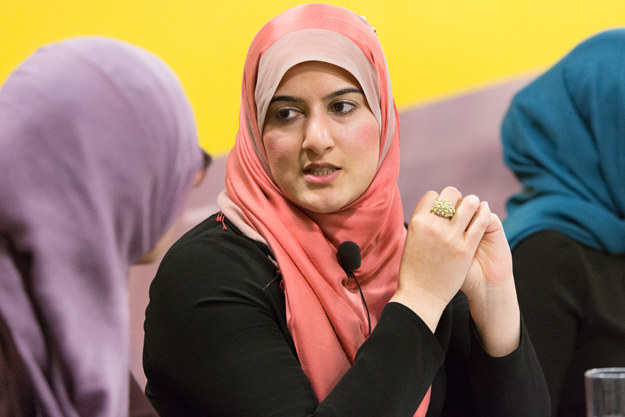 Niazi said her network is mostly being discovered through word of mouth, and that the launch event was so oversubscribed, they had to book a larger venue: "Since we've launched we've had over 30 organisations asking to collaborate and corporate companies asking for roundtable discussions to talk about diversity in the workplace."

The six-month mentoring programme starts in April, and will include masterclasses "aimed at helping young people get skills from industry experts and build up their networks".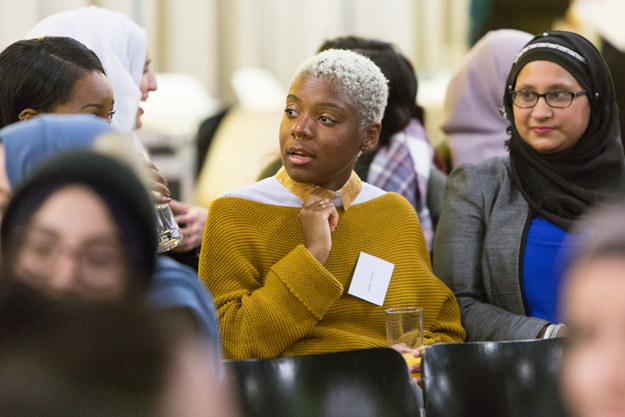 Niazi who worked with schools while at a faith-based green charity, added: "Young people are growing up now with so many different issues. Even dealing with Islamophobia, dealing with a post-Brexit, post-Trump situation where things are really tense and people don't really know where they fit into things.
"Their identities are constantly being questioned, they're always being misrepresented in the press, and on the other side they're facing issues that all normal girls face, such as insecurities and trying to be perfect."

She said she was particularly concerned about the lack of accessible role models: "You'll see either unrepresentative Muslims in the press or really big hijabi bloggers – and for us it's about trying to create accessible role models, and there is so much talent within the Muslim community."
During the event one of the questions put to the panelists was about the need to look at barriers and attitudes toward women in work within Muslim communities. It led to a lively debate.
Akhtar said: "As Muslim women we've been given our rights," adding: "It's about owning your own narrative."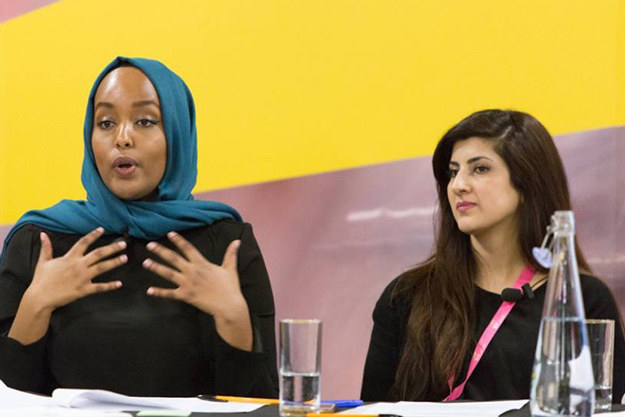 According to the government's Employment Opportunities for Muslims in the UK report, unemployment rates for Muslims are more than twice that of the general population (12.8% compared to 5.4%), and 41% are economically inactive, compared to 21.8% of the general population.

The reasons for this, it said, are "varied and complex", including discrimination and Islamophobia, stereotyping, pressure from traditional families, a lack of tailored advice around higher education choices, and insufficient role models across education and employment.
To tackle issues like these, the next Muslim Women Connect event, "Against All Odds", which takes place on Sunday as part of International Women's Day events, is a panel-led discussion on social barriers from both within the Muslim community and outside it, and how such challenges can be overcome.
Arifa Zaman, who has been working in HR for six years, told BuzzFeed News: "I think if I had a mentor growing up it would be amazing and I think I would have got further quicker. ... I think just learning from other people's experiences and possibly finding the right way to go, how to approach things is always a benefit."

"I'm not going to say I'm from a privileged background but I am going to say I haven't really faced a lot of the struggles people today might face," she said. "I'm working for a charity at the moment, and I know the people who do come and see us might be the first [in their families] to go to university, be in households where they are having to work to support bills and family and things like that."

Aliyah Mohamud, 25, who works in publishing, said: "I basically started working the minute I left university. Compared to my peers, [my career progression was] very easy. I think it's because I'm confident. Maybe I've just been slightly lucky, and maybe if I had applied for senior positions I'd experience more [setbacks] then."
Muna Aly, 25, a photographer, said she had to borrow a camera from her university at first: "I'm not professionally trained, but through volunteering I started to network and that bought about my first clients."

She added: "I face a bias in the photography world – I'm not called Jack. What I found is a lot of people trust male photographers more than they do women, and it's quite a sad thing but it's the shocking reality."
Aly said her clients are mostly Muslim women and that she does a lot of wedding photography: "It's like a niche within a niche."
Ledina Gashi, 23, a London College of Fashion graduate, said: "I found out about the Muslim Women Network on Instagram, so wanted to know a bit about it. Just to network with different women, mainly. I'm a graduate and want to work in fashion and am just trying to get a job at the moment, it's very hard. I've done a lot of internships and trying to get involved like that … It's very bitchy."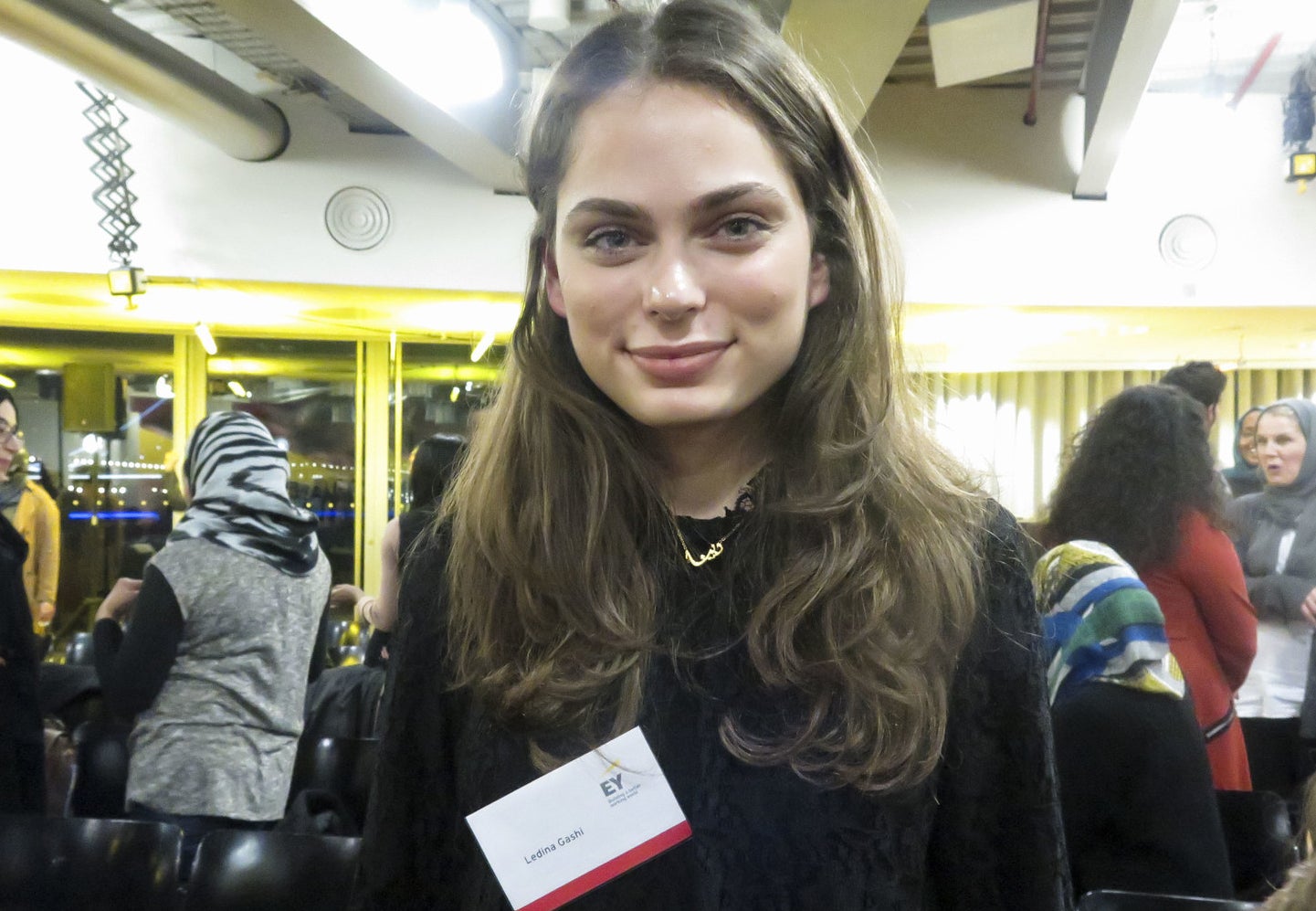 She said she had faced some cultural obstacles: "All the fashion shows I go to serve alcohol or they go to the pub later, so it's kind of hard in that sense, but it's OK. You just get treated very harshly. You have to push yourself."

Hafsah Yusuf, 25, a textile designer, said: "As Muslim women we have to fight so much harder in any professional industry we are in. Because not only are we chasing our dreams and goals in life but we are also breaking stereotypes along the way. So it's very important for us to be strong, ambitious, unapologetic women."
For Niazi, much of the barrier for many young women is that they can't get beyond thinking, I can't picture myself in this kind of building.

"So," she said, "it's about creating an environment where people don't feel out of place, and saying: 'This is yours, you have as much right to be in these spaces as anybody else,' and this is all we want to do."