Human Rights Groups Say The EU Court Decision On The Hijab Will Further Alienate Muslim Women
"This is nothing short of a Muslim ban applied only to women in private employment, just because of how they choose to dress according their religion."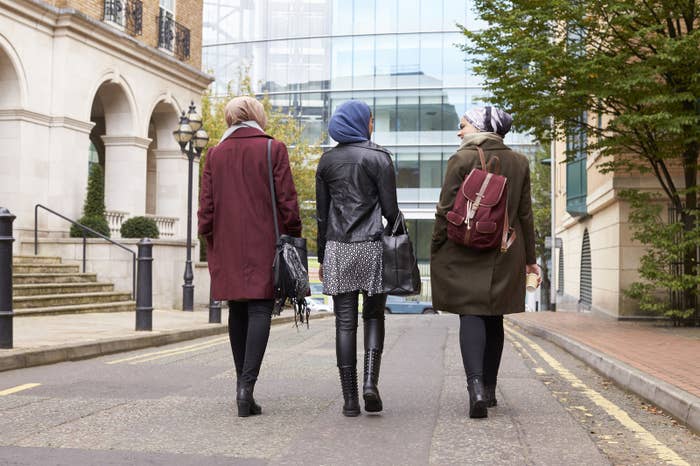 Human rights campaigners and Muslim women have condemned a ruling by Europe's top court that it is lawful for employers to ban workers from the "visible wearing of any political, philosophical or religious sign", including the hijab.

The European Forum of Muslim Women, a Belgium-based network campaigning for women's rights, said they "strongly condemn and deplore the decision", adding in a statement: "The backing of this headscarf ban by the highest court of justice in Europe is a serious threat to the principles of equality, justice, and freedoms that EU must uphold."
The group said that Muslim women were one of the most targeted groups in Europe for the visible expression of their faith in public and, in particular, at work, adding: "Many struggle to access and remain in the employment sector, facing a triple penalty with gender, ethnicity, and religion."
The landmark ruling on Tuesday is the first of its kind from the European Court of Justice (ECJ), and comes after Belgium's Court of Cassation referred the case of Samira Achbita, a receptionist who was fired for wearing a headscarf to work at security giant G4S in 2006.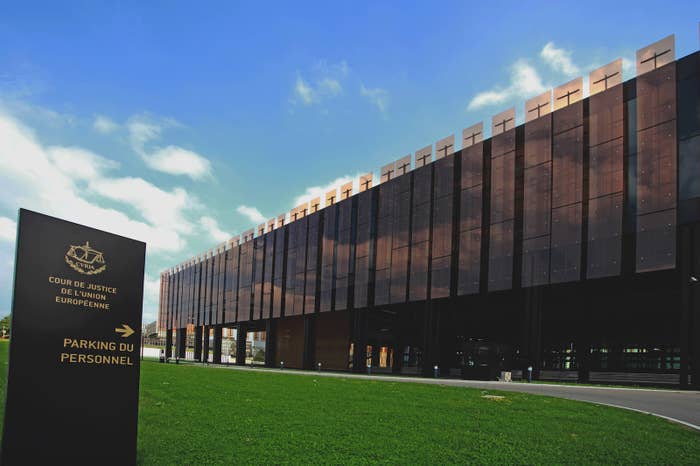 Another woman, Asma Bougnaoui, was dismissed from French company Micropole in 2008 after she also wore the headscarf to work. In a similar move, the French Court of Cassation referred the decision to the ECJ.

The latest case came on the eve of a Dutch election in which immigration from Muslim countries is a key issue, and just weeks before France elects a new president against a similar backdrop of anti-Muslim sentiment. Last year, several mayors in the south of France banned Muslim women from wearing burkinis to the beach.
"This ruling will further alienate Muslim women from the workplace, preventing them from strengthening their economic independence and their emancipation in the society by being part of the workforce," the European Forum of Muslim Women said.

In France, a 2014 CV testing showed that a Muslim woman wearing the headscarf when applying for a job had a 1% return rate, while in Belgium 44% of employers agree that wearing a headscarf can reduce a candidate's chances, according to a report by the European Network Against Racism (ENAR).
Amel Yacef, chair of ENAR, responded to the news of the ECJ backing private-sector workplace bans on headscarves, saying: "This is an extremely worrying decision because it effectively bars all Muslim women wearing the headscarf from the workplace."

"This is nothing short of a Muslim ban applied only to women in private employment, just because of how they choose to dress according their religion," she said.

The Forum of European Muslim Youth and Student Organisations (FEMYSO), an association of young Muslims across Europe, said in the joint statement with ENAR that the decision would serve to "legitimise discrimination of Muslim women".

In a statement CCIF, an association campaigning against Islamophobia in France who battled against the burkini ban there, said the ruling condemned Muslim women to "economic and social death".

The statement went on to say the decision "is all the more serious at a time when Muslim women are already discriminated against at every stage of their life, from childhood to adulthood, and in all aspects of daily life."
It added: "This decision also sends the worst message to tens of millions of European Muslims at a time when terrorist rhetoric from all sides is trying to spread the idea of ​​a split between Europe and Muslims."
Muslim women across Europe were alarmed at the news. Speaking to BuzzFeed News, Lina Toumi, the vice president of FEMYSO in France, said: "Within a week from the 8th of March [International Women's Day] we are reminded how women's rights are still blatantly violated in Europe. Once again, we are witnessing a court ruling that will affect primarily women. Now more than ever, it is important for everyone to unite against any sort of discrimination, and to empower EU citizens in order to build strong and inclusive societies."
Feïza Ben Mohamed, former spokesperson of the Federation of Muslims of the South of France, said in a tweet that the ruling would create new tensions within companies and was "dangerous" for social cohesion.

John Dalhuisen, director of Amnesty International's Europe and Central Asia department, said: "Today's disappointing rulings by the European Court of Justice give greater leeway to employers to discriminate against women – and men – on the grounds of religious belief.

"At a time when identity and appearance have become a political battleground, people need more protection against prejudice, not less.
"The court did say that employers are not at liberty to pander to the prejudices of their clients. But by ruling that company policies can prohibit religious symbols on the grounds of neutrality, they have opened a backdoor to precisely such prejudice. It is now for national governments to step up and protect the rights of their citizens."