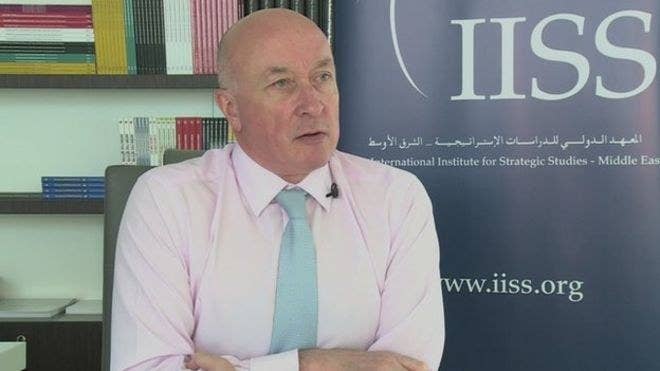 The executive director of a leading British think tank recently revealed to have been bankrolled by £33 million from Bahraini royals has quietly stepped down just weeks ahead of a key security summit in Manama.

Internal letters, seen by BuzzFeed News, informed staff at the London-based International Institute for Strategic Studies (IISS) that Sir John Jenkins, the former ambassador to Saudi Arabia, left his post in Bahrain in late November.
The announcement from the think tank, seen as a global authority on military and diplomatic affairs, has not however been made public, with Jenkins still appearing on the IISS "staff and expertise" webpage as the executive director of IISS-Middle East.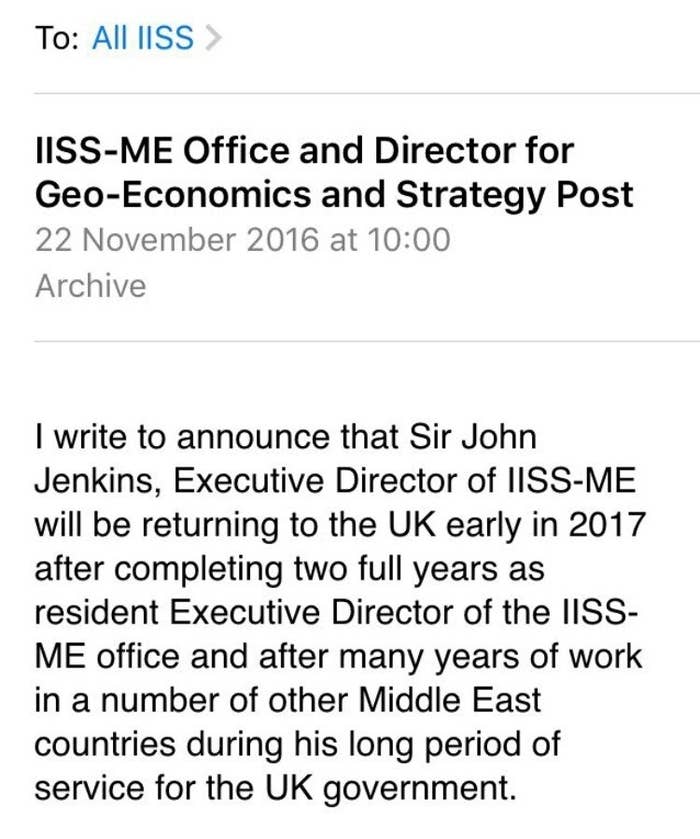 The documents were obtained by Bahrain Watch, an investigative platform promoting transparency in the country.

"The explosive revelations that IISS has funded a third of its budget in secret by accepting millions from the Bahraini government has put the entire legacy of the IISS, including its independence and reputation into question," Marc Owen Jones, a researcher at Bahrain Watch, said.
"The fact Jenkins was a key head of a British charity that organises PR conferences to burnish a regime accused of serious human rights violations is something that cannot be resolved by his resignation alone."
Jenkins had taken up the position in January 2015 after a 35-year career in diplomacy, including in Syria, Iraq, and Libya, and had previously been regarded as the Foreign Office's foremost Arabist.
The letter reveals the think tank has no immediate plans to recruit a new resident executive director, adding Jenkins had agreed to remain a part of the IISS but return to the UK early in 2017. The IISS confirmed Jenkins would be leaving his post, but has not yet responded to a request for comment.
The letter reads: "Please join me in thanking JJ for his excellent contribution over the last two years, during which the IISS ME office has grown in size and standing, and for his agreement to take on this part time role that will help us to keep up our momentum and high tempo on Middle East work."
Sources close to IISS management said there had been internal management disputes over "scrutiny and lack of oversight".
Jenkins' role in the Middle East was in the spotlight last month after senior MPs from the foreign affairs select committee criticised his failure to publish a full review into the Muslim Brotherhood, an inquiry that he began while he was ambassador to Saudi Arabia.
The MPs added that the appointment of Jenkins to the inquiry role despite his links to Saudi and the Gulf had "created the impression that a foreign state, which was an interested party, had a private window into the conduct of a UK government inquiry".
Previously, Jenkins had told BBC Newsnight countries in the Gulf were facing unique challenges and were unsure about the support they were getting from the West. In another interview he said some of Saudi Arabia's recent executions of al-Qaeda supporters were understandable.
The revelation comes as Boris Johnson, the British foreign secretary, is due to deliver a speech today at the IISS Manama Dialogue event in Bahrain, where delegations from over 20 countries will gather to "exchange views on regional security challenges".
Johnson begins his tour in the region on the day Downing Street was forced to publicly rebuke him for accusing UK ally Saudi Arabia of engaging in "proxy wars" in the Middle East.
The Guardian earlier this week revealed the IISS had accepted millions from the Bahraini royal family, which has been criticised for its poor human rights record, leading to accusations that the think tank has jeopardised its independence.
The list of those attending, seen by BuzzFeed News, includes other Tory ministers, diplomats, and Daily Mail political editor-at-large Isabel Oakeshott, as well as representatives from arms producers including from Serco and BAE Systems, making the UK the conference's largest source of foreign delegates.
Researchers from the Bahrain Institute for Rights and Democracy (BIRD), a human rights group, identified figures among the Bahraini delegates who they say held positions of power during a crackdown on human rights. They said police abuses have occurred in the last five years while Major Gen. Tariq al-Hassan — who will be at the summit — was chief of public security.

Also attending is Isa al-Hammadi, the minister of information affairs since the spring of this year, who previously worked in the ministry of interior. BIRD said under his watch multiple Bahraini journalists working for international outlets, including AP and France24, have been refused renewal of their press permit.
Sayed Ahmed Alwadaei, the director of advocacy at BIRD, said: "Britain should use its position on the world stage to champion human rights, not sacrifice them for commerce with corrupt countries.

"Boris Johnson should not repeat Theresa May's failure to raise human rights in Bahrain. There are no Bahraini independent civil society representatives in the dialogue, and in fact people who should be there like [human rights activist] Nabeel Rajab languish behind bars instead. Without these voices, this is not a dialogue, but a monologue."