1.
This majestic tree-home in Cave Junction.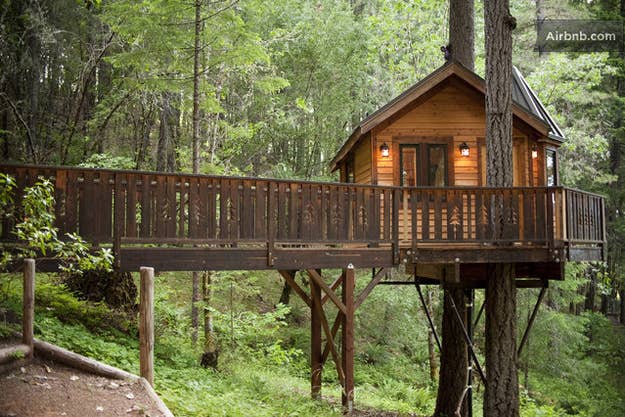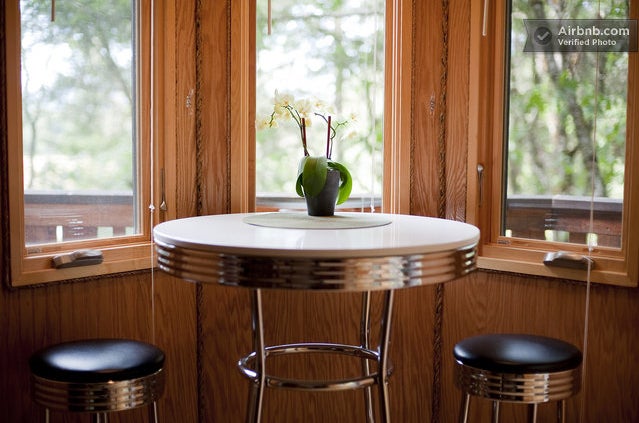 "The Calypso," two full sized beds, a patio, and some beautiful furnishings.
2.
This beachside tree property in Hawaii.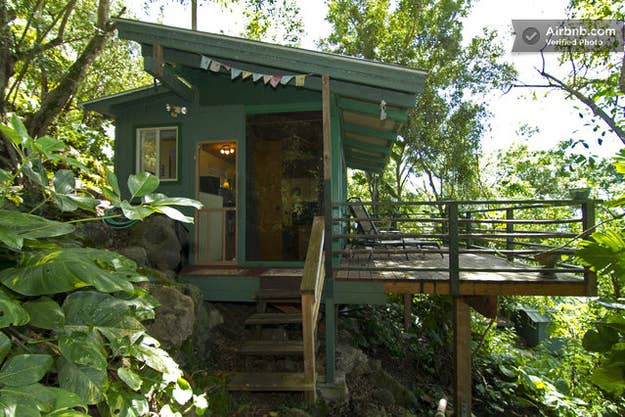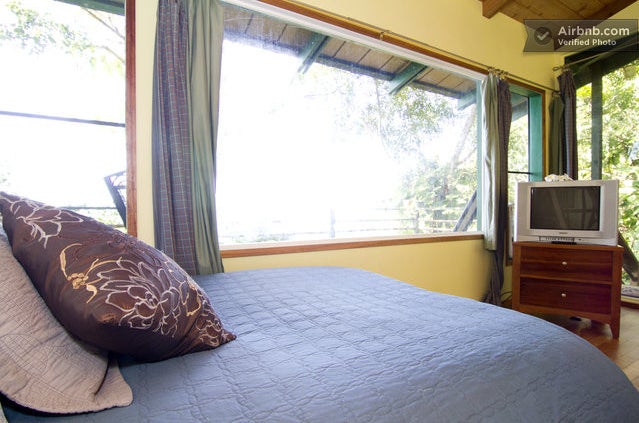 This bungalow overlooks one of the most famous surf spots on the north shore and comes with all the amenities: bathroom, fridge, even a TV!
3.
This treehouse in Illinois, located near the Garden of the Gods.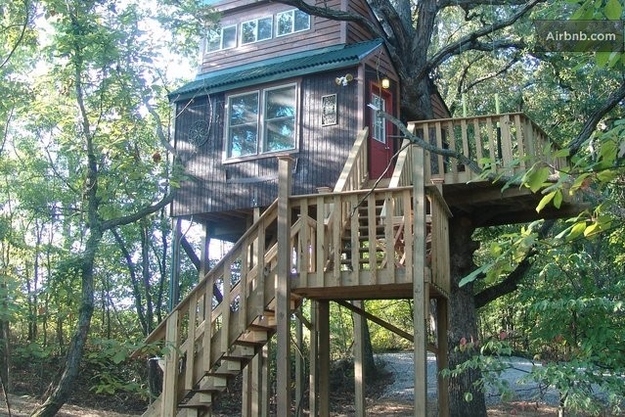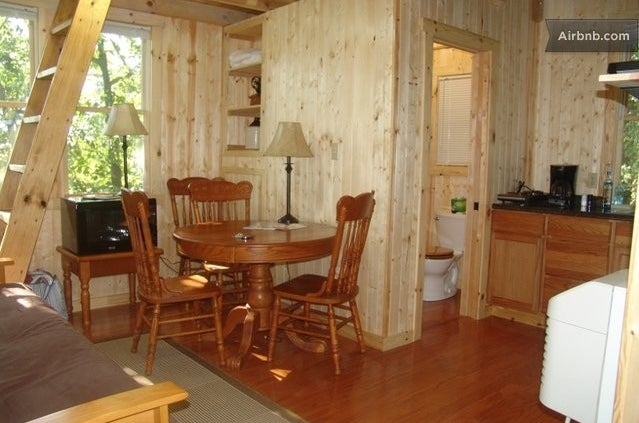 At 450 sq ft, it's probably bigger than your studio apartment in Manhattan. It's nestled in a 200+ year old White Oak and has a functional bathroom and a kitchenette.
4.
This tree-hut in a magical Hawaiian forest.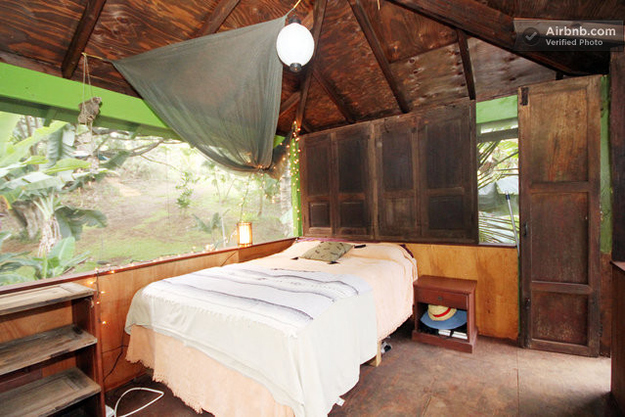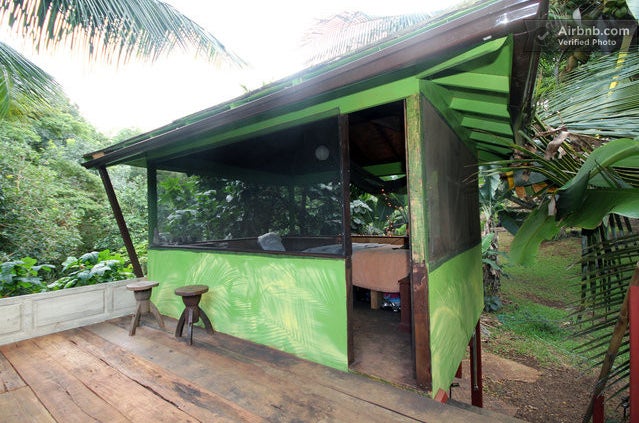 This bungalow in paradise is "surrounded by fruit trees, meandering steam and Moloaa valley magic," which sure beats nothing but towels folded into cute animals.
5.
This romantic treehouse in a garden outside Chicago.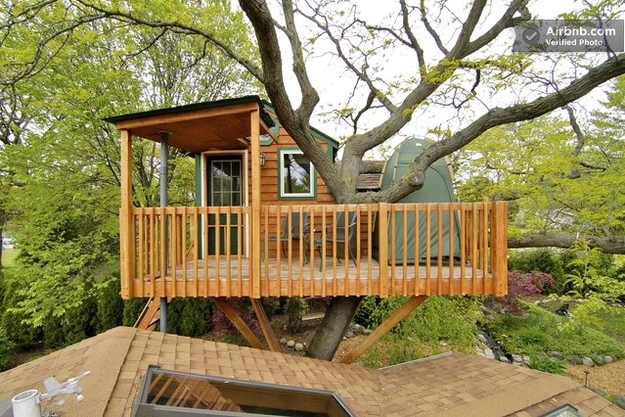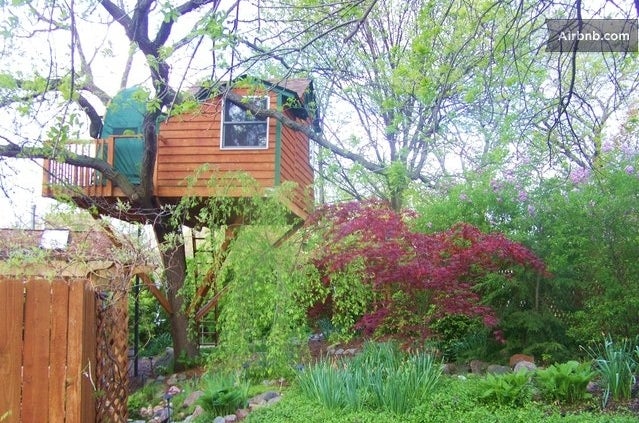 15 feet above a Koi pond, this eco-friendly tree dwelling has Pella windows, a fireplace, and A/C. Also available: "private sailing trip on Lake Michigan aboard beautiful 42 foot yacht with licensed captain" but really, why would you ever leave the house?
6.
This charming tree-and-breakfast in Massachusetts.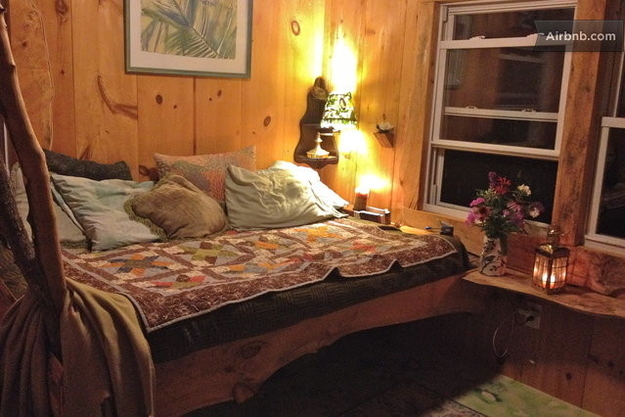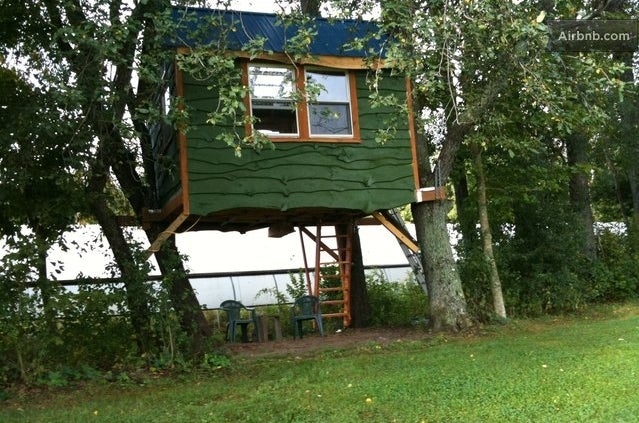 Set on acres of beautiful, pristine farmland with access to the main house (for bathroom and kitchen purposes), also a ton of local fresh ingredients for chowing down just as nature intended.
7.
This getaway cedar in Whidbey Island, Washington.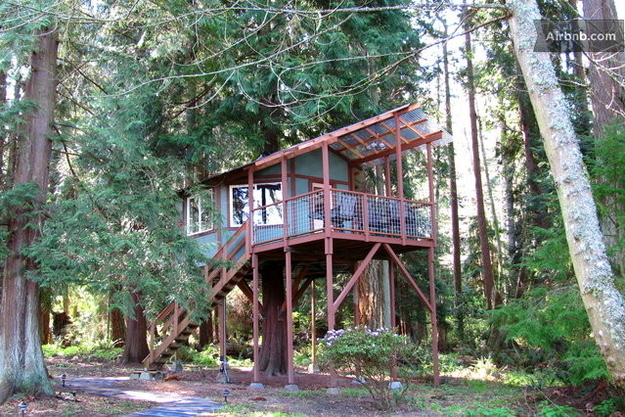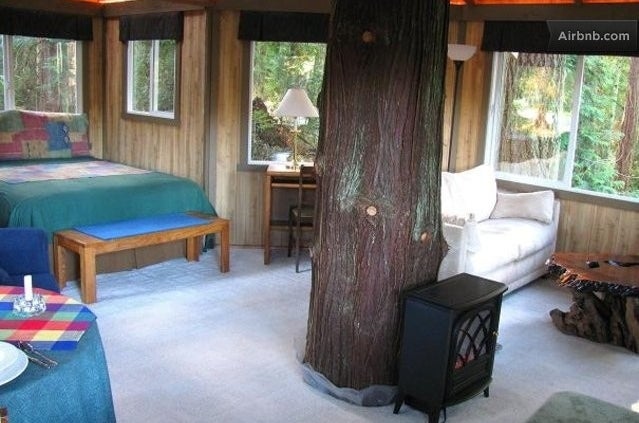 250 square feet of charming floor space with a beautiful full-circle view of the surrounding woods. Comes with heat/AC and your own private shower house.
8.
This set of interconnected treehouses in Atlanta, Georgia.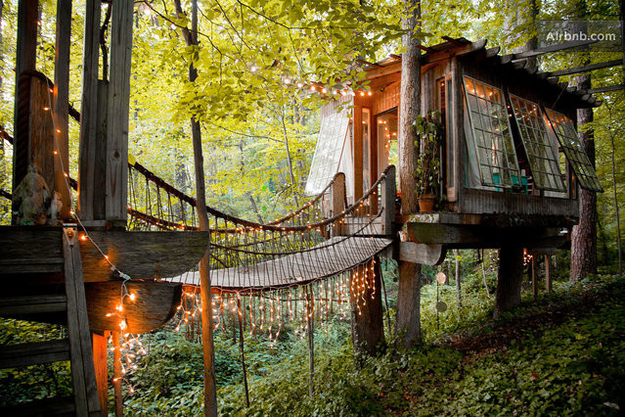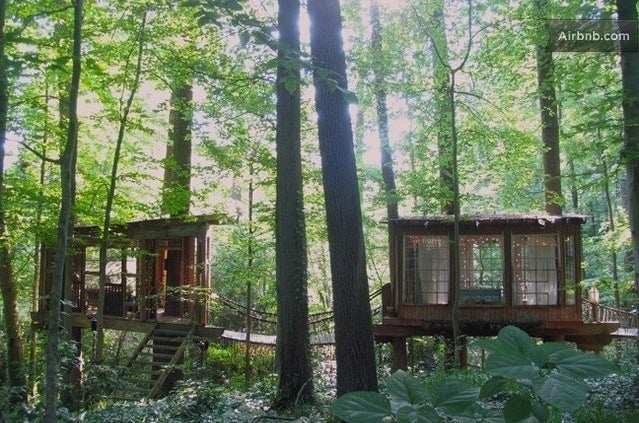 A deluxe suite of three connected treehouses set in Buckhead, an uptown district of Atlanta. Antique furnishings and a bottle of wine every day from the sommelier owner. Can't beat that!
9.
This legit house in a tree in the Santa Cruz mountains.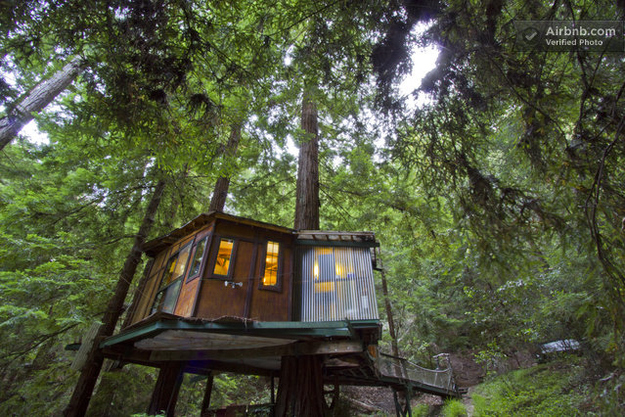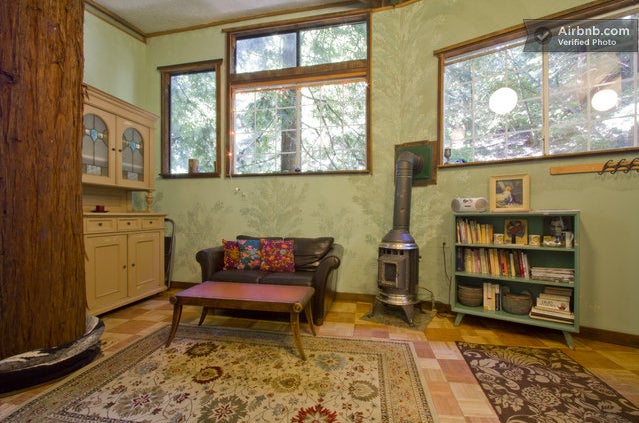 Built by a stained glass artist, this treehouse has TWO live trees growing through it, as well as a kitchen, full bathroom, and its own cat named Grey who lives outside. The only thing missing is you. Oh, and mice. Grey takes care of that.
10.
This stately Oak treehouse above San Francisco.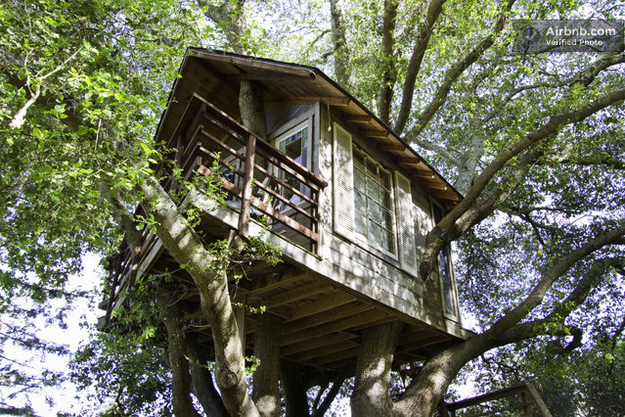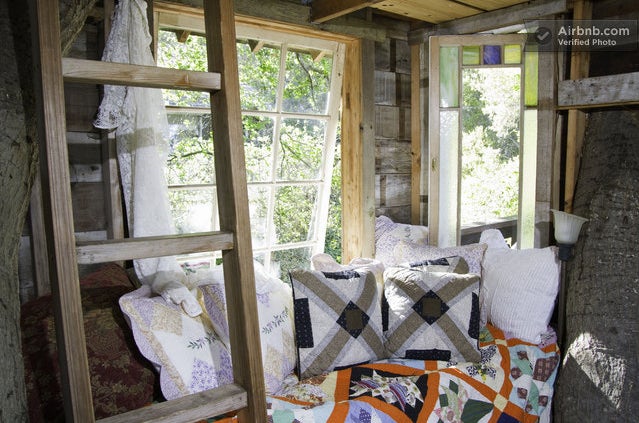 Overlooking the San Francisco Bay and 15 minutes from downtown, so you can have the best of both worlds. Includes indoor bath/shower & kitchenette area in nearby lower level of family log cabin home, in case you're really attached to showering and stuff.
11.
Here's one in Vermont.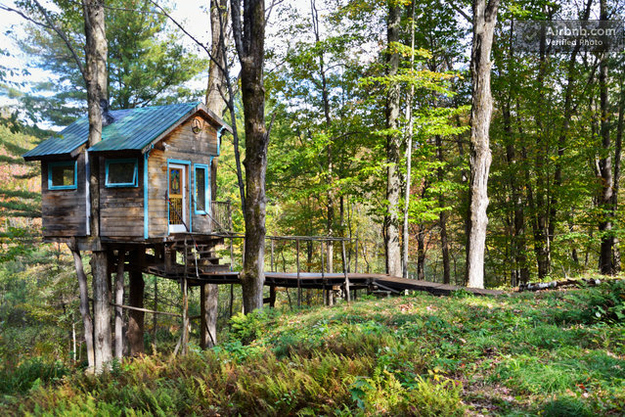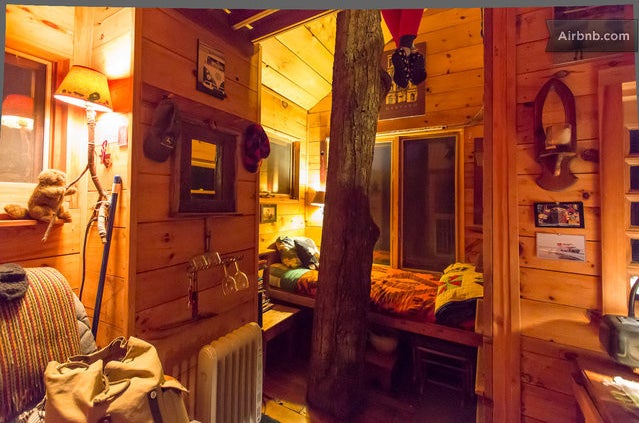 This quiet place in the woods has heat, electricity, and a small refrigerator. Oh and the hot tub. Located near Mt. Abraham and the Green Mountain National Forest.
12.
And finally, back to Hawaii, in Kilauea Volcano over a lava tube.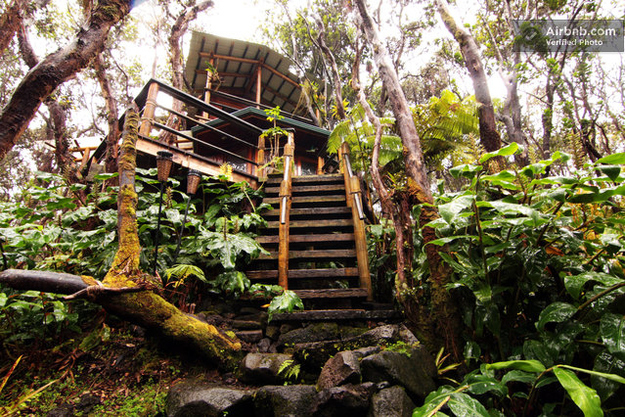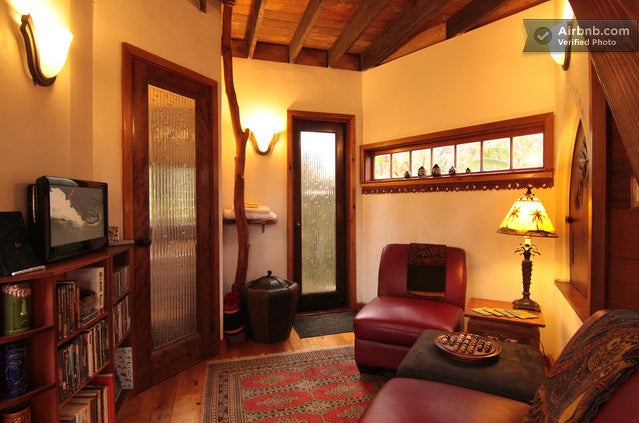 Originally conceived as an intimate wedding venue -- there's a small kitchen, outdoor shower, and composting toilet & vanity. The indoor fireplace is a Jotul propane stove vented to the outside. And a hot tub. What more do you need?