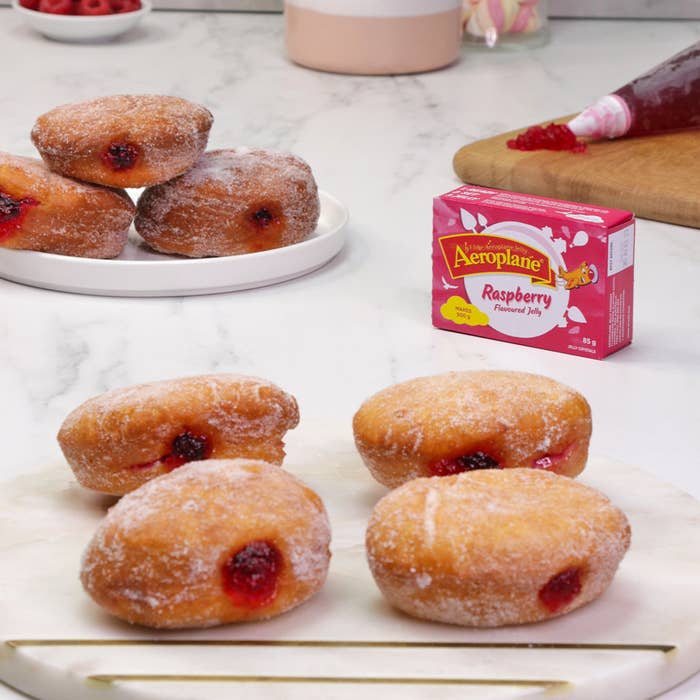 Ingredients
2 x 85g Aeroplane Raspberry Flavoured Jelly
250ml hot water
100ml cold water
3 cups plain flour
2 tbsp caster sugar
3 tsp dried yeast
A pinch table salt
200ml warm milk
100g butter, melted
3 egg yolks, whites removed
1 litre frying oil
To Coat
¼ cup caster sugar

Method
STEP 1: To a mixing bowl, add 1 packet of Aeroplane Raspberry Flavoured Jelly, then add in 250ml hot water and stir well until the jelly crystals dissolve. Add 150ml of cold water, stir once more, then pour the jelly into a large piping bag and set in the fridge for 4 hours.
STEP 2: To make the donuts, sift the plain flour, caster sugar, yeast and salt into a large mixing bowl.
STEP 3: Create a well in the centre of the flour, then add the warm milk, butter and egg yolks, and use a fork to stir the centre, gradually pulling the flour into the middle. The dough should start to form when it sticks to the fork.
STEP 4: Once the dough has created a sticky mass, add the dough onto a generously floured surface and knead for about 10 minutes until smooth. Add the dough to an oiled bowl, cover with cling film and allow to prove for 90 minutes in a warm spot. It should double in size.
STEP 5: Give the dough a punch in the centre so that it relaxes in the bowl, then pour it onto a floured surface. Knead again once more for about 5 minutes and then roll the dough out until 2cm thick.
STEP 6: Using a cookie cutter or a large glass, cut circles out of the dough and then place them on a baking tray, and allow to sit until they slightly puff up (approximately 20 minutes)
STEP 7: Heat oil in a deep fryer to 190°C, then one at a time, fry the donuts in the oil for 1-2 minutes, until golden brown on each side. Use a slotted spoon to rotate the donut every 20 seconds, to ensure consistent frying. Once the donut has cooked, place on a baking tray lined with paper towel to blot dry. Repeat until all the dough has been fried and allow the donuts to cool for 30 minutes.
STEP 8: Rub each donut one by one in a bowl of caster sugar until evenly coated. Use a sharp knife to pierce a hole in the centre of the donut.
STEP 9: Remove the piping bag of jelly from the fridge, insert the nozzle of the piping bag into the hole, then using a firm grip, squeeze approximately 1 tbsp of jelly into each donut.
STEP 10: Serve on a platter and ENJOY!