So if you're familiar with the model and social media influencer that is Blac Chyna, you know that she has quite the enterprising spirit. In short, she knows how to secure a bag.
In addition to monetising her social media presence, Chyna has built up her resume to include hosting parties, developing her own makeup brand — and that one time she had a reality show with her now-ex-fiancé Rob Kardashian.
Well the mother of two announced on her Instagram that she will be in Lagos, Nigeria, later this month to promote her latest business venture...a skin-lightening cream.
The lightening cream is a collaboration with a brand called Whitenicious.
The product, which retails for $250 (£195) for a 100g jar, is described as an "illuminating cream" that provides "radiant protection."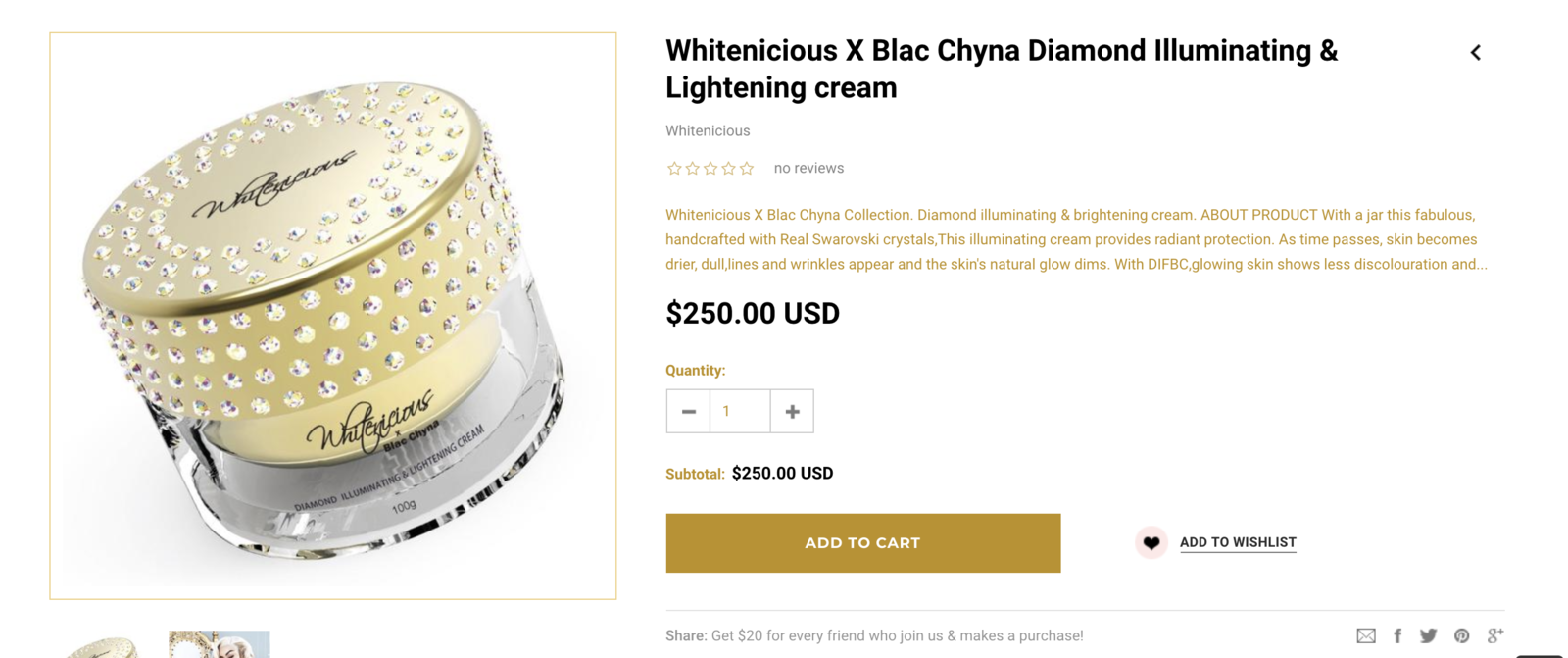 Whitenicious is the creation of Cameroonian pop musician and beauty entrepreneur Dencia, whose viral images showing a noticeable change in her complexion served as the springboard for the brand.
In an interview with Ebony, the brand's creator insisted that her products are purely for "dark spot correction" and hyper-pigmentation and contained none of the major ingredients known to be present in standard skin-bleaching creams.
"This product doesn't have hydroquinone, it doesn't have steroids, and it doesn't have mercury," she said.
Long-term use of bleaching creams designed to make skin lighter has been linked to cancer, as well as kidney damage, blindness, and depression.
And people have accused Chyna of further perpetuating the idea that lighter skin is more desirable and better in a region where the regular use of skin-lightening products is already significantly high.
According to the World Health Organisation, nearly 77% of Nigerian women, the highest percentage in the world, use skin-lightening products regularly. Skin bleaching is also endemic in other parts of the world, such as India, Taiwan, and Hong Kong.

A representative for Chyna told TMZ that she has been using the brand for years to help manage hyper-pigmentation and took the deal with the intent of helping other black women who have similar "skin issues."
While Chyna disabled comments for the post promoting her visit to the West African country, people are being very vocal about this business venture.
BuzzFeed News has reached out to representatives for Chyna for further comment.