A Murder Investigation Has Been Launched After 39 Bodies Were Discovered In A Truck In Essex
A 25-year-old-man from Northern Ireland has been arrested on suspicion of murder.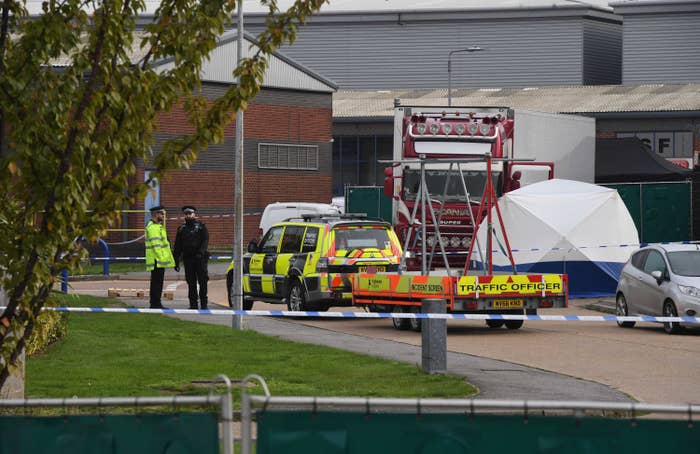 A 25-year-old-man from Northern Ireland has been arrested on suspicion of murder following the discovery of 39 bodies in the back of a lorry container in Essex.
Police were called to the Waterglade Industrial Park on Eastern Avenue in Grays by the ambulance service just before 1:40am on Oct. 23.
All 39 people were pronounced dead at the scene with early indications suggesting that 38 were of adult age and one is believed to be a teenager.
Chief Superintendent Andrew Mariner said: "This is a tragic incident where a large number of people have lost their lives. Our enquiries are ongoing to establish what has happened.
"We are in the process of identifying the victims, however I anticipate that this could be a lengthy process. We believe the lorry is from Bulgaria and entered the country at Holyhead on Saturday, 19 October, and we are working closely with our partners to investigate.
"We have arrested the lorry driver in connection with the incident who remains in police custody as our enquiries continue. I appreciate this cordon is going to disrupt the activity of local businesses in the area and we will work to ensure that disruption is kept as short as possible. We are working with Thurrock Council to mitigate against any impact our investigation scene will have locally."
A cordon has been put in place and access to and from the Waterglade Industrial Park remains closed.
Essex Deputy Chief Constable Pippa Mills addressed members of the press and described the discovery as a "tragedy" and a "very sad day for Essex police and the local community."
Mills pledged to work alongside partner agencies and issued an appeal for any information that would aid in identifying the victims and the circumstances which led to their deaths.
"I'd like to appeal for anyone who has any information to contact my offices at the major investigation team on 101 or by visiting our Essex police website. We will update all of our channels as we're able to but please appreciate we're in the early stages of what is likely to be a lengthy investigation."
Speaking in the House of Commons, home secretary Priti Patel said: "The whole house will agree that this is.. a truly shocking incident. My thoughts, and all thoughts and condolences, are with the victims and their loved ones at this utterly terrible time. I am sure the whole house will convey their condolences at this sad time."
She said the nationality of the victims was not yet known, but she had asked her officials to work with the investigation to provide assistance. "We will continue to work with international partners to keep people safe," she said.