Watch Channing Tatum And The Rock Discuss Panties In "G.I. Joe: Retaliation"
Plus: Director Jon M. Chu explains why he wanted to be sure the characters "are not cardboard cutout toy figures."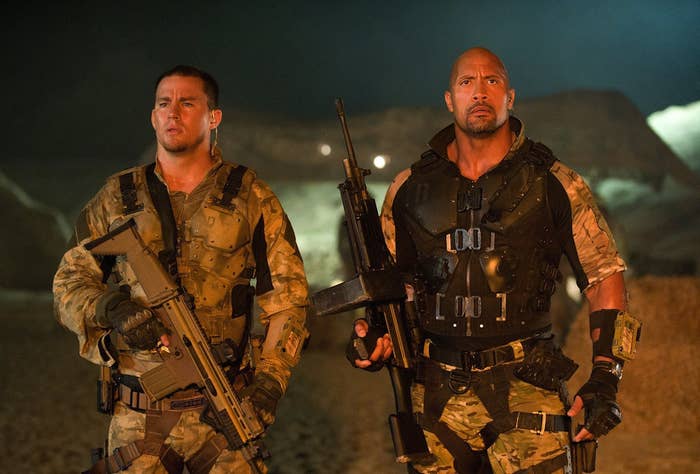 When your movie is bursting with explosions, masked villains, and The Rock's teutonic biceps, it's nice to have your main characters just spend some time bonding over a cupcake. And, OK, giant guns too.
In this exclusive clip from G.I. Joe: Retaliation — the second live-action adaptation of the gonzo U.S. military comic books, '80s animated series, and toy line — Duke (Channing Tatum) and Roadblock (Dwayne "The Rock" Johnson) are chilling after a successful operation to extract a rogue nuclear warhead. The scene was designed to help "establish a brotherhood between the Joes," says director Jon M. Chu in a phone interview. "It's not a completely separate world from the first movie [2009's G.I. Joe: The Rise of Cobra], but these guys are real human beings — they're not these cardboard cutout toy figures. They are people you want to have a beer with."
Check out the scene below:
"We have a big loud crazy movie," explains Chu about the scene. "We wanted something sort of mundane that you don't expect [from] G.I. Joes. … And we wanted to see The Rock with a giant gun, of course."
While the scene was cooked up by screenwriters Rheet Reese and Paul Wernick (Zombieland), Chu says Tatum and Johnson (or, as Chu adorably calls them, "Channing and Rock") dreamed up the bit about Duke's "panties" themselves. "We did a million different versions of that joke," he says. "They just started riffing. We literally just kept doing it over and over again, and they just started getting crazier and crazier with their reactions. That just was one that was just crazy enough that it was laughable, but it wasn't too insane and didn't make any sense."
And if there's one thing a G.I. Joe movie needs to avoid, it's not making any sense.