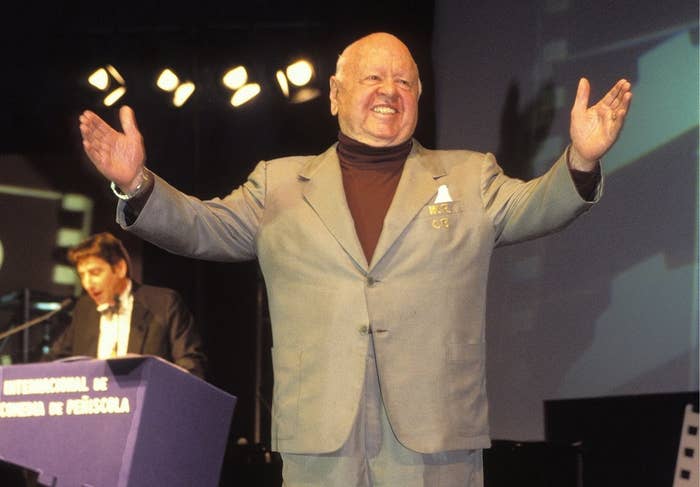 Oscar- and Emmy-winning actor Mickey Rooney, whose career spanned a mind-boggling 10 decades, has died at 93, according to multiple reports.
Born Joseph Yule Jr. to vaudeville parents, Rooney started working as a child star in a series of silent comedy shorts in the 1920s based on the popular comic strip character Mickey McGuire. He became so synonymous with the role that his mother attempted to legally change his name, but ultimately Mickey Rooney was used instead.
Rooney worked in every decade since. From 1939–1941, he was the biggest box office star in the world, thanks in part to in a series of films with Judy Garland and as the stalwart Andy Hardy. He won a juvenile Academy Award in 1939, and was nominated four more times, ultimately receiving an honorary Oscar in 1983. Rooney also starred in Elizabeth Taylor's breakout film National Velvet in 1944, and played a cringe-inducing Asian stereotype in the otherwise beloved Breakfast at Tiffany's in 1961.
His personal life was tumultuous, to say the least: He filed for bankruptcy in 1962, and was married eight times. One of his wives, Barbara Ann Thomason, was killed in 1966 by her friend and lover Milos Milos, in a murder-suicide using Rooney's own gun.
But through it all, Rooney persevered, working in everything from top-tier dramas (1980's The Black Stallion) and popular blockbusters (2006's Night at the Museum) to schlocky horror movies (like 1971's The Manipulator). He was even listed as part of the cast of a 2014 film of Dr. Jekyll and Mr. Hyde. (BuzzFeed could not confirm Rooney's involvement in the film at press time.)
"The audience and I are friends," Rooney's been quoted saying. "They allowed me to grow up with them. I've let them down several times. They've let me down several times. But we're all family."