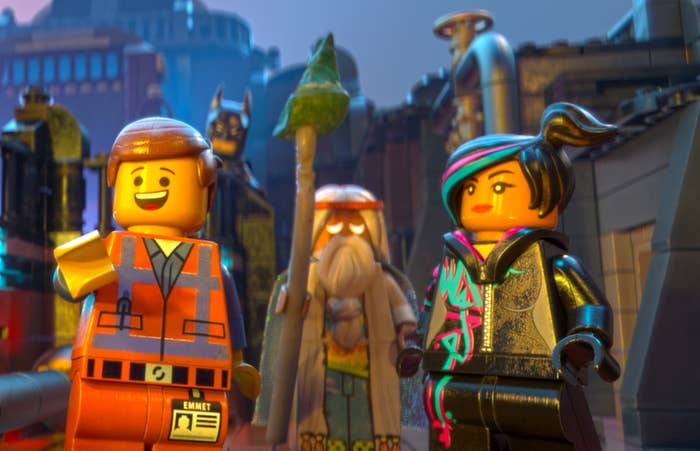 The box office headlines today are touting The LEGO Movie as a surprise monster hit, and with an estimated $69.1 million in its opening weekend, it's easy to see why. The debut is higher than Frozen's $67.4 million wide opening weekend in November 2013, and that film has gone on to be Walt Disney Animation's biggest hit since 1994's The Lion King (when adjusting for inflation). The LEGO Movie, meanwhile, has set a record for a feature animated film from Warner Bros. Pictures, surpassing the $41.5 million debut of 2006's Happy Feet. And its A grade from audience polling firm CinemaScore suggests strong word of mouth could carry its U.S. grosses well past the $200 million threshold for animated films released at the beginning of the year.
But more than a surprise monster hit, The LEGO Movie could be an animated film game changer if Hollywood pays close enough attention. Instead of chasing The LEGO Movie's box office returns by creating other toy-based animated films (like, say, The Hot Wheels Movie or Bratz vs. Ugly Dolls), Hollywood — and especially feature animation houses such as Pixar Animation Studios, DreamWorks Animation, and the like — would do well to learn from other storytelling risks that The LEGO Movie takes. (SPOILERS ahead!)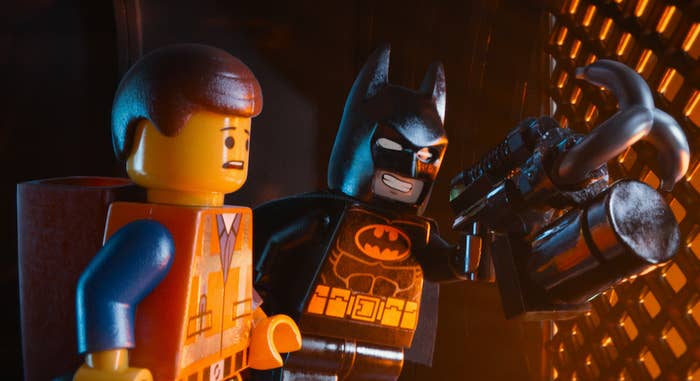 On the surface, The LEGO Movie tells a tried-and-true story of a lowly nobody who is plucked from obscurity and burnished with special significance so he can save the world. Emmet is an average construction worker (voiced by Chris Pratt) who has lived his life literally following the instructions handed to him and the rest of society by corporate autocrat Lord Business (voiced by Will Ferrell). When he accidentally discovers the mysterious, world-saving "Piece of Resistance," however, Emmet is taken to be a savior-like figure called The Special by a group of LEGO Master Builders, who are capable of creating anything they want from LEGO pieces without following the instructions.
But there is also a meta-narrative tucked inside the film — dazzlingly directed and written by Phil Lord and Christopher Miller (Cloudy with a Chance of Meatballs, 21 Jump Street) — about the current state of animated feature filmmaking. A creeping sameness has seeped into feature animation over the last few years — even when they are impeccably well made and designed, films like Monsters University and The Croods adhere to airtight storytelling blueprints, unfolding with little genuine surprise. Even Frozen, with its refreshing feminist revision of the standard fairy tale, still holds fast to many elements of the "Disney formula" — it just does it so well that the movie's a comforting throwback to Disney's early '90s animation prime.
The third act of The LEGO Movie, by contrast, cracks its story wide open. (MAJOR SPOILERS start here!) At a pivotal moment, Emmet enters the real world, discovering that the epic battle between Lord Business and the Master Builders is really a struggle between a grown father (also played by Ferrell) — determined to bring some tidy-but-stifling order to his sprawling basement LEGO world — and the freewheeling imagination of his young son (Jadon Sand). It's a genuinely jaw-dropping twist that also honors the reason LEGO has proven to be such an enduring toy: Those small plastic bricks are the raw materials for unfettered creative play.
The world of The LEGO Movie is also stuffed with outré characters like the unfailingly happy Unikitty (voiced by Alison Brie) and the hodgepodge pirate captain Metal Beard (voiced by Nick Offerman), and its off-beat sense of humor flies at the audience with a rapid-fire energy that, at times, borders on manic — just like the anything-goes inventiveness of a child's mind at play. The best animated movies, especially the ones by Pixar and DreamWorks, have also embodied that ability to take risky leaps of creative logic that surprise, delight, and move us all at once. But since 2010's Toy Story 3 and How to Train Your Dragon, American feature animation has largely lost that spirit of go-for-broke, did-not-see-that-coming excitement. Until now.
It's a droll irony that a movie that could be a transparently craven advertisement for a toy line manages not only to be thrillingly inventive and original, but a pointed critique of creative commodification. So of course Warner Bros. is already working on a sequel. Sequels can be good — and in the case of Pixar's Toy Story films, they can be truly great. But with the talent within the animation "creative consortium" that Warner Bros. announced last month (including Miller, Lord, Crazy, Stupid, Love's John Requa and Glenn Ficarra, The Muppets' Nicholas Stoller, and Mr. Popper's Penguins' Jared Stern), one hopes that the studio remains as keen to build brand-new creative endeavors as they are to rebuild their past ones.
Here are the estimated top 10 box office figures for Friday to Sunday, courtesy of Box Office Mojo:
1. The LEGO Movie* — $69.1 million
2. The Monuments Men* — $22.7 million
3. Ride Along — $9.4 million
4. Frozen — $6.9 million
5. That Awkward Moment — $5.5 million
6. Lone Survivor — $5.3 million
7. Vampire Academy* — $4.1 million
8. The Nut Job — $3.8 million
9. Jack Ryan: Shadow Recruit — $3.6 million
10. Labor Day — $3.2 million
*Opening weekend