Julie Delpy And Ethan Hawke Really Don't Want You To Talk During Their Movie
The Before Midnight stars are trying to do a scene.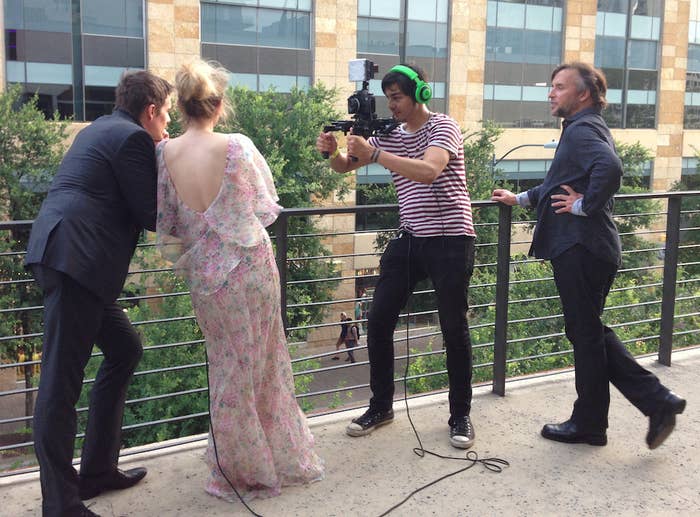 AUSTIN — No one likes it when people talk or text during a movie. (If you do like it, you're probably the one talking and/or texting, and should likely reevaluate your life priorities.) The Alamo Drafthouse, the Austin-based movie theater chain, has been especially aggressive in policing talkers and texters, including a series of home-grown "Don't Talk" PSAs that play before their movies. (You may have seen this one.)
BuzzFeed has an exclusive first look at the Alamo's latest PSA, a funny and somewhat meta clip featuring Before Midnight stars Julie Delpy and Ethan Hawke as they deal with someone talking and texting as they're shooting a scene.
This particular "Don't Talk" PSA came about due to the "Drafthouse Recommends" program, which Alamo CEO Tim League tells BuzzFeed was a way for the chain to support independent films — like director Richard Linklater's Before Midnight — that the company loved that weren't able to rely on a major marketing push from their distributors. When League told Linklater that his film would be next in their Recommends program, the filmmaker agreed to wrangle Delpy and Hawke for the quick shoot while they were in Austin to promote the film.
"The original idea that I pitched to them was that Rick and Ethan would be very polite and pleasant, and ask people to not talk," says League. "Then Julie would speak only in French, but be cursing like a sailor. On the spot, Rick and the cast changed it a little bit, as if the people in the theater were annoying the people on screen, sort of Purple Rose of Cairo-esque. They're obviously having fun and at the same time maybe even poking a little bit of fun at their characters from the movie — but still keeping true to them as well."
The PSA will play in front of Before Midnight for the duration of its run at the Alamo, as well as Hawke's upcoming thriller The Purge. Then it will be put into rotation along with the dozens of other celebrity PSAs — you can watch a selection here.