Is Tom Cruise A Movie Star Again?
Oblivion banked Cruise's best opening weekend for an original film not directed by Steven Spielberg — ever.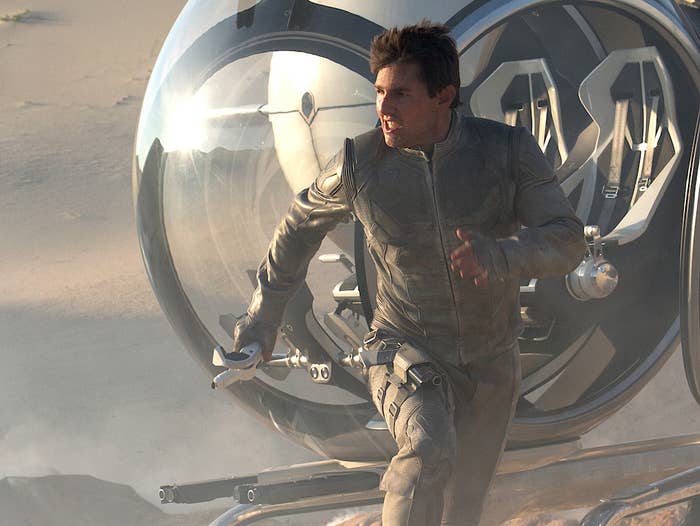 It's no real secret that Tom Cruise has been struggling at the U.S. box office for a while now. From 1992 to 2006, Cruise had an almost unbreakable string of $100 million-plus grossing hits — an unprecedented track record in modern Hollywood. (The two exceptions: the R-rated erotic thriller Eyes Wide Shut and the ensemble indie Magnolia.) Since 2006's Mission: Impossible III, however, Cruise seems to have come down with a terrible case of C.J.S., i.e., Couch-Jumping Syndrome: His only film to bank over $100 million in the U.S. has been 2011's Mission: Impossible — Ghost Protocol. The rest — Lions for Lambs, Valkyrie, Knight & Day, Rock of Ages, and Jack Reacher — were all either disappointments or outright flops in the U.S. A true movie star has to have life beyond one franchise, but it would seem for the last seven years, American audiences have been keen only to see Cruise run, jump, and shoot as secret agent Ethan Hunt.
That is, until this weekend. Cruise's sci-fi thriller Oblivion opened to $38.2 million, which is the 50-year-old actor's best-ever domestic haul for a film where the movie poster hasn't included either "Mission: Impossible" or "directed by Steven Spielberg." (If you adjust for inflation, Interview with the Vampire and The Firm did better.) It's doubly impressive considering on Friday night, much of the country stayed home to watch the live coverage of the manhunt for Boston bomber Dzokhar Tsarnaev.
So does this mean Cruise has finally shaken off the scourge of C.J.S. and returned to the good graces of American audiences? Perhaps. Oblivion had zero box-office competition; opening a few weeks before summer behemoths like Iron Man 3 and Star Trek Into Darkness likely put Oblivion's debut numbers to shame. Curiously, even though costar Morgan Freeman has a small supporting role at best, Universal featured him heavily in the film's trailers, and even put his name and face on one of Oblivion's posters. For that matter, most of the rest of the film's posters also focused more on director Joseph Kosinski's stunning visuals than on Cruise's visage.
Still, a good opening is a good opening. And if you noticed I've only been discussing Cruise's U.S. box office track record, it's for good reason: He remains an unequivocally huge movie star overseas. Valkyrie, Knight & Day, and Jack Reacher all pulled north of $100 million internationally, and after opening in several foreign markets last weekend, Oblivion has already reached that benchmark: It's grossed $112 million overseas. Now that is worth jumping on some couches.
Here are the estimated top 10 box office figures for Friday to Sunday, courtesy of Box Office Mojo:
1. Oblivion* — $38.2 million
2. 42 — $18 million
3. The Croods — $9.5 million
4. Scary Movie 5 — $6.3 million
5. G.I. Joe Retaliation — $5.8 million
6. The Place Beyond the Pines — $4.7 million
7. Olympus Has Fallen — $4.5 million
8. Evil Dead — $4.1 million
9. Jurassic Park 3D — $4 million
10. Oz the Great and Powerful — $3 million
*Opening weekend