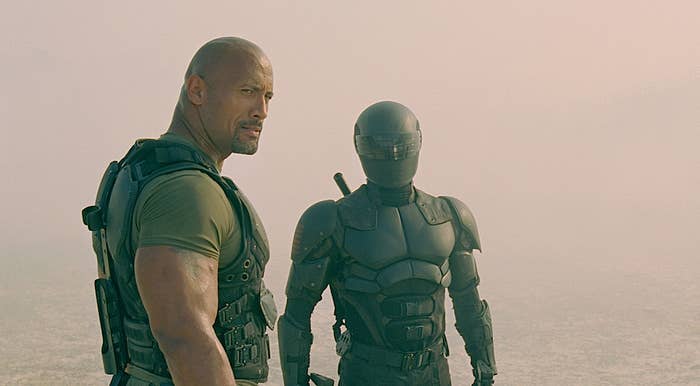 In that bygone era in Hollywood known as the 1990s, Heather Locklear was considered a TV show saver. After she was introduced into both the ongoing prime-time soap Melrose Place and, later, the political sitcom Spin City, both shows saw both their ratings and their buzz get a major boost.
Today, instead of a lithesome blonde who can cut you with her eyes, we have The Rock.
Through the 2000s, Dwayne "The Rock" Johnson's movie career was a series of agreeable if forgettable action and family flicks, but he could never quite seem to shake that "former pro wrestler" thing. Then, in 2011, Johnson was cast in Fast Five. Not only did the film's opening box office see a 17% boost, but people actually started talking about the Fast and Furious franchise again. In 2012, Johnson replaced Brendan Frasier as the lead in Journey 2: The Mysterious Island, and the opening-week box office jumped 23% from the first Journey film. Johnson clearly wasn't the only factor in these films' success, and his newfound pull with audiences just happened to coincide with his return to professional wrestling. But results are results.
So we turn to this weekend, with Johnson taking the leaning man reins from Channing Tatum in G.I. Joe: Retaliation. Did his winning streak continue?
Sorta. The film's four-day Easter weekend debut pulled in an estimated $51.7 million, just under the first G.I. Joe movie's three-day opening of $54.7 million in Aug. 2009. Not bad, but not better than the original, either.
There were some mitigating circumstances. G.I. Joe: Retaliation was pushed from last June so Paramount could convert the film to 3-D, and big delays rarely ever help the box office. It was also the second-best Easter weekend opening ever — no small feat for a holiday where families tend to spend more time together than at the multiplex. And speaking of movie theaters, they're getting pretty well saturated with The Rock this season: He starred in Snitch last month, and he will star in Pain and Gain in April and Fast and Furious 6 in May. (This is where I desperately try — and fail — to avoid making a joke about how brittle rock can get when it's spread too thin.)
Besides, big 3-D action franchises are geared as much to an international audience as a domestic one — if not more so. And on that score, G.I. Joe: Retaliation destroyed its predecessor: It brought in an estimated $80.3 million overseas, more than double the first G.I. Joe's $35.7 international opening-weekend gross.
Bear in mind, Locklear's power as a franchise saver only really lasted for two shows. But The Rock isn't stopping his quest to revive movie franchises — he's attached to star in director Brett Ratner's Hercules: The Thracian Wars for 2014.
Briefly, two other bold-faced names also tried to maintain their status as major draws this weekend, but only one succeeded. Tyler Perry's Temptation: Confessions of a Marriage Counselor maintained Perry's rep as one of the most reliable box office draws in the business, opening with $22.3 million (and that's without the wisecracking Madea, too).
Stephenie Meyer, meanwhile, may want to go back to lovesick vampires. The Host, based on the Twilight author's science fiction novel — and produced by Meyer herself — debuted with a meager $11 million. The first Twilight movie made three times that on its opening day.
Here are the estimated top 10 box office figures for Friday to Sunday only, courtesy of Box Office Mojo:
1. G.I. Joe: Retaliation* — $41.2 million
2. The Croods — $26.5 million
3. Tyler Perry's Temptation: Confessions of a Marriage Counselor* — $22.3 million
4. Olympus Has Fallen — $14 million
5. Oz the Great and Powerful — $11.6 million
6. The Host* — $11 million
7. The Call — $4.8 million
8. Admission — $3.3 million
9. Spring Breakers — $2.8 million
10. The Incredible Burt Wonderstone — $1.3 million
*Opening weekend