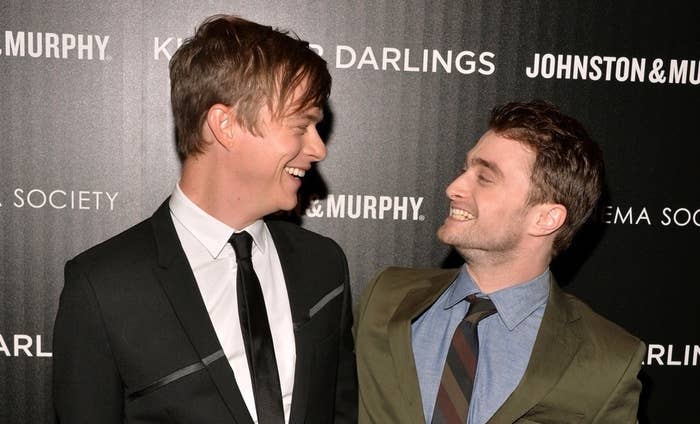 When doing press for a film, actors will usually wax poetic about how much fun they had on set, how everyone got along like gangbusters, and how they're all the best of chums now and forever.
And usually, that's not really the case. Actors get along fine, or they don't, but then they simply move on to the next gig. There is the rare occasion, however, when a genuine friendship blooms among co-stars that lingers well after the sets have been struck and the movie's premiered.
While working on the 1940s period drama Kill Your Darlings (opening on Wednesday, Oct. 16), Daniel Radcliffe and Dane DeHaan discovered such a friendship.
In the film, Radcliffe plays future Beat Generation poet Allen Ginsberg as a wide-eyed Columbia University freshman, who enters into a complicated friendship with fellow student Lucien Carr, played in the film by DeHaan (Chronicle, The Place Beyond the Pines, and next summer's The Amazing Spider-Man 2). Carr introduces Ginsberg to two other major Beat Generation writers, Jack Kerouac (Jack Huston) and William S. Burroughs (Ben Foster), as well as Carr's obsessive ex-boyfriend David Kammerer (Michael C. Hall). More importantly, Carr's sexual exuberance and natural charisma awakens Ginsberg's heretofore repressed homosexuality.
It is the most challenging on-screen role of Radcliffe's post-Harry Potter career, but the actor says it was also a unique filmmaking experience for him for an entirely different reason.
"Because where I grew up on film [on Harry Potter], I was the only one who was there every day out of the cast," he says. "So the people I got closest to were the crew. Generally, that's been the case with me on film sets, is that I got very close with the crew. [Kill Your Darlings] is the first film I've done that had a company feeling throughout the actors. With me and Dane and Ben and Michael and Jack — everyone brought something very different, and it worked very well together."
Thanks to their on-camera intimacy and off-camera camaraderie, Radcliffe and DeHaan have especially formed a fast friendship that is self-evident the moment you get the two of them in a room. When told their joint interview would be about how that friendship formed and endured, Radcliffe immediately turns to DeHaan.
Daniel Radcliffe: We're going to end up talking about you beating me at fantasy football, aren't we?
Dane DeHaan: (Smiles) Mmmhmm.
DR: OK, it's going to go that way. (Laughs nervously)
DD: From the beginning of our friendship to the end of our friendship.
DR: (Laughs louder)
DD: (Laughs)
DR: Which ended the other day. (Laughs)
The two are, in a word, adorable, and they happily shared how their friendship began, and how it has lasted once the cameras stopped rolling.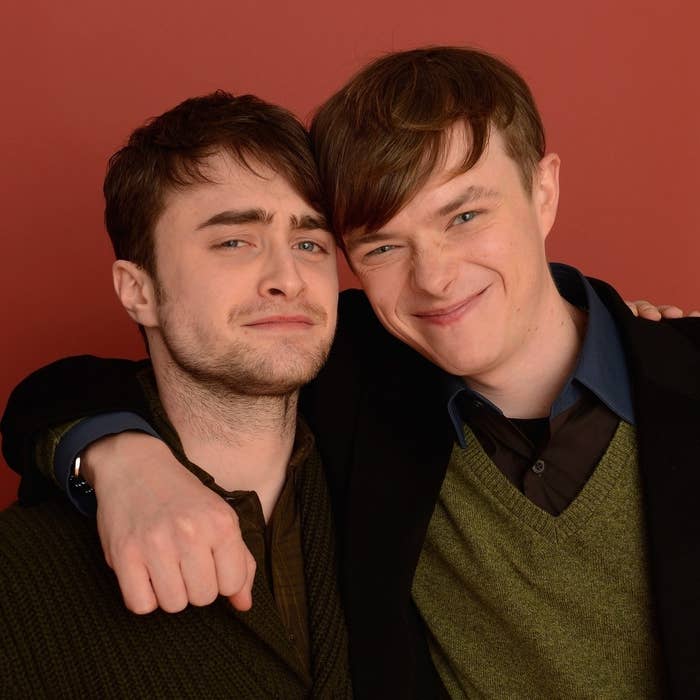 They didn't know much of anything about the other before they met.
The first time Radcliffe, 24, and DeHaan, 27, met was in an audition room with Kill Your Darlings co-writer-director John Krokidas. Radcliffe had already signed on to play Allen Ginsberg, and he and Krokidas were searching for the right actor to tackle the role of Lucien Carr. When DeHaan walked in, Radcliffe didn't know much about him, which helped DeHaan make a significant impression. "The first thing we were struck by was how much he looked like Lucien [Carr] in all of the photos we have of him," says Radcliffe. "And he did a fucking great audition. Me and John Krokidas left going, 'Everyone else is kind of fucked.'"
DeHaan, meanwhile, entered knowing less about Radcliffe than pretty much the rest of the world. "I had never seen a Harry Potter movie," he says. "I obviously knew who he was, but I wasn't terribly familiar with him as an actor. So I went in almost with no expectations. To me, he was just the person that was doing this movie I was auditioning for. I didn't know if he was a good actor or a bad actor. That audition for me was a way for me to meet Dan and get to know Dan as a little bit as an actor. He was certainly thoroughly impressive from the start. Like, honestly, probably more impressive than I would have assumed he would be. Even, like, his accent was great, which is a little thing, but if it's bad, it becomes a really big thing!"
At this point, Radcliffe starts laughing and vigorously nodding his head. "He was so grounded and present and curious and kind of had all of these qualities that I look for in people that I want to work with," DeHaan continues. "I think that encounter was a really good base for what became a really great working relationship and a really great friendship."
Their characters were intimate, so they were too.
"In some ways, there's no better way of getting to know someone personally than by making a film like this," says DeHaan. No kidding. (Warning: The rest of this paragraph contains some SPOILERS.) Over the course of the film, Ginsberg and Carr's relationship becomes more co-dependent and emotionally complicated. Ginsberg becomes wrapped up in Carr's exuberance for unique experiences — and falls more helplessly in love with him — while Carr takes advantage of Ginsberg's increasing affections while also relishing in Ginsberg's obvious real gift for great writing. It is as intimate an on-screen relationship between two men as you're likely to see this year (yes, at one point, they do kiss), and both actors say that intimacy led to a better understanding between them off camera as well.
"You can learn a lot about a person from working with them, and how they work, and the conversations that come up because of what you're working on," says DeHaan. "So in many ways, as we were working, we were still also getting to know each other as people."
Radcliffe jumps in. "It's just that great thing of when you actually meet someone for the first time and you talk about the way you want to work, and you are open with each other," he says. "I suppose that's the effort you have to make. Because when you sign up [for a movie], you don't have to sign up to, like, get to know somebody and being really open with them about stuff. But when you work with people who are willing to do that and go there with you then it really can be a very bonding thing as well good for the job."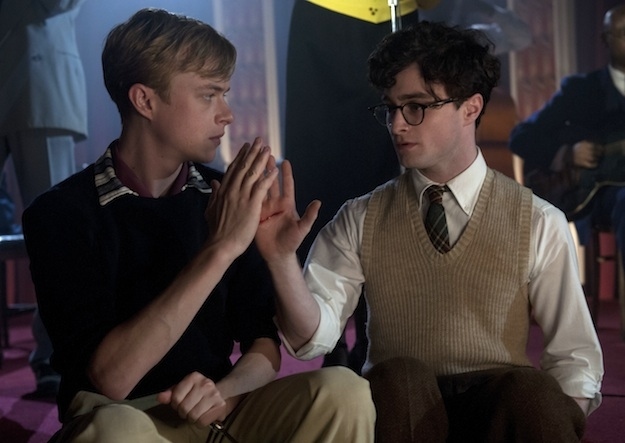 They share a philosophy about their "weird lives."
Like most actors, Radcliffe and DeHaan occasionally talk shop, comparing notes on scripts they've read and other filmmakers they've worked with. "But it's not all we talk about, thankfully," says Radcliffe. "We have a similar attitude where we both really enjoy our jobs and fucking love it, but also, we're not saving lives, and have an appreciation for it. Neither of us are mental like some people in the industry are ... I think we're just quite like-minded in general. I know I don't strike people as being laid-back, because I'm quite hyper. But I actually think we're both quite laid-back sort of people."
This time, DeHaan jumps in. "And like you said, the grounded perspective that we have on our weird lives."
Radcliffe brightens. "Yes!" he says, laughing. "It's true that not everyone shares that."
"We're never like, 'I did this today!'" says DeHaan in a deep, pompous voice. "We're like, 'We did some weird-ass shit today. That was pretty weird.'"
Case in point: Radcliffe brings up the day he shot Ginsberg's arrival on the Columbia University campus. "The scene was one of those weird moments when the entire college had turned out to watch us film it," he says. "In the film, it's this shot of Allen walking up on his own with nobody playing him any notice, and just outside the frame are 500 people on either side of the camera who'd turned out to watch that day — and then literally they would cheer after every take. So I'd be running down the steps of Columbia like Rocky."
DeHaan smiles, reminded of a different moment on set. "And then there was the other day when we were outside in Brooklyn and we were filming across from an elementary school at recess," DeHaan says.
Radcliffe laughs, remembering it too. "It was one of those moments where I was really struck by how cool this industry is," he says. "If there had been a policeman there, and the policeman had shouted at all those kids to be quiet, they wouldn't have listened to him. There was, like, 50 of them. But a first AD on a film set said, 'OK, we're going to shoot now,' and they all just became completely quiet and behaved perfectly. When 50 6-year-olds stop what they're doing to watch you, that's a sign that you have a cool job."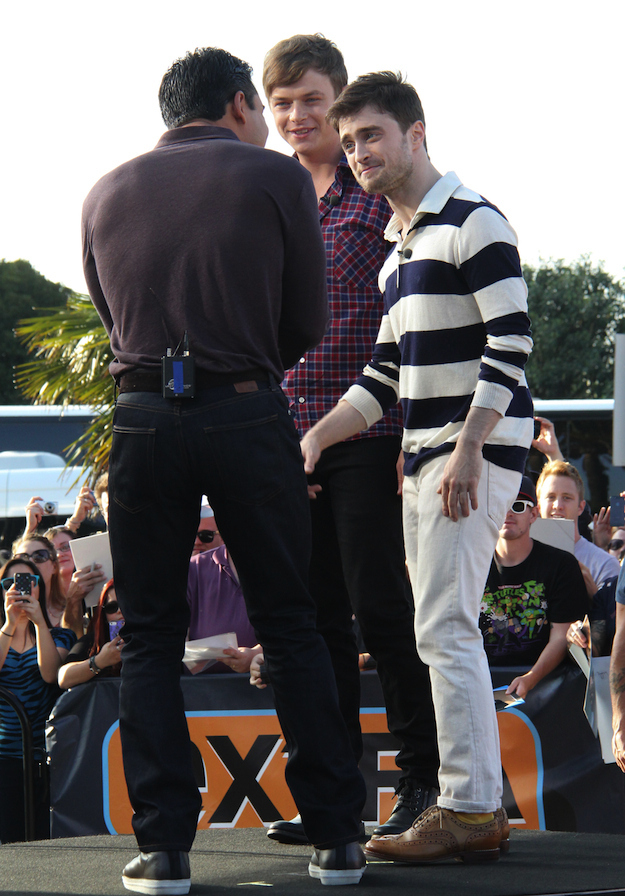 They bonded over party games…
Of course, lots of people can be professionally simpatico with their colleagues, but it's when the conversation turns to DeHaan and Radcliffe's friendship after production had wrapped on Kill Your Darlings that the lively, playful nature of their friendship becomes clear.
DR: Immediately after filming, you went back to L.A. And then I visited you out here and we played…
DD: Qwirkle?
DR: Qwirkle.
DD: Yeah, and we had a dinner party.
DR: And then I guess the next time I'd seen you must have been maybe Toronto that year, when you were there for Place Beyond the Pines?
DD: Oh yeah. And I was in Toronto for Place Beyond the Pines [at the Toronto International Film Festival], and he was filming —
DR: — The F Word there at the same time. So we managed to catch up.
DD: We had breakfast.
DR: Breakfast, as I was coming home from a night shoot, and Dane, I think you'd gotten in a couple hours' sleep from the party the night before.
DD: Yeah, it was great. (Smiles)
But their friendship really came together last December, when DeHaan and his wife Anna Wood ended up crashing with Radcliffe and his girlfriend Erin Darke at Radcliffe's apartment in New York. "Anna was working on this TV show in New York, and we were living in L.A. at the time, so she was couch surfing, pretty much," says DeHaan. "So I contacted Dan and I was like, 'Hey, don't mean to put you out…'" — they both break out laughing "'…but, if this is possible, that would be really cool.' And then it just turned into this thing."
DeHaan has called the experience a "staycation," and Radcliffe says the four are hoping to engineer something similar again for this year. But if they do, they may need to stock up on party games — they blew through the gleefully inappropriate game Cards Against Humanity in one night.
"We played the entire deck and the expansion pack in one night," says DeHaan.
"In one night!" says Radcliffe. "And we had about five and a half hours of continuous play! It was very, very good."
And they've kept up with each other's earlier careers.
As the conversation winds down, DeHaan reveals that since wrapping Kill Your Darlings, he has managed to see the first three Harry Potter movies — something Radcliffe seems not to have known until that very moment, because he tries and fails to keep from wincing.
DD: I know they are not —
DR: They're not my favorite.
DD: — Dan's favorite ones. But I want to see the rest of them.
DR: But that's actually really cool. What that means is, I think sometime between Sundance and now you've watched them.
DD: Yeah! I was like, "I miss Dan."
DR: (Big laugh) And then John Krokidas showed me a photo of you in your earliest thing last night, so now we're very even. Dane played a flu pandemic sufferer when he was like, what, were you, 4?
DD: I don't know. I was probably 12, I just looked like I was 4. (Laughs) I've always looked young.
It is impossible at this moment to resist asking Radcliffe if he thinks DeHaan could play Newt Scamander in the recently announced Harry Potter prequel movie scripted by J.K. Rowling herself. But Radcliffe looks rather sheepish. "I don't know a huge amount about that character, I'm ashamed to say," he says. "That could be an 80-year-old man for all I know." But then he smiles, and turns to DeHaan. "Dane, you can do anything, man. So I'm going to say yes!"
All DeHaan can do is what they both obviously do together so often: He just tilts his head back and laughs.