Chocolate Peppermint Squares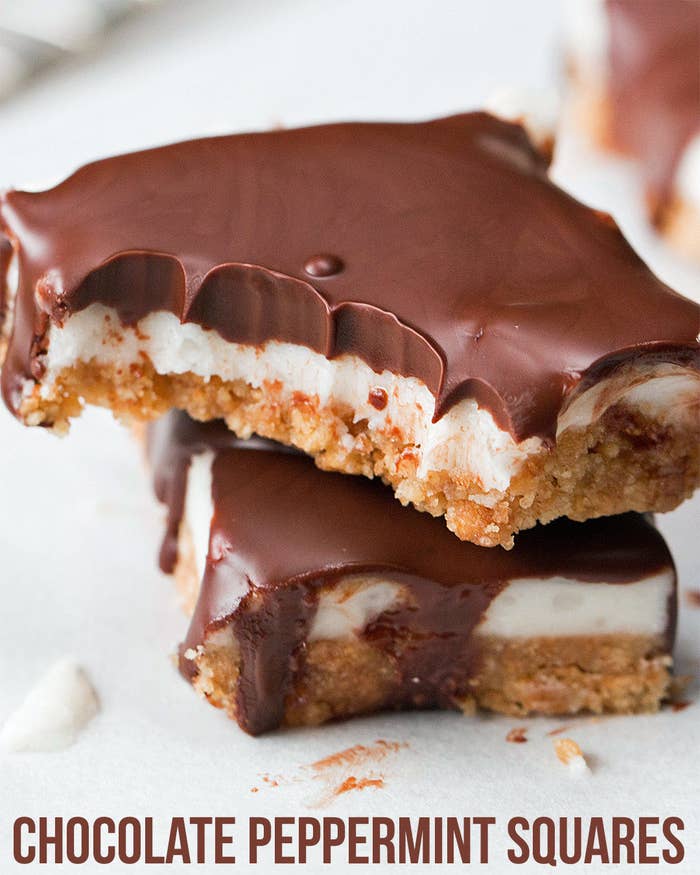 INGREDIENTS
Yield: 36 squares
For the crust:
10 graham cracker sheets (34.79g sugar)
6 tablespoons butter, melted
For the peppermint cream:
1/2 cup coconut oil
1/2 cup heavy cream (3.47g sugar)
1 teaspoon vanilla extract (.53g sugar)
3 teaspoons peppermint extract
2 tablespoons powdered sugar (15.65g sugar)
For the chocolate coating:
4 ounces dark chocolate (41.63g sugar)
2 tablespoons coconut oil
PREPARATION
1. Place graham crackers in a gallon-sized re-sealable plastic bag. Crush crackers with rolling pin until fine in texture.
2. In a bowl, combine crushed graham cracker with melted butter and mix well.
3. Line a 9x9 inch pan with parchment paper.
4. Fill pan with graham cracker crumbs and pat down to create one even, compressed crust. Place in freezer.
5. In a large bowl, combine ingredients for peppermint cream with hand mixer until a thick, uniform cream is formed.
6. Remove pan from freezer and layer the peppermint cream on crust in one even layer. Freeze for at least 1 hour.
7. In a small bowl, combine chocolate and coconut oil (the exact amount of coconut oil needed may vary based on the chocolate used). Microwave in 20-second intervals, stirring between each, until chocolate is fully melted.
8. Remove pan from freezer and cut the sheet sheet of peppermint cream and graham cracker into 36 squares (i.e. 6 lengthwise cuts and 6 crosswise cuts).
9. Place squares on a metal cooling rack and top with melted chocolate.
10. Chill squares in fridge or freezer until ready to eat.
11. 💃🍫🍃💃
Sugar content calculated using USDA Food Composition Databases
https://ndb.nal.usda.gov/ndb/foods
Want BuzzFeed Tasty right in your inbox? Sign up for our newsletter!