This was a terrible choice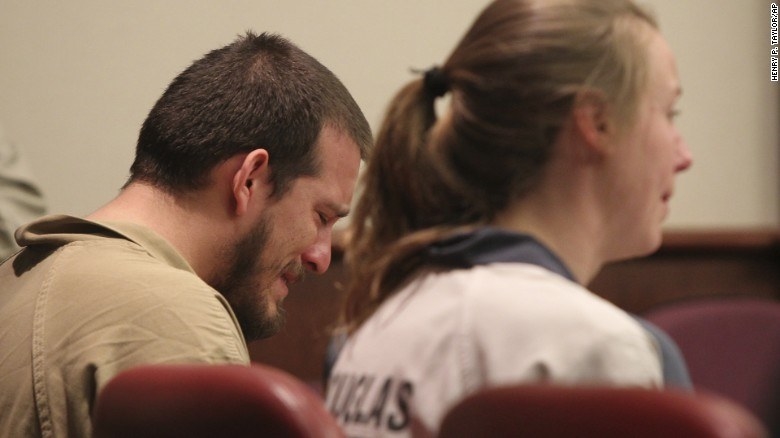 Part Two: Jose "Joe" Torres, and Kayla Norton "Dumb and Dumber"
Jose "Joe" Torres and Kayla Norton, come on down! You two are up next on "Racists Are Crying When They Get Caught Being Racist!" These two had the difficult decision of choosing between minding their own business, or following along with their mob's mentality and harassing a black family! They chose the latter, and what did they win? Tell them what they've won, Vannah! Oh, there's no Vannah? Well, they won six to thirteen years prison time! Gee, these two are dumb! Torres and Norton both burst into cries in the courtroom, when the honorable Judge William McClain delivered them their respective sentences.
In the inventive year of 2015, Torres and his girlfriend Norton decided that it would be a good idea to organize a convoy of other racists in pickup trucks, and pull up on a KIDS BIRTHDAY PARTY. All involved were members of "Respect The Flag" hate group in Atlanta, Georgia.
The victims were barbecuing outdoors, and having a party. They were celebrating a child's birthday, as indicated by the bounce house, snow-cone machines, and DJ. As they celebrated, the convoy waved large confederate flags as they drove around Douglas County, Atlanta. They yelled racial slurs as they passed the party, and they eventually parked their cars near the house where it was being hosted.
A small group, which included Torres approached the party and repeatedly threatened to kill partygoers. At one point, he retrieved a shotgun, pointed it at a group of black party-goers, and threatened to kill them. Norton then stated "the little ones can get it too." The gang also threatened partiers with a knife and some sort of automotive tool.
Now, brace yourself for the bullshit.
Torres testified in court that he "feared for he and his friends' safety," and that's why he retrieved the shotgun.
Norton came forth to apologize for what she did, saying "I want you all to know that is not me. That is not me, that is not him. I would never walk up to you and say those words to you. I'm so sorry that happened to you. I am so sorry." Torres probably understands that what he did is beyond an apology, so he declined to comment further during the trial.
Who knew racists felt so bad about being racist? Oh wait, they don't until the law doesn't protect them anymore LOL. Some people change with time and some people change with jail time. I say the sooner, the better. It is still unsettling to see racists backpedalling so hard on what they truly believe in when held accountable. Racists are truly spineless.
This post was created by a member of BuzzFeed Community, where anyone can post awesome lists and creations.
Learn more
or
post your buzz!