Top 5 Websites for Refurbished iPhones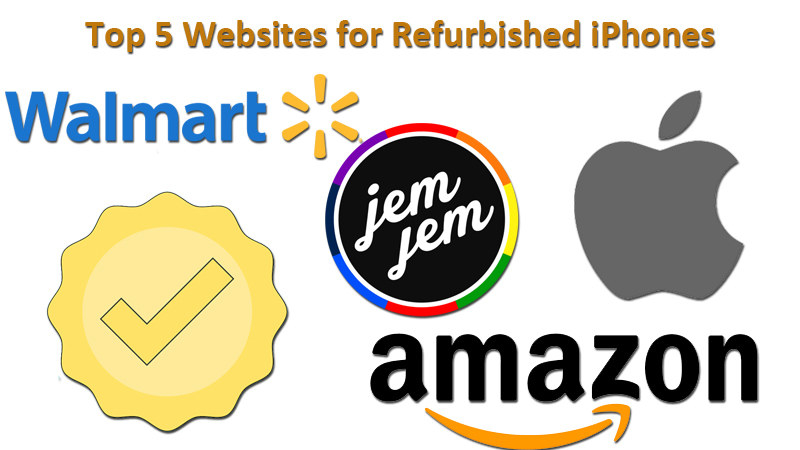 If you too are a gadget freak and an Apple iPhone lover, then you'd know what bomb they cost. We all know that Apple introduces a new iPhone every year, which is priced hugely enough to poke a big hole in our pockets. For the most of us, Apple iPhones are on the unattainable side, owing to which our quench for the latest remains insatiable.
But do you know about these cheaper counterparts known as refurbished phones? Refurbished phones are pre-owned or slightly used phones that were returned to the manufacturer because they were no longer needed. These could be returned for the reasons such as product no longer needed, or a slight defect in the functionality. These products are then tested for defects, restored for full functioning, and factory standard condition and hence available at hugely discounted prices, making them a favorable option for all the tech geeks.
Here are the top five reliable websites to visit when looking for a budget-friendly Apple electronics:
#1 www.apple.com: Who can sell apple products better than apple itself? The tech giant not only deals with new products, but also offers a huge range of refurbished products. As stated on its official website, Apple tests and certifies all the refurbished products itself and offers 1-year warranty for each. All their products include a power adapter and cord, diligently packed in a new white box.
#2 www.walmart.com: A brand known for all the best offerings, Walmart even offers refurbished electronics. It is ranked 2 on Google's list of the best places to buy Apple refurbs. Selling refurbs both online and offline, you can also refer to the reviews provided by other customers before buying a product from a seller on Walmart. The website also has 90 days free return policy, extended warranties and a lot more.
#3 www.jemjem.com: JemJem is the third largest website for refurbished iPhones and iPads in USA. Having survived the test of time as a business, it is the perfect place to buy used or refurbished Apple products in the USA. Headed by Mr. Jay Kim, the website is in function since 2014. Ranked as the top third online retailer for refurbished Apple products, it has almost all the models of Apple products ranging from iPhones and iPads to Macs and Apple Watches to accessories for all the gadgets. Each refurbished product sold by them goes through a certification process that ensures 100% functionality, 90 days warranty, the phone with original factory settings, and the charger duly packed in JemJem certified box. The stocks are usually full and are backed by a company with tremendous credibility. Not to miss the additional discounts the website offers from time to time (10% on new registrations and $20 for students).
#4 www.refurb.me: Refurb.me has been around for a long time now, which means it supports a strong reputation as a trustworthy source of refurbished apple products. The website is the main stage for all apple refurbs, selling products from all major retailers like Amazon, JemJem, eBay et al, making the choosing decision easier.
#5 www.amazon.com: This list would not be complete or upright without the inclusion of Amazon, every online shopper's beloved. Amazon.com, the mecca of online retail, works well when you sieve through items using filters. Visit Amazon's Refurbished Department in the electronics section and drill even more by selecting the highest rated sellers.
Round Up
Used and refurbished phones and electronics can be as good as brand new, yet for half the price. So, the next time you are on a budget and looking for a used iPhone, check out these places for top-notch technology products guaranteed to satisfy your needs. Now that you have the top five websites for buying refurbished phones at cheaper rates, you can save more with the latest technology by your side.
This post was created by a member of BuzzFeed Community, where anyone can post awesome lists and creations.
Learn more
or
post your buzz!
Looks like there are no comments yet.
Be the first to comment!