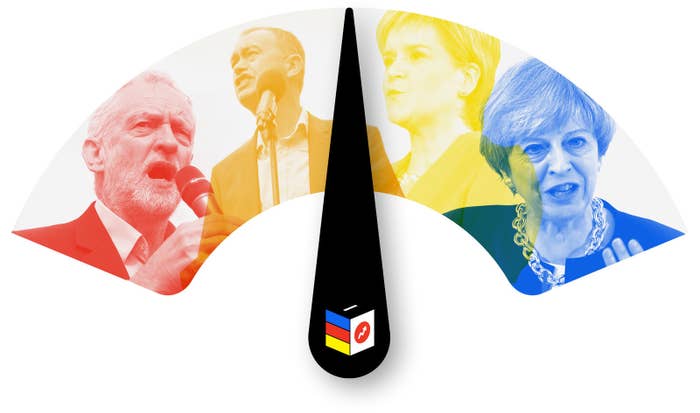 Conservative-supporting newspapers continue to dominate the mainstream British news agenda, but their stories have failed to impact upon social media during this general election campaign, according to analysis by BuzzFeed News.
The BuzzFeed News Social Barometer, which looks at the most-shared stories on Facebook and Twitter, suggests that there is very little interest in positive news stories about Theresa May and the Conservatives' policies – even among readers of Tory-supporting newspapers.
Instead, the majority of stories from right-leaning news organisations that have gone viral during this election have involved direct attacks on Jeremy Corbyn's character and the impact of a potential Labour government on Conservative voters.
Political stories published on the sites of traditional right-leaning newspapers such as The Daily Telegraph, The Daily Mail, and The Sun have also struggled to reach mass audiences online, and have often been dwarfed in terms of social media readership by alt-left sites such as The Canary and Evolve Politics.
BuzzFeed News' analysis does not take into account the substantial number of readers who visit newspaper websites without sharing articles – or indeed buy print editions – but it does suggest a substantial enthusiasm gap, even as polls show the Tories with a substantial lead.
Conservative voters are often older and may continue to rely on broadcast media for their news, but the overwhelming dominance of left-leaning voices on Facebook, which is used by the majority of UK adults, could become a serious problem for the right in future elections.
Tory supporters have also traditionally been more reluctant to publicly state their allegiances – the so-called "shy Tory" factor. The party has instead increasingly relied on paid Facebook advertising to reach online audiences.
However, one story has finally cut through for the Conservatives, with a genuine viral hit on Facebook: Labour's proposal to look into the possibility of replacing council tax with a land value tax. The Conservatives have branded it a "garden tax", claiming it could potentially treble some taxpayers' bills – and the message has gone viral in the form of stories by The Daily Express, Daily Telegraph, and Daily Mail.
These are the most shared stories from major right-wing outlets since the campaign began:
BuzzFeed News
The top 20 most shared stories by right-wing news outlets are overwhelmingly attack pieces on Labour or Corbyn. The remainder includes two that are pro-UKIP, and two that are about Brexit generally. None of them are supportive of Theresa May, or of any specific policies in the Tory manifesto.
The only vaguely viral news story (number 45 in the list overall) in support of a specific Tory policy was from the small independent site Your Brexit, in an article titled "Theresa May set to CUT foreign aid spending" – a rumoured policy that May did not then adopt.
The attacks on Labour overwhelmingly focus on tax issues, security concerns around Corbyn's support for Sinn Féin and his disagreement with British military interventions overseas, or Diane Abbott's TV appearances. Sixteen of the top 50 focus on security matters, while six are attacks on Abbott.

By contrast, the top 50 most shared stories from left-leaning outlets during the same time include numerous stories supporting Labour policies across a far broader range of issues, including pledges on arms sales, tuition fees, counterterrorism, and new bank holidays. The most viral article on the list (indeed, the most viral piece of the whole election) was entirely policy-focused: "How many of Jeremy Corbyn's policies do you actually disagree with?" from the blog Another Angry Voice.