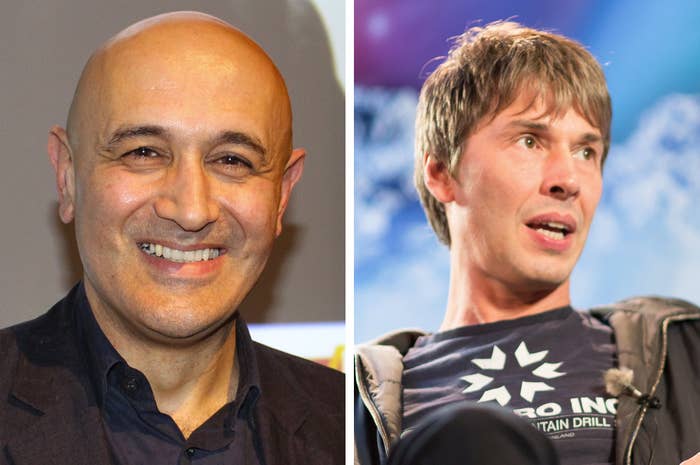 Two high-profile scientists, both presenters of BBC series about science, have criticised BBC Radio 4's Today programme for featuring the climate change doubter and former chancellor Lord Lawson.
Jim Al-Khalili, the presenter of Radio 4's The Life Scientific and a professor of theoretical physics at the University of Surrey, said the decision to bring Lawson on was "ignorant and irresponsible".

He was joined in his criticism by Brian Cox, the presenter of the BBC's Wonder Of… documentary series and a professor of particle physics at the University of Manchester, who said it was "irresponsible and highly misleading to give the impression that there is a meaningful debate about the science" of climate change.
Lawson appeared on the Today programme on Thursday morning to respond to claims by the former US vice president Al Gore. Gore had been promoting his new film An Inconvenient Sequel: Truth to Power earlier on the programme.
Gore said it made economic sense to take steps such as promoting solar power even without the threat of climate change. The Today programme appeared to have brought Lawson on to counterbalance those claims.
However, Lawson – the founder and chair of a think tank that rejects mainstream climate science, the Global Warming Policy Foundation – made several statements about the reality or otherwise of climate change, as well as about the economics.
Cox and Al-Khalili both responded via Twitter:
Al-Khalili told BuzzFeed News that he was "appalled at this blatant example of false balance", which he said breached BBC Trust guidelines.
"Both the 2011 Jones report [into impartiality and accuracy in BBC science reporting] and the follow-up report for the BBC Trust in 2014 criticised the BBC for its often 'undue attention to marginal opinion'," he said, "particularly on issues such as anthropogenic climate change where there is now overwhelming scientific consensus.
"This obsession with false balance really has to stop."
He said it might make sense to have Lawson talking about the economics of climate change: "I guess he's qualified to comment on the economic arguments surrounding the cost of renewable energy. But he went on to say that renewable energy was not needed because climate change was nonsense.
"He even claimed that global temperature had dropped in the last 10 years, something that is utterly not true."
Richard Black, the director of the Energy & Climate Intelligence Unit think tank, recorded on Twitter a series of false or dubious statements Lawson made during the interview. As well as the "global temperature has declined" line, they included the claim that the UK has among the highest energy costs in the world, that the UK doesn't subsidise fossil fuels, and that there has been no increase in extreme weather events due to climate change. A fact-check by the environmental news website Carbon Brief found several inaccuracies in Lawson's statements.
Black felt it was reasonable to have Lawson on the programme given that he was responding to Gore, but said Lawson's falsehoods should have been addressed by the interviewer. He worried that the Today programme's editor, Sarah Sands, was not "empowering" its presenters to call out "BS":
Black told BuzzFeed News: "The BBC guidelines are clear that when you have a subject like climate change, different views need to be represented. Lawson is influential politically and a chunk of the population agree with him, so saying he should never be on the BBC is not really a goer."
The trouble is, he said, that Lawson's false statements went unchallenged. "Politicians and campaigners often say things that aren't true. It's the job of BBC editors, producers and presenters to make sure that the presenter has the facts at their fingertips and the confidence to challenge guests when they talk rubbish."
The BBC said in a statement: "The BBC's role is to hear different views so listeners are informed about all sides of debate, and we are required to ensure controversial subjects are treated with due impartiality.
"This split segment started with an interview with Al Gore, twice the length of Lord Lawson's interview, and concluded with Fisher Stevens responding after Lawson set out [the GWPF's] position on the economics of subsidising green energy.
"It was introduced by our environment analyst, who will be examining some of the claims further on tomorrow's programme."