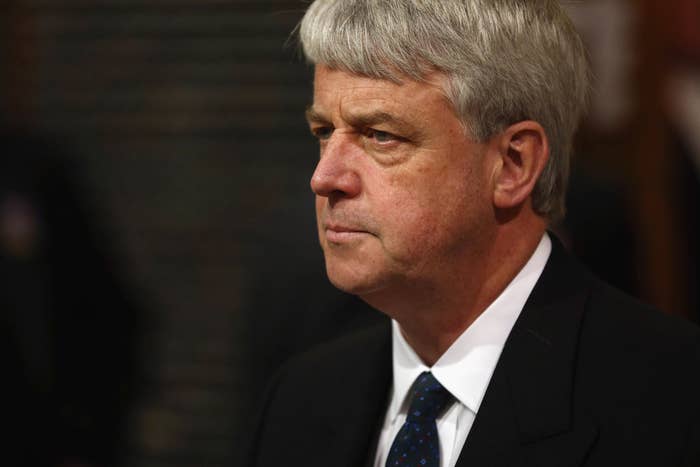 Andrew Lansley, the former health secretary who pushed through the Conservatives' pro-market NHS reforms, has taken a new job with a US management consultancy firm which promotes privatisation in the health service, BuzzFeed News has learned.
Lansley will now work part-time for Bain & Company, who previously advised clients that "what was traditionally locked up in the NHS is going to become available to the private sector."
Bain & Company took on Lansley as a consultant in August but the firm has not officially announced his appointment and details of his new job had a low-key release on a little-known government website last month.
US-headquartered Bain is generally considered one of the "big three" management consultancies and its London office has shown strong interest in the potential for NHS privatisation following Lansley's health service reforms. Last year Bain's head of healthcare told the Financial Times that firms were now competing to grab "£5.8 billion of NHS work being advertised to private sector".
Documents released by the Advisory Committee on Business Appointments, which regulates the ability of ministers to take new jobs with corporations, state that Lansley's new job for Bain involves "leading a discussion on innovation in healthcare with Bain's clients and consultants".
According to Bain's lead consultant on NHS work, there is now an "arms race" for private health companies: "[T]he rules of the game are changing. We can compete for all of the NHS budget on equal terms. What was traditionally locked up in the NHS is going to become available to the private sector."
Lansley was health secretary from 2010 to 2012 and his health bill was the among the most disputed acts of the Conservative-led coalition, leading to calls from the British Medical Association for his resignation, as well as other protests. Although the bill was passed, Lansley was eventually sidelined into lower-profile roles in the government, while an attempt to secure him a major humanitarian job with the United Nations reportedly floundered amid concern that the job should not go to a "failed politician".
In 2010 David Cameron criticised the "the ex-ministers and ex-advisers for hire, helping big business find the right way to get its way" and pledged to stop this "revolving door" between government and industry
However, the Advisory Committee raised no objection to Lansley's new job other than insisting he "should not become personally involved in lobbying the government on behalf of Bain & Company, their subsidiaries, partners or clients" until July 2016.
The committee also said "he should not draw on any privileged information available to him from his time in government", although there is no simple way of enforcing this ruling.
According to the official papers from the Advisory Committee, Lansley began talks with Bain about his consultancy job in July, a month before he was appointed by Cameron to the House of Lords.
Bain will not reveal who its clients are, saying "we take our clients' confidentiality seriously". However, it has highlighted recent NHS privatisations involving businesses such as Circle Healthcare, Capita, and Bain Capital, which controversially bought one of the NHS's main blood supply firms from the government in 2013. The two Bain firms have a common origin, but Bain & Company has separate ownership and management from US private equity firm Bain Capital.
As well as offering to advise clients on NHS privatisation, Bain & Company is also seeking NHS work for itself, appearing in an NHS report on "commissioning support" which acts as a directory of companies offering this service.
Neither Lansley nor Bain responded for requests for comment.