This Woman Was Kicked In The Face For Wearing Shorts
The man who attacked her was alleged to have shouted "Those who wear shorts must die" during the incident.
Women's rights campaigners took to the streets in Istanbul on Sunday afternoon to protest after a woman riding a bus was allegedly kicked in the face for wearing shorts.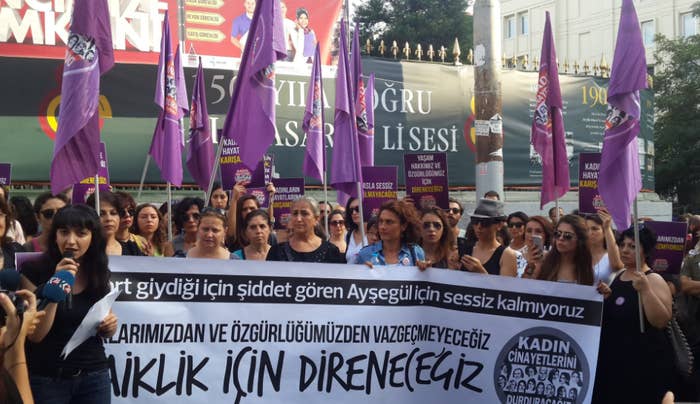 Ayşegül Terzi — a 23-year-old nurse — was standing at the back of a public bus traveling through Istanbul when she was allegedly verbally and physically assaulted by 35-year-old security guard Abdullah Çakıroğlu on Sept. 12.
The attack was captured on CCTV. According to local media, he was heard saying, "Those who wear shorts must die!"
Terzi – who was left with bruises on her face after the incident – said three men stepped in and attempted to stop the attack.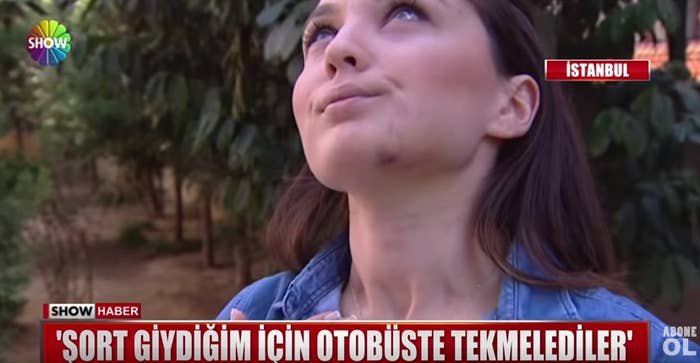 Çakıroğlu was initially detained by Turkish authorities in Uskudar, where he admitted to attacking Terzi because of how she was dressed, according to CNN Turk. He said her shorts did not "fit the environment," and he attacked her because it made him "angry" and "upset."
He was later released on Sept. 18 by a prosecutor who said although the attack caused "bodily harm" it did not warrant an arrest, according to Hürriyet Daily News.
Following Çakıroğlu's release, Terzi said, "He says, 'I beat those who do not dress appropriate' and he gets released… I do not have any words to say… Where is the justice? Do I need to get killed?"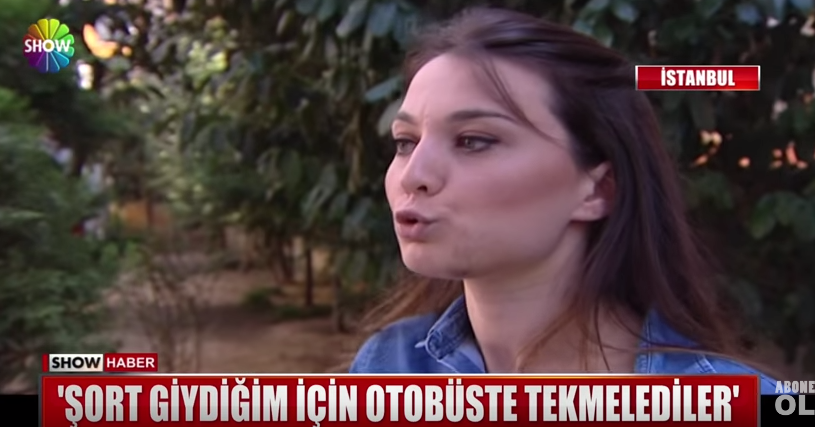 However, his release prompted outrage across Turkey and on social media, which led to him being detained a second time on Saturday on the charge of "inciting animosity among society."
The attack also caught the attention of government officials. Fatma Betul Sayan Kaya, the minister of family and social policy, said the ministry would be pursuing the incident.
"We stand by Aysegul Terzi and other victims of violence against women," Kaya said at the weekend.
The hashtag "#AyşegülTerzininSesiOlalim — meaning "let's be the voice of Aysegul Terzi" — was tweeted thousands of times over the weekend. Several women shared photos of themselves wearing shorts in protest.
On Sunday afternoon, women's rights campaigners gathered in Istanbul's Galatasaray Square to protest against the attack, and to call on authorities to prioritize efforts to end violence against women.
One campaigner from the "We Will Stop Femicide" platform — an organization that campaigns against violence against women — told the crowd, "Turkish women must stand together... We do not ever want to lynch, we want the perpetrators to be punished in accordance with international law."