Yemenis Are Worried About What Happens Now That Their Former President Has Been Killed
Former president Ali Abdullah Saleh was at the center of everything that happened in Yemen for three decades. His death changes everything.
by
,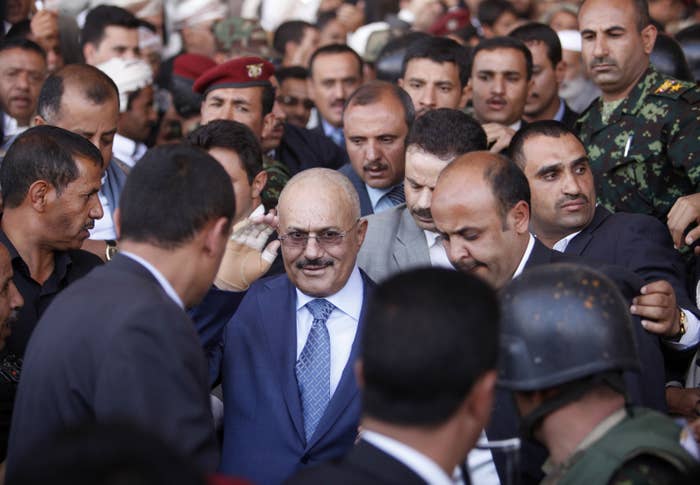 The killing of the country's longtime former president plunged Yemen into a fresh crisis Monday and signaled a potentially new dimension of disorder in a war that has already killed thousands and displaced millions.

Reaction to the news that Ali Abdullah Saleh had been killed — which filtered slowly through Yemen owing to poor communication links — was initially one of shock and disbelief, Abubakr Al-Shamahi, a British-Yemeni reporter currently working out of the country, told BuzzFeed News.
"This is a man who has been the most important political player in Yemen for four decades. It's the end of an era," al-Shamani said of Saleh.
The former president, who once described leading Yemen as "dancing on the heads of snakes" — an accurate description of how he formed and ended relationships among Yemen's factions — was ousted during the 2011 Arab Spring uprisings. He handed power to his deputy Abdrabbuh Mansur Hadi, only to later turn against him.

He gathered forces loyal to him and partnered with the rebel Houthi militia against Hadi's UN-backed government to seize the capital, Sanaa, in early 2015. A Saudi Arabia-led coalition has been fighting to repel the Iranian-supported Houthis since then.
There was a "very real fear" over what would happen in the coming days, al-Shamani said. "There is now the distinct possibility that government forces backed by the Saudi-led coalition will join up with Saleh loyalists and take the fight to the streets of Sanaa," he said over direct message.
Saleh's death was first reported after a graphic video that showed the former president with a serious head wound was shared by Yemeni Twitter accounts.

Shortly afterwards his death was announced on the Houthi rebel-controlled al-Masirah TV channel, which cited Houthi officials as announcing the "end of the crisis of the treason militia and the killing of its leader."
Officials from Saleh's General People's Congress party confirmed the 75-year-old's death, according to Al Arabiya. The unnamed official reportedly said the ex-president was shot dead by a "sniper."

On social media, many Yemenis reacted with shock and worry.
Saleh's death comes days after he himself turned against the Houthi militia who he had supported and led.

On Sunday he officially announced a dissolution of the alliance between the Houthis, which have received support from Iran, and remnants of the military loyal to him for decades. The break, which had been rumored for weeks, had been accompanied by days of fighting between Saleh loyalists and Houthis in the streets of the capital. The Saudi Arabia-led coalition, which has spent the last two and a half year years trying to dislodge the Houthis, launched airstrikes to bolster the former president.
When Saleh originally flipped sides, some Western diplomats and analysts were originally optimistic that it could break the political and military logjam and hasten a conclusion to a devastating conflict that has already cost thousands of lives and displaced huge numbers of Yemenis.

But that optimism was already beginning to ebb in the 48 hours before Saleh's death as fighting engulfed the capital. Troops loyal to the Saudi-led coalition were reportedly being deployed toward Sanaa in an attempt to bolster Saleh's forces, and their fate remains uncertain.

"For all his faults, Saleh was a known quantity," said a senior Western diplomat in the Middle East, who spoke on condition of anonymity. "You knew you could cut a deal with him. He wasn't ideological. He was looking out for his own interests."

With Saleh out of the picture, Yemen's messy politics now become more opaque than before. Saleh's death "means somebody who was a decisive player and a necessary part of any solution is out," said the diplomat. "It leaves more of a vacuum in a country already struggling to create any coherent institutions."
That the Houthis managed to withstand both the airstrikes and Saleh's betrayal and quickly dispense with the former president shows their continuing strength.
Saleh's death and the Houthis' retention of power in Sanaa suggests no quick end to intervention in the country's war by Saudi Arabia and its allies. The continuing war, right alongside the crucial Bab al-Mandib Strait, through which a significant portion of the world's energy and goods travel, has been a drain on Saudi coffers, hampering Crown Prince Mohammed bin Salman's ambitious reform efforts.
The resulting humanitarian crisis, which has been largely been blamed on Riyadh's blockade on Yemen, has dramatically affected the Yemeni people. An estimated 80% of the population are in need of some kind of humanitarian assistance, according to figures from the United Nations.