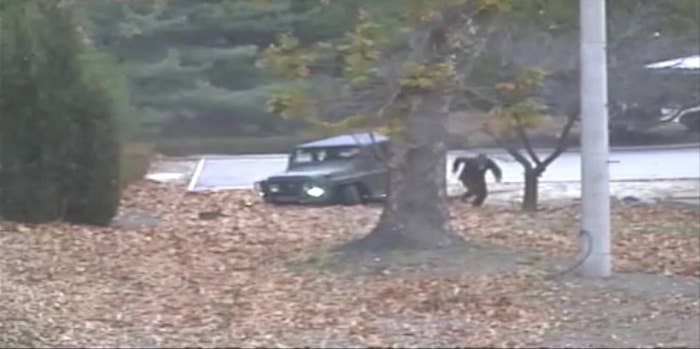 United Nations officials have released a video showing the moment a North Korean soldier dramatically defected to the South.
The video, captured last week by the UN Command, shows the moment the soldier drives to the border and runs from his vehicle before North Korean men open fire. He then collapses on the ground south of the demilitarized zone (DMZ) separating the two nations.
It is the first time UN Command, led by the United States, has released video of a defection, Hochong Song, a public affairs officer for US Forces Korea, told CNN.

A UN Command spokesperson, Col. Chad G. Carroll, said at a briefing that North Korea had violated the ceasefire, part of the armistice agreed after the 1950–53 war, because the nation's soldiers had fired across the DMZ.
The 24-year-old man, whose surname is believed to be Oh, was rescued by three South Korean soldiers and is now recuperating in Ajou University Hospital, Suwon.
"The patient is clearly conscious," Lee Cook-jong, the surgeon treating him, told Yonhap News in a press briefing. "The patient is suffering severe psychological stress and melancholy due to gunshot wounds and two major surgeries."
North Korea has not commented on the defection, but the soldier's action may inflame international tensions over Pyongyang's nuclear plans.
Nearly 30,000 North Koreans have crossed the border since the end of the war, but hardly any have made it through the heavily guarded DMZ.