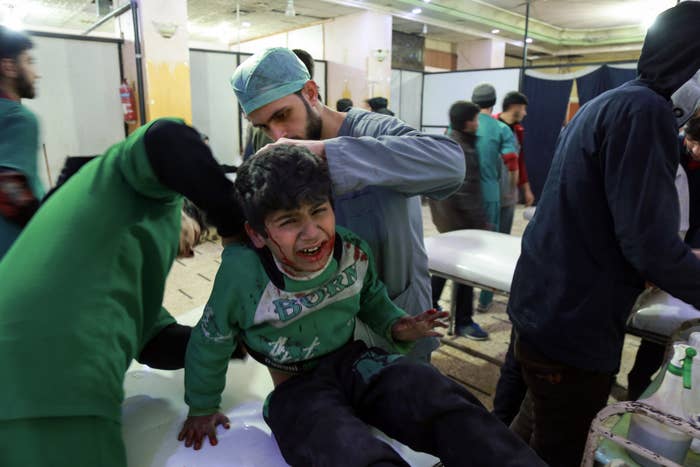 Hours after the United Nations Security Council finally passed a unanimous and immediate call for a ceasefire across Syria, the shelling continued across parts of the besieged country.
Activists inside Eastern Ghouta, east of the capital of Damascus, reported Syrian and Russian warplanes continuing to bomb the region over Saturday night and Sunday.
By Sunday midday (local time) there were also reports that pro-Syrian government ground forces were fighting with rebel forces on the outskirts of the area.
Eastern Ghouta has been under siege by regime and pro-Syrian government forces for years, but the violence has escalated dramatically in the past week, in what many see as a last push to take the rebel territory.
International monitors and humanitarians have placed the death toll at 500, with around 2,500 people injured. According to the UK-based Syrian Observatory for Human Rights, 127 children are among those killed in the past week.
In government-held areas more than 25 people have died from rebel shelling.
Civilians are hiding in basements as shelling deliberately targets medical and civic centres in the rebel-held area.
Nour Adam, an activist and freelance journalist, said people were still sheltering in basements, "hiding from the bombing and the airstrikes. There are people [there] who have not eaten anything in four days.
"The situation is miserable," he told BuzzFeed News. "It is hell on earth. It is a nightmare."
Bassem, an anaesthetics technician who was comfortable giving only his first name, confirmed to BuzzFeed News over WhatsApp on Sunday that the shelling was still going, and said that two hospitals had been hit since the ceasefire announcement.
"It is a very bad situation now," he said briefly, before he had to return to work.
Other doctors also confirmed that shelling had continued and two medical facilities had been struck. Dr Hamza, with the Syrian American Medical Society (SAMS) said there seemed to be a small decrease in the shelling.
"The bombs didn't stop falling on Ghouta. It didn't stop until now," he said in a voice message via WhatsApp, at around 5pm local time. "The targeting of civilian are down today but still there are airstrikes, and many missiles hitting civilians."
"The situation is still not good. But it is not so bad as the last week."
Hospital workers have said they were struggling to cope after days of shelling. "We are so exhausted. So exhausted," a doctor in the region told the Washington Post over the weekend.
Activists said that residential parts of Douma, Hamouria, and the town of Kafarna and the city of Saqba and the town of Beit Sawi, as well as the city of Harasta had been shelled as of Sunday morning.
Civilians stuck inside the besieged area – who are unable to leave due to complete encirclement by government forces – have repeatedly attempted to warn the world of the direness of their situation.

Two medical centres – one of them a maternity hospital – were targeted Sunday morning. When contacted by BuzzFeed News, activists declined to give more details: Hospitals and medical facilities have become such targets in the conflict that they were wary of identifying them further in case of more strikes.
The UN Security Council 30-day resolution was passed late Saturday night in New York, after a protracted negotiation. Under the agreement, Russia was granted the right to continue bombing ISIS and al-Nusra targets.

Despite the council's resolution, Syria's UN ambassador said that, although his country would honor the resolution, they would also reserve the right to continue attacking terrorists within the country, Syrian state news agency Sanaa reported.
Similarly, Iran – which supports the regime and states its forces are fighting the terrorist groups operating inside Syria – confirmed that the military would not adhere to the ceasefire in parts of the country.
"Parts of the suburbs of Damascus, which are held by the terrorists, are not covered by the ceasefire and clean-up [operations] will continue there," said General Mohammad Baqeri, Iran's military chief of staff, according to Tasnim, the country's semi-official news agency.
Outside of Eastern Ghouta, in Syria's north Afrin province, Turkey – yet another international player in Syria's complex war – also declined to obey the ceasefire.
Deputy prime minister Bekir Bozdag said the agreement would "not impact Turkey's offensive against Kurdish fighters in Afrin", Reuters reported.