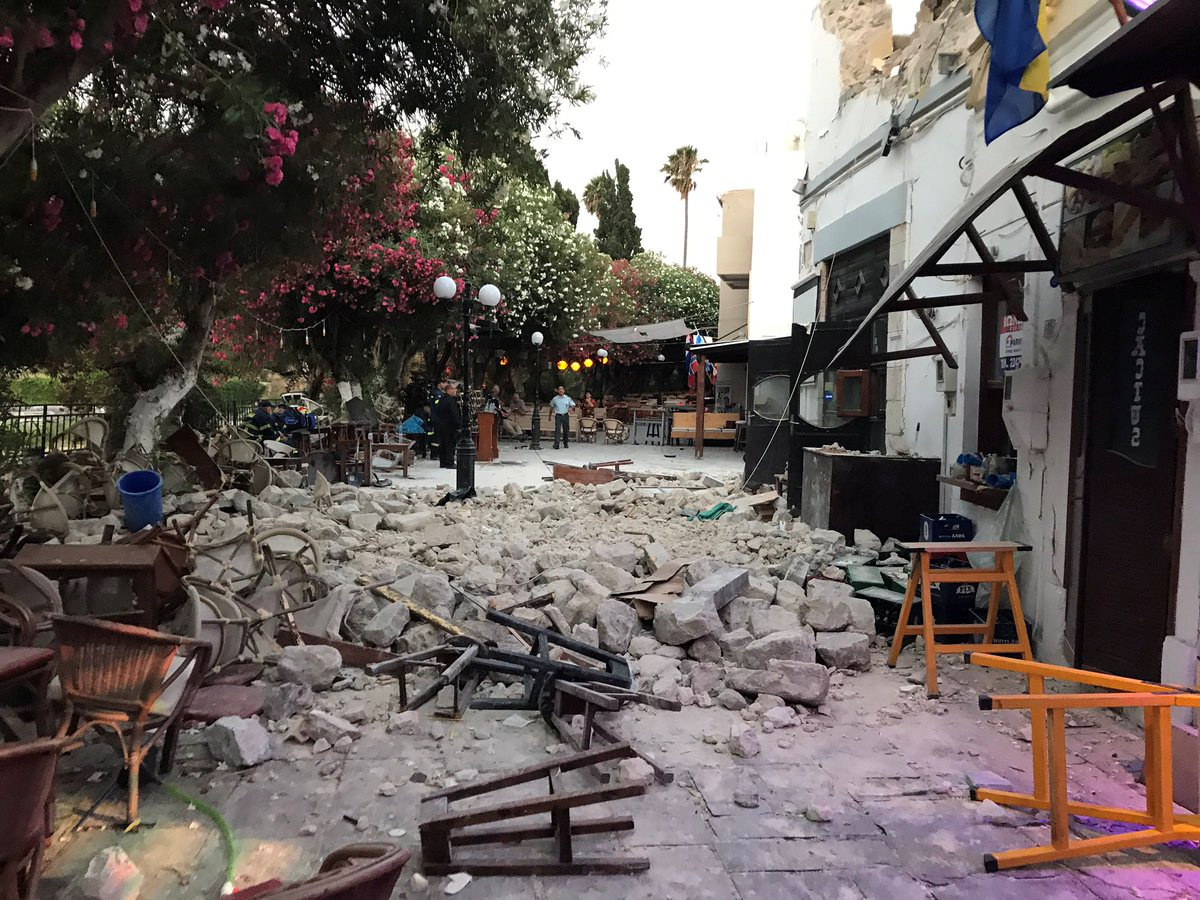 At least two people have died after an earthquake struck in the Aegean Sea, near a Greek island popular with tourists.
Hundreds of people are reported to have been injured after the 6.7-magnitude quake hit approximately 16km northeast of the island of Kos at around 1:31am (local time) on Friday morning, according to the United States Geological Survey.
Greece's fire service rescue chief Stephanos Kolokouris told state television that two male tourists, from Sweden and Turkey respectively, died after a wall collapsed on them in the Old Town district of the island's main port.
At least three people, thought to be Greek nationals, were seriously injured on the island. As many as 120 were injured, and a number were airlifted to hospitals in Rhodes and Crete, The Guardian reported.
Kos regional government official Giorgos Halkidios confirmed to the BBC that authorities were helping a number of people who had been seriously wounded when buildings collapsed on them. He went on to state that the Greek army was supporting the emergency services' efforts.

Scottish diving instructor Christopher Hackland, from Edinburgh, who was on Kos during the quake, described it as like something out of a "theme park".
"There was a lot of screaming and crying and hysterics coming from the hotel," he told the Associated Press. "It felt like being at a theme park with one of the illusions, an optical illusion where you feel like you're upside down."
The reverberations from the quake were felt in the Turkish city of Bodrum, where around 70 people were treated for minor injuries.
Aftershocks of up to 4.0 magnitude were also recorded on Kos, forcing many tourists to spend the night outside their hotels as authorities and emergency services scrambled to provide shelter.
The island, which is hugely popular with tourists, is about to enter one of its busiest periods. However, government spokesperson Dimitris Tzanakopoulos said that, in comparison to a 6.2-magnitude quake that hit Lesbos last month, the damage was limited.
"Slowly, slowly life is returning to normality," Tzanakopoulos told the Guardian.