Despite An Opposition Leader Being Detained, Hundreds Of People Kept Marching In Russia
Alexei Navalny, a prominent critic of Vladimir Putin, was detained en route to a protest in Moscow on Sunday.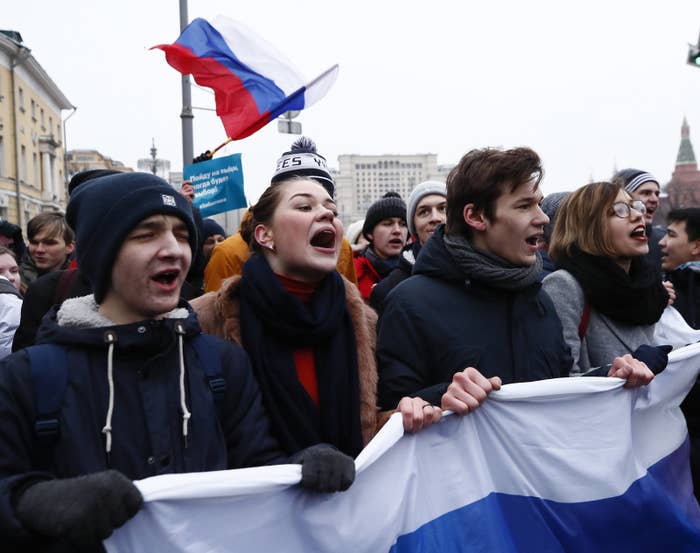 A key Russian opposition leader has been detained as thousands march across Russia in support of a boycott against the upcoming presidential election.
Alexei Navalny, 41, was bundled into a police vehicle as he travelled to the protest in Moscow, Sunday morning.
One of Putin's most vocal critics, Navalny is barred from standing in the upcoming election in March because of a previous criminal conviction – one which he has said was politically motivated.

Footage of his arrest was quickly shared on social media, as Navalny urged people to continue to turn out and march against president Vladimir Putin.
"I was detained. It does not matter," he posted on Twitter, urging people to still attend the rallies. "You don't go for me, but for yourself and your future."
The account in Navalny's name later posted footage of his arrest, telling supporters: "The detention of one person is meaningless if there are many of us. Someone, come and replace me."
Navalny was taken to a Moscow police station on charges of organizing an "unauthorized rally", police officials told TASS, a Russian news agency. "He has been taken to the local police for formalities and protocol about an administrative abuse."
If formally charged with a public order violation, the opposition leader may face a fine and 20 days imprisonment, Sky News reported.
Earlier, Navalny's offices were raided by officials. YouTube footage from inside the building, showed a broadcast being interrupted as men entered the building. The BBC reported that the officials took equipment from the building.

Approximately 2,000 people marched through Moscow Sunday in support of Navalny, according to reporters in the city.
One of the protesters, 25-year-old Nastya told RFE/LR: "You can't call choosing between one candidate [Vladimir Putin] an election."
"If we stay at home then nothing will change for sure. If we take to the streets, then at least we have some kind of chance."
Another Moscow protester, 31-year-old Alexandra Sokolova, told the Washington Post she felt if she had stayed at home nothing would ever change, instead by marching, "maybe my kids will live in a better country."
Rallies were planned across 100 Russian cities, including St Petersberg, Vladivostok, Yekaterinburg – Russia's fourth largest city, and remote cities like Murmansk.
Yekaterinburg's mayor Yevgeny Roizman spoke in favor of the boycotts: "What we're being offered right now are not elections and we mustn't participate in them."

People remained on the streets as night began to fall, as a number of small scuffles with police officers – who earlier in the day had appeared relaxed about the protesters – were recorded by reporters following the marches.