These Charts Show Why Ed Miliband Is Favourite To Win The Election
Basically, Britain suddenly seems to hate him a bit less.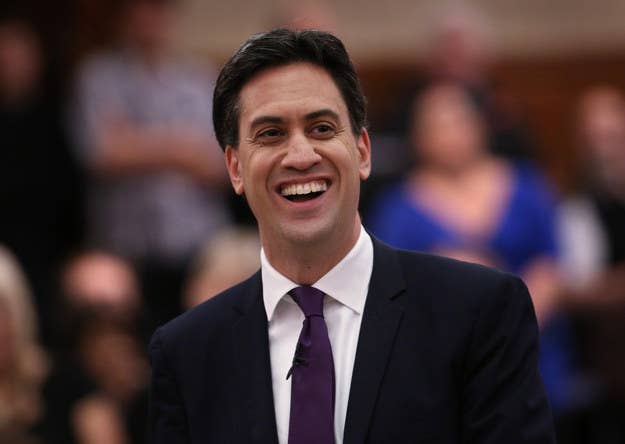 According to the bookies, Ed Miliband is now the narrow favourite to become prime minister, for the first time in the election campaign. And here's why.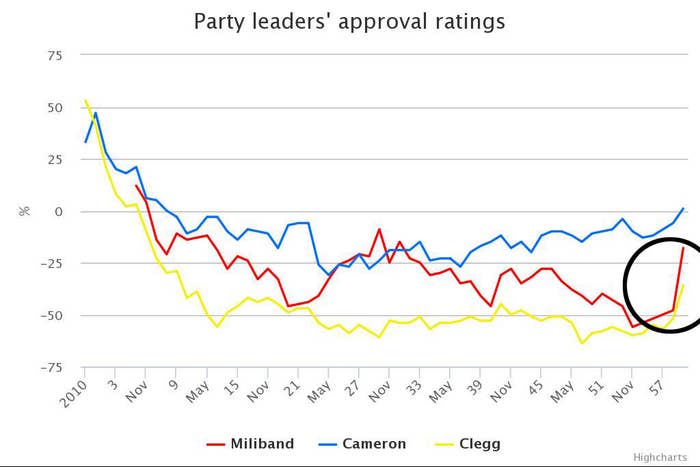 This chart shows the net approval ratings of the three main party leaders – a monthly snapshot (taken from YouGov's weekly surveys) of the number of people who think they're doing a good job of leading their parties vs the number who don't. What's most interesting is the circled bit on the right.
Yes, Miliband is having a bit of a moment. Here's that circled section in close-up, broken down week by week.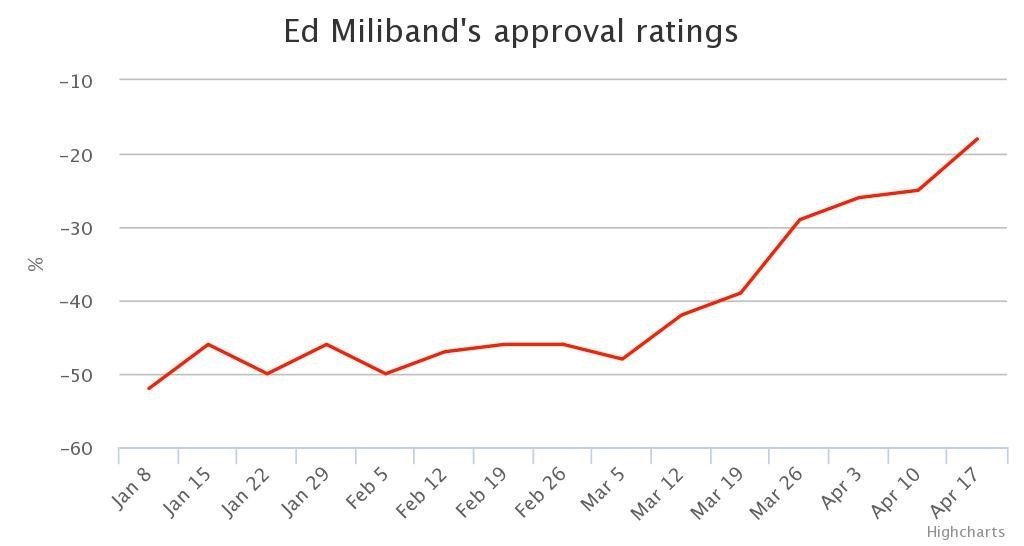 Since March, the Labour leader's net approval rating has started to shoot up. It's now the highest it's been since 2012. This is all the more remarkable when you consider that as recently as November, his rating hit an all-time low.
The improvement really started in mid-March. That means it predates his impressive showing in the leaders' debates, which saw much attention drawn to his raw sexual appeal and sassy reaction to Nigel Farage.
It's not just Miliband's own party rowing in behind him – he's also impressed supporters of other parties, too.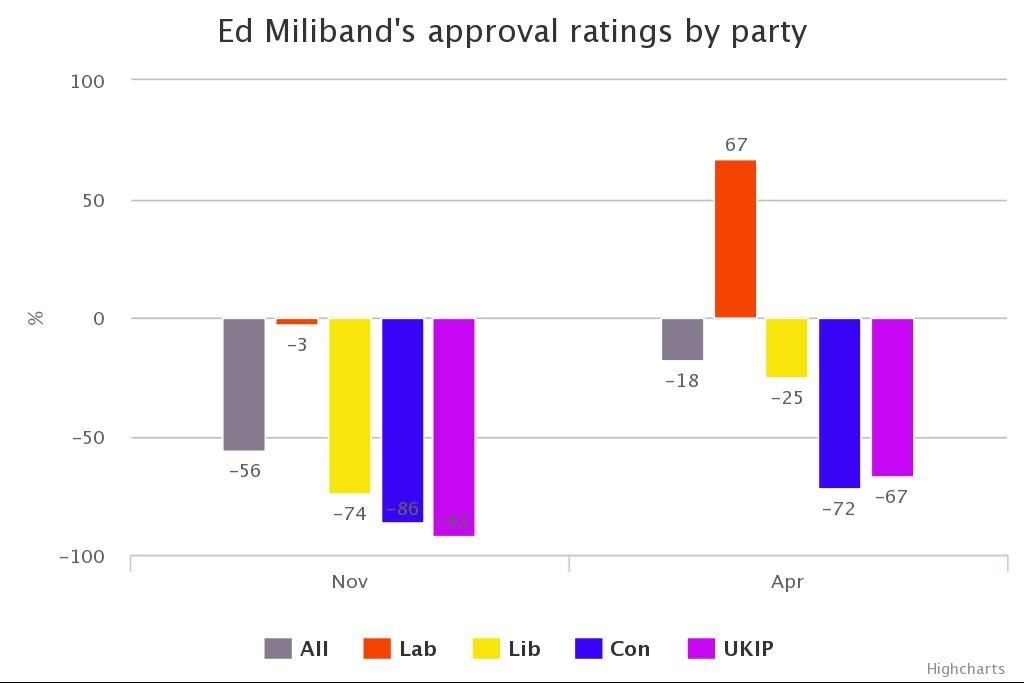 You can see here that since last November, his net approval rating within his own party has gone from -3% to 67% – 81% of Labour voters now think he's doing a good job. But he's also made big inroads among Lib Dem supporters, and even impressed Tory and UKIP voters slightly.
"We often see leaders with poor ratings recover before an election, as their own supporters decide to hold their noses and weigh in behind them," Anthony Wells of YouGov told BuzzFeed News. "So the largest part of this is Labour supporters firming up their support."
But Miliband's ratings are up by much more than his rivals' – Nick Clegg has gone from -59% to -36%, while David Cameron has gone from a net approval rating of -13% in November to 0% now.
"He's improved across the board," said Wells. "Partly that will be due to his impressive performance in the debates and various interviews, but it's also because of the campaign in general, where Labour seems to be doing quite well."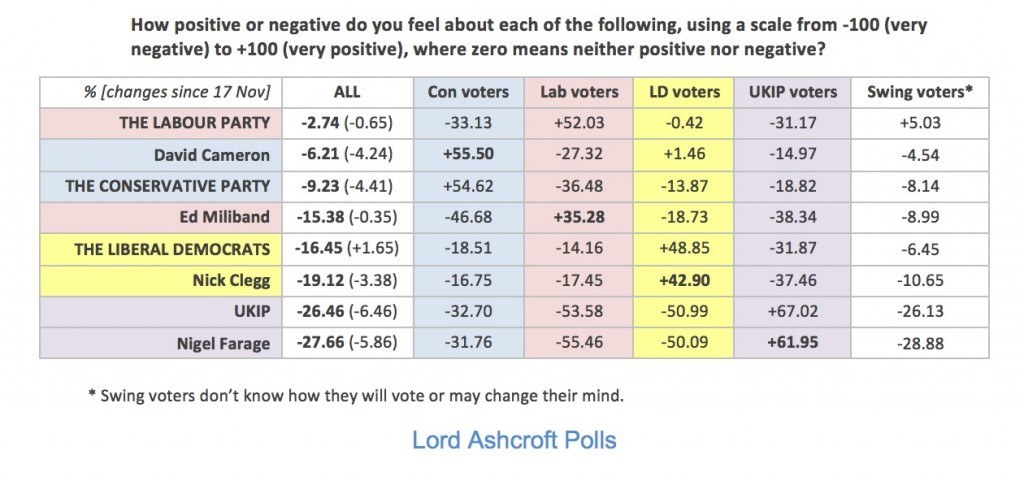 With Cameron consistently more popular than his party (as shown in this poll by Lord Ashcroft from February) and Miliband consistently less popular than his, it made complete sense for the Tories to make the campaign about the leaders, not the parties.
The idea was that voters would end up seeing Miliband as a weird, unelectable shambles of a man – someone who couldn't, for example, stand up to Vladimir Putin. But his recent poll surge blows a hole in that strategy.
Now, let's not get ahead of ourselves. Ed still isn't actually, y'know, popular.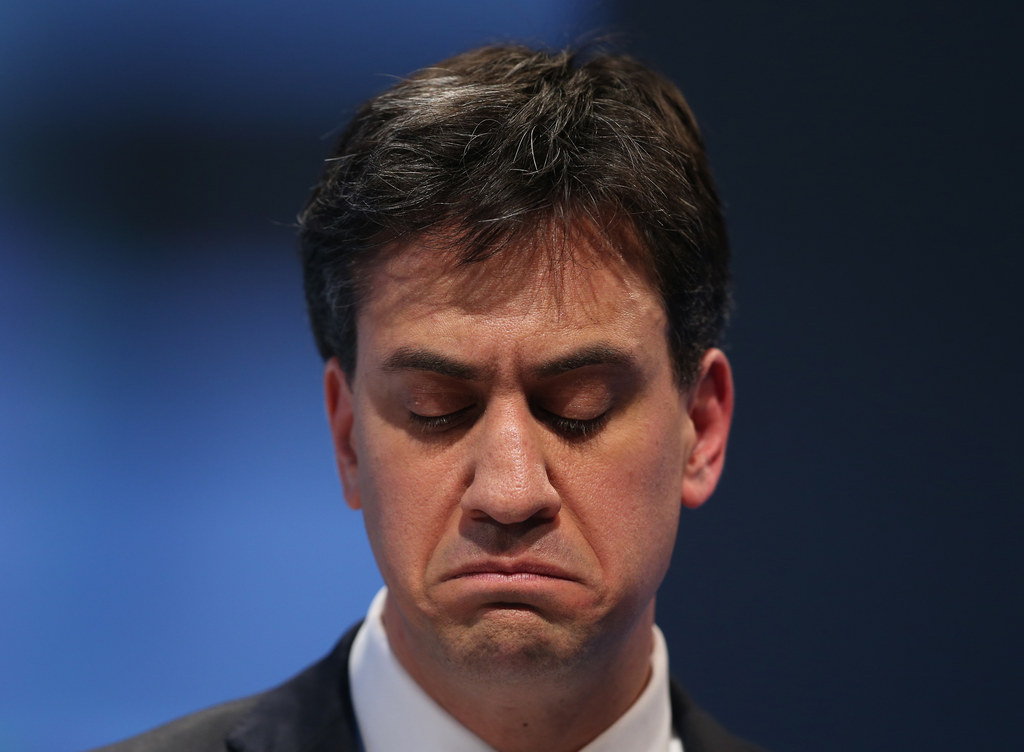 His personal ratings are still firmly negative, and Cameron is still way out in front in terms of leadership, popular appeal, and who people would actually want to be prime minister.
But the thing is, Ed doesn't need "Milimania" to break out – he just needs enough people to be sort of OK with the idea of him being in No. 10. And that's because the odds more generally are stacked in his favour.
For example, here's the average of the latest general election polls. Looks like an exciting neck-and-neck race, right?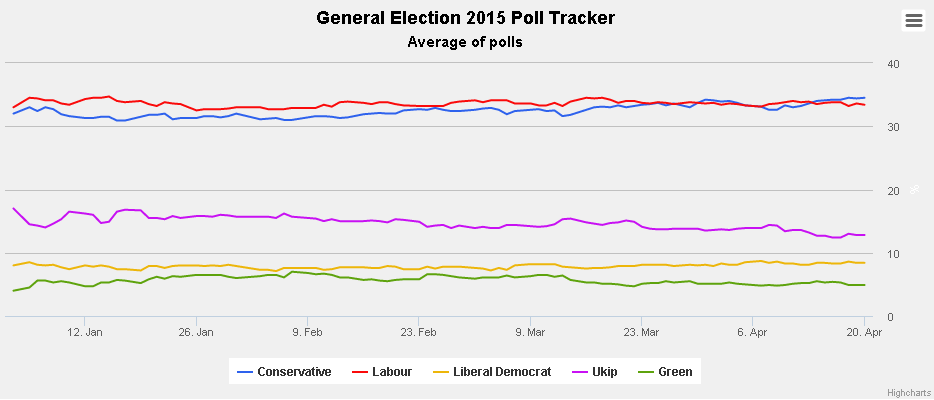 Well, it isn't. In fact, it's a blow-out for Labour.
That's because of the way the constituency system works. People tend to migrate from poor Labour areas to richer Tory ones. This means that the average Labour MP has fewer voters in his or her constituency than the average Tory – and therefore Labour can win a majority with a much smaller share of the vote.
To make matters worse for Cameron, the current constituency boundaries date back to before the 2010 election – in Scotland, they're almost a decade old. In revenge for the Tories blocking his House of Lords reforms, Nick Clegg torpedoed the latest attempt to revise and update the boundaries, meaning that they're now even more tilted in Labour's favour than usual, to the tune of up to 20 seats.
That means Labour has a built-in electoral advantage.
Admittedly, this calculation is based on the Lib Dem vote holding steady – which won't actually happen. But the voting system still means that Miliband will be able to translate a given number of votes into a greater number of seats.
Plus, the SNP, who are likely to be the third largest party, have said that they will do whatever they can to keep the Tories out of government – meaning that if both parties are tied in terms of parliamentary seats, Labour are far more likely to be able to form a coalition, or even just a minority government.
In short, to win the election, the Tories need to persuade the country to decisively reject Ed Miliband. And so far, that isn't happening.