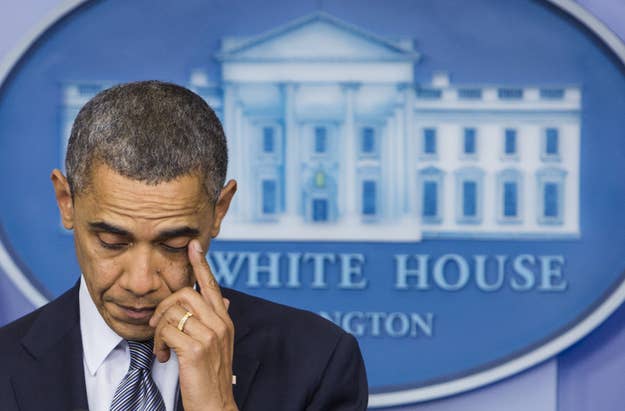 WASHINGTON — As Americans struggled to make sense of a mass shooting in Newtown, Conn., on Friday, lawmakers began to weigh what policy changes, if any, should come in the wake of the shooting.
"We're going to have to come together to take meaningful action to prevent more tragedies like this, regardless of the politics," the president said during an emotional press conference Friday.
But White House officials declined to elaborate on what Obama meant by "meaningful action," even as pressure mounted from some of his most vocal supporters to take a forceful role in advocating for gun control legislation.
Instead, aides referred reporters to White House Press Secretary Jay Carney's statement earlier Friday, which said that now is not the time for policy debates.
"There is I'm sure...a day for discussion of the usual Washington policy debates, but I don't think today is that day," Carney told reporters, a line that drew rebuke from gun control advocates.
The White House's response was met with skepticism by lawmakers and advocates, who pressed more urgently for reform.
"We say, Now IS the Time to talk about guns. Now IS the time to prevent more pointless deaths. Now IS the time to Demand A Plan to End Gun Violence," said Mayors Against Illegal Guns in a statement. The group's website personally targets Obama, noting prominently "48,000 Americans will be murdered with guns during President Obama's term."
And dozens of advocates held a vigil outside the White House encouraging Obama to take action.
"Calling for 'meaningful action' is not enough," said New York City Mayor Michael Bloomberg, the anti-gun group's chairman. "We need immediate action."
Indeed, the focus on the president is a reflection of the fact that any action on gun control will need to be led by the White House — and backed by the full force of Obama's political machine.
"Nothing is going to happen unless the president makes this a priority immediately," said one Senate Democratic aide.
"I hope the President's words about taking 'meaningful action to prevent more tragedies like this...' stay true," said Rep. Carolyn McCarthy, one of Congress' most vocal gun control advocates, whose husband was killed in a mass shooting. She vowed to The New York Times that she is not "going to be shy anymore."
In the wake of mass shootings, particularly those in recent memory, a request to not
"politicize tragedy" has been a common refrain among politicians.
In keeping with that precedent, a host of congressional lawmakers put out statements expressing sympathy for the victims, survivors, and their families, but stopped short of calling for action.
However, some Democratic members of the House and Senate broke with that trend and expressed their unmitigated — in some cases, specific — intent to consider reforms to gun laws during the coming Congress.
Rep. Frank Pallone, whose New Jersey district includes Old Bridge, where a gunman killed two people at a supermarket in August, urged Congress to "enact meaningful, sensible gun control laws."
"It's time that we do more than hold candlelight vigils to honor the lives that have been lost from guns and take action to stem gun violence," Pallone said.
"This is a wakeup call," tweeted Sen. Barbara Mikulski, of Maryland. "Weapons of war have no place on the streets of America. It's time for Congress to act."
Among most lawmakers, there was hope for a solution — but few specifics.
Senate Minority Leader Mitch McConnell asked that Americans "unite around hope that there will soon come a day when parents no longer fear this kind of violence in our nation again."
"Perhaps an awful tragedy like this will bring us together so we can do what it takes to prevent this horror from being repeated again," said Democratic Sen. Chuck Schumer.