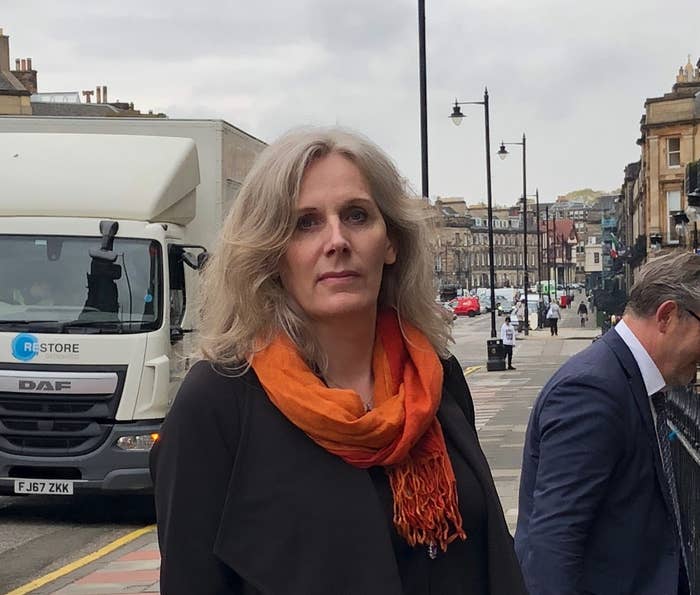 A former editor at the Times is suing the newspaper for anti-trans discrimination, harassment, victimisation, and unfair dismissal on the grounds of gender reassignment — in a landmark case that, if she wins, could transform the UK media's coverage of transgender rights.
Katherine O'Donnell was the night editor of the Scottish edition of the Times until January 2018, when she was made redundant after 14 years at the title, during which she transitioned.
Her allegations, which encompass bullying and blocking of promotions and pay rises before she unfairly lost her job, involve multiple senior figures at the Times, including the current editor, John Witherow.
The Times denies all her claims. In a statement to BuzzFeed News, a spokesperson said the organisation was "rigorously defending" the case, adding that the tribunal had so far heard evidence only from O'Donnell.
The hearing at the Edinburgh Employment Tribunal, which began on Wednesday, could have far-reaching implications for UK's news outlets. In addition to the standard employment law charges such as discrimination and victimisation, the case also rests on an argument that has never before been tested.
O'Donnell and her lawyer — Robin White of Old Square Chambers — allege that it wasn't just what happened in the newsroom but also what those inside it published in the newspaper about trans people that constituted a hostile, anti-transgender place to work.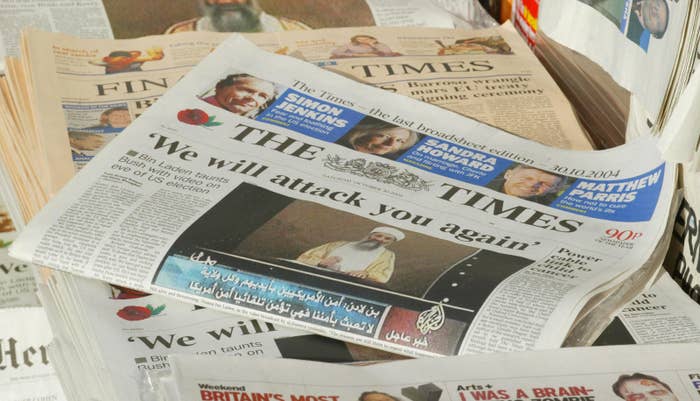 Should O'Donnell be successful, therefore, it would mean that a newsroom's output could be deemed an internal, employment issue, too. News outlets may in the future have to consider how their coverage of trans people and other minority groups could be in breach of employment laws that protect members of these communities on their own staff from discrimination and bullying.
She claims that there was an atmosphere at the Times hostile to trans people in general and therefore also to her.
On one occasion, O'Donnell alleges, during a news meeting with two senior editors in which a murderous attack on trans women in India was mentioned, one of the editors made a transphobic joke about it being a "lifestyle choice".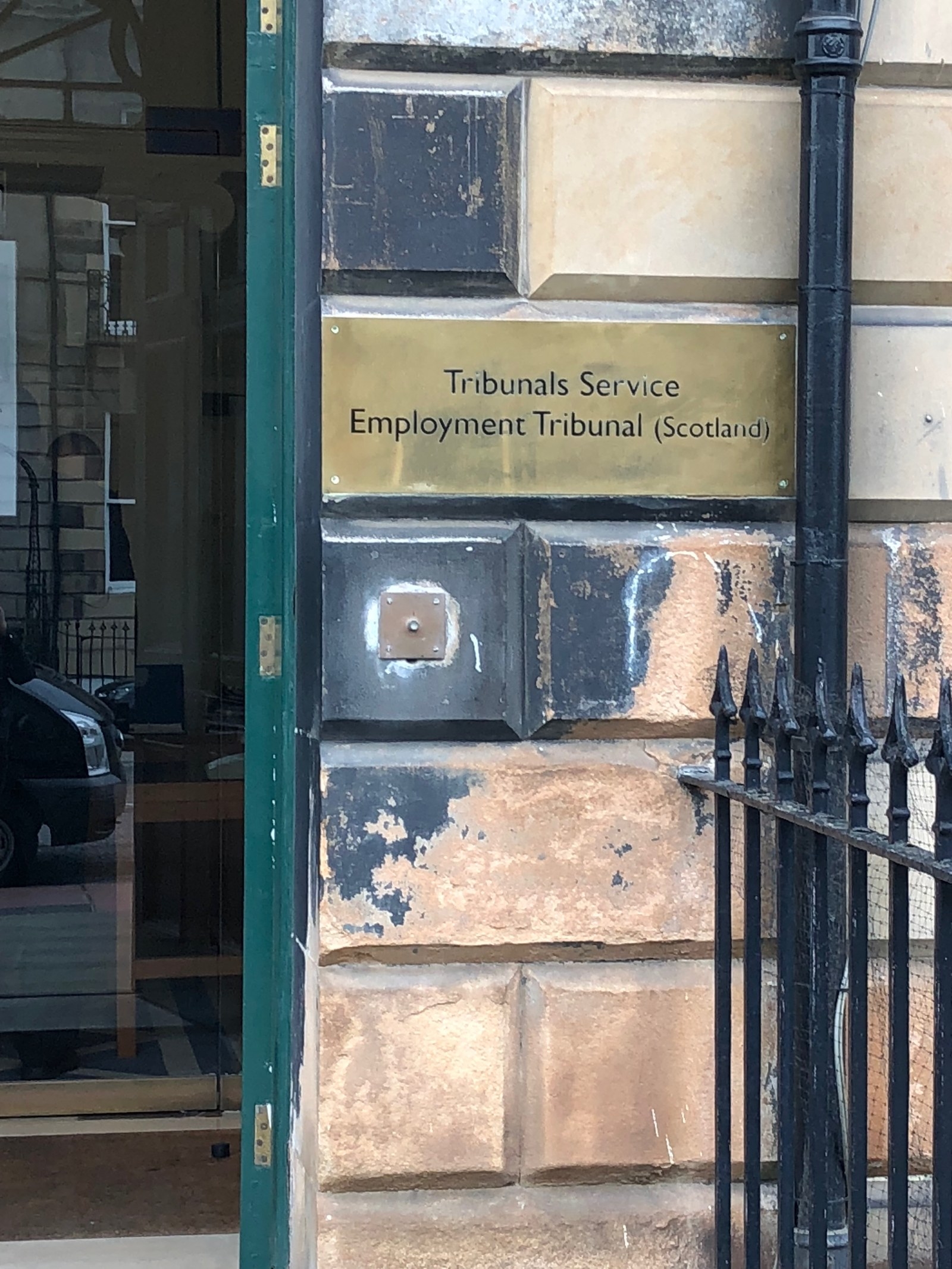 "I left the room in shock," O'Donnell told the tribunal. "I didn't know I was going to vomit until I got to the loo." O'Donnell says she was then sick.
In her witness statement, she wrote: "The callous and dehumanising nature of the comments, however intended, left me feeling as if the floor had opened up beneath me and that I had fallen into a reality in which what these men really thought of me and people like me was revealed."
Jane Callan, the barrister representing the Times, questioned why O'Donnell had not raised the issue at the time and made a complaint, and said it was "not the case" that these editors "would make such unfeeling comments".
O'Donnell replied that she had not made a complaint because "I felt very clearly that the repercussions would be so negative that it would put my job in danger". She added that she had two children to support.
On another occasion, O'Donnell told the tribunal that in a discussion with a senior manager in 2011 in which she was raising concerns about her pay, working conditions, and commute, the manager "alluding to my transition said I 'ought to be grateful for our tolerance'."
Her attempts to get a pay rise were also largely unsuccessful, she alleges, telling the court, "I wanted to be paid the same as the person who'd done the job before me." When she was promoted to night editor, her pay did not increase. The tribunal heard, however, that there were two pay rises in the 14 years she worked there.
O'Donnell alleges that she was excluded from consideration for acting editor in Scotland and believes this was because of her gender identity.
She told the tribunal that in the summer of 2014, the then–Scotland editor of the Times, Angus MacLeod, informed her about a discussion between him and two senior executives in London about who should be put in place while he undertook chemotherapy. When the subject of putting O'Donnell in that position arose, one of the executives replied, "Under no circumstances".
MacLeod encouraged her to write to the executive to raise her concerns. "Angus cried and said he was very sorry and felt he had let me down," O'Donnell said in court, adding that she was "deeply disturbed by the phrase, 'under no circumstances'. It seemed to me that something untoward could be going on."
The Times' counsel responded by pointing to the email MacLeod had sent recommending someone else for the job and saying that "there was a better candidate" in the view of management, who were also concerned about the "difficult" working relationships O'Donnell had with staff in the London office. Callan also said that members of the staff found O'Donnell "aggressive".
In her witness statement, O'Donnell wrote that "the framing of his argument — that I was 'difficult' to deal with was fundamentally sexist. Difficult and abrasive are terms frequently used to describe women in the workplace who stand their ground."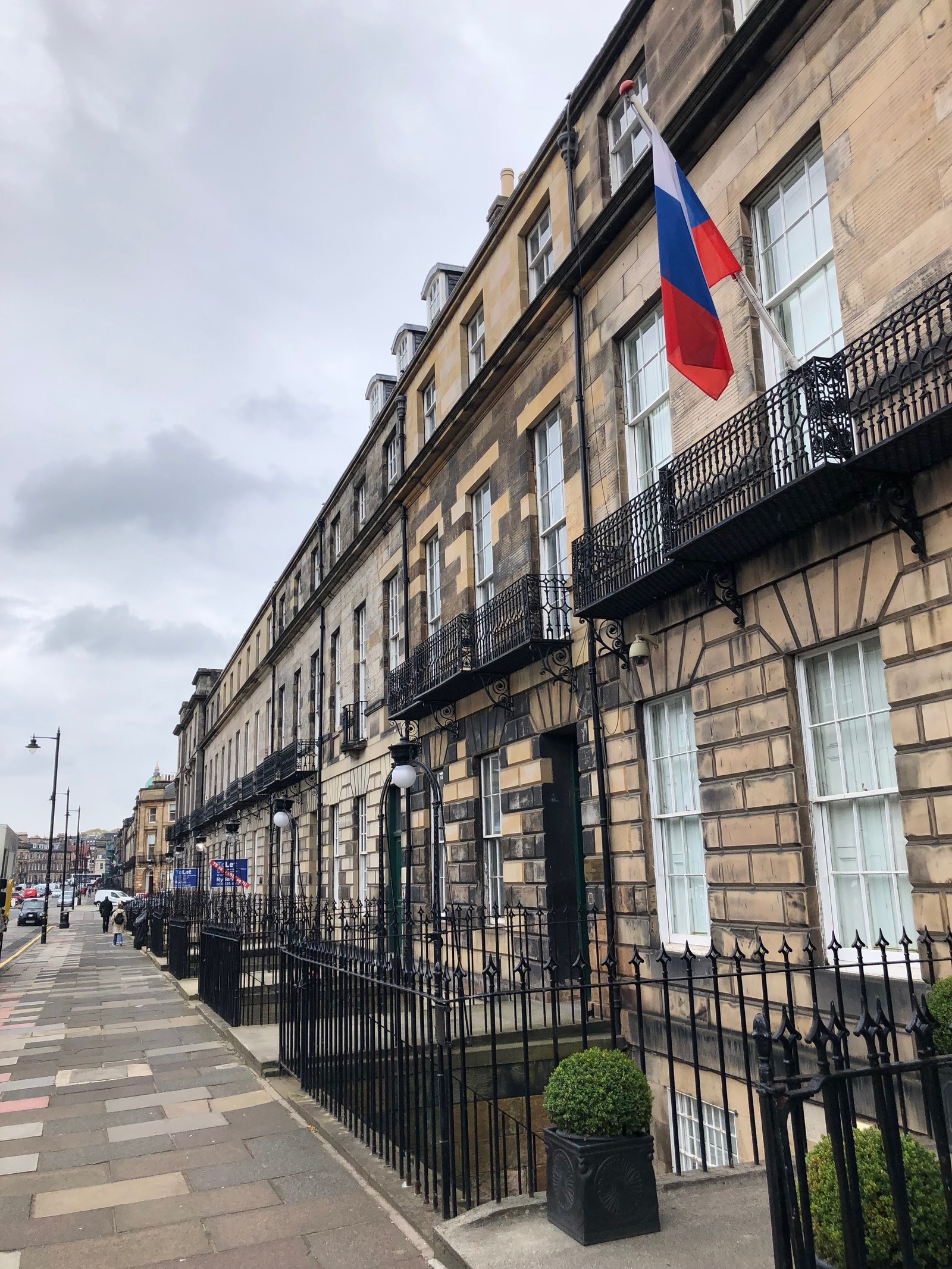 She added elsewhere that the culture at the Times was sexist. "I saw men of mediocre talent promoted beyond their abilities and women of exceptional talent held back," she wrote. "Some of the male executives behaved as if it was a 'boy's club'. They would speak over, patronise, ignore and bully women."
O'Donnell told the tribunal that she believed these executives "did not want a trans woman as the public face of the Times in Scotland". In her witness statement, she added: "I was considered to be like an embarrassing relative — fine for getting things done in the home but not for taking out in public."
This was not the case, Callan argued, because O'Donnell had already been stepping into the role when MacLeod was unwell. She also said O'Donnell had not explained how the phrase "under no circumstances" was discriminatory.
Two years later, in 2016, when the acting Scotland-editor position was advertised, O'Donnell wrote to the editor, John Witherow, setting out her concerns about her overall treatment at the paper. In her witness statement, she wrote that her email conveyed that "in the light of these experiences I felt unable to apply for the role of Scottish Editor as I had no confidence that I would receive fair treatment".
She was then invited to a meeting with human resources in which, according to her statement, she again cited "transphobic behaviour and concerns that I felt that the repeated and inexplicable denials of pay and title had been related to my status as trans".
O'Donnell said it was the coverage of trans issues by the newspaper and its sister title, the Sunday Times — and in particular what happened when she complained about it — that further cemented her belief that she was working in a transphobic environment.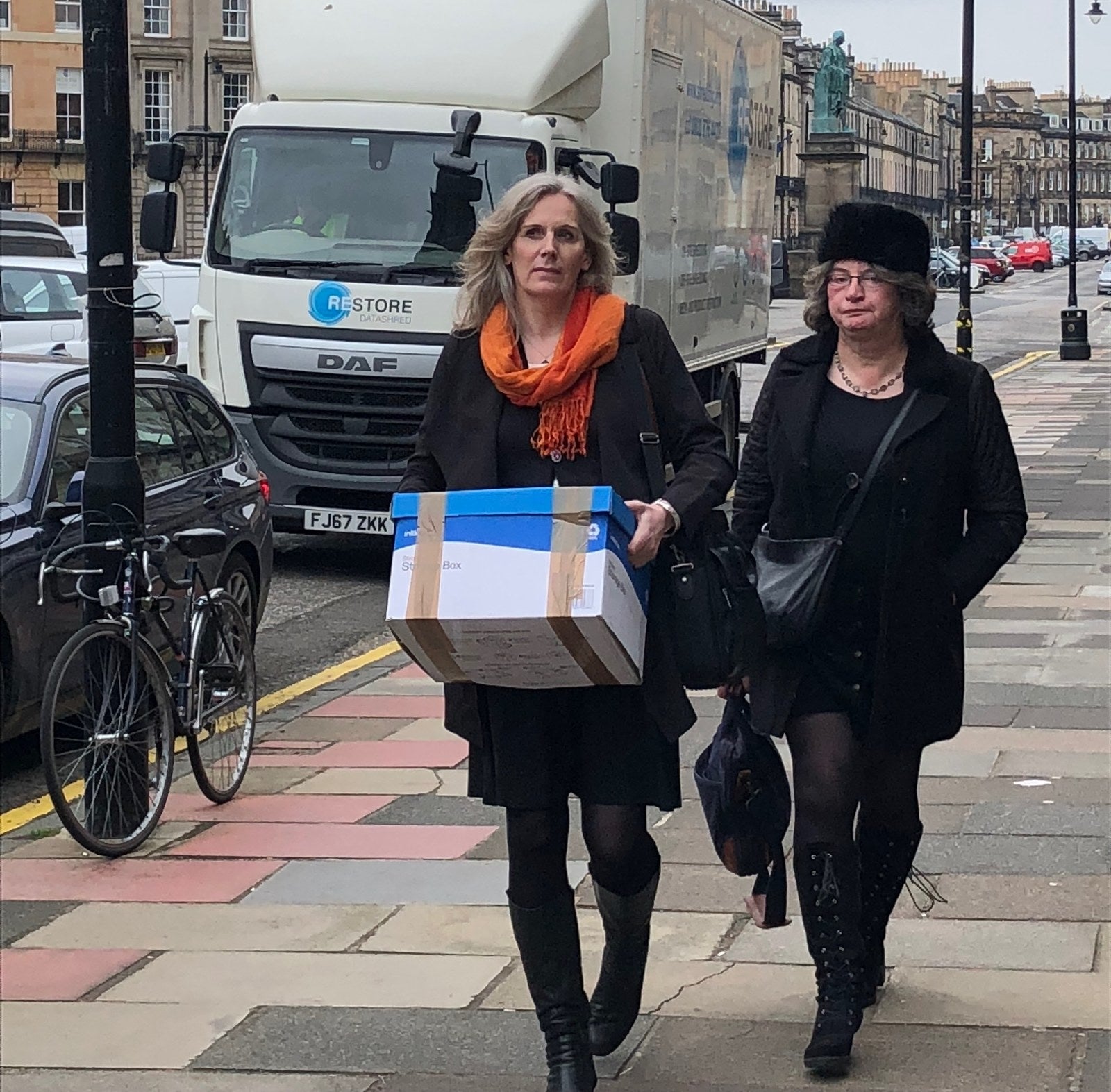 "My desire to see fair and balanced coverage of trans people and issues in the [Times newspaper] has led to me being viewed as difficult or troublesome," she said in her statement.
In one example, she noted that the Times reported on the eminent scientist Kate Stone's serious injury by a stag by also mentioning in the headline that she was trans, even though it was irrelevant to the story. According to O'Donnell, the editor she emailed responded by saying that it "was just colour" and "the woman had outed herself anyway by mentioning the fact" that she was trans in a speech. The Times, she said, later changed the headline.
On another occasion in 2014, she wrote to Witherow about a "virulently transphobic" opinion piece by a freelancer who had previously said they would refuse treatment from a GP if they were trans. Although the article was not published, the fact that it was commissioned and considered for publication concerned O'Donnell. She said she was also alarmed that Witherow did not respond to the email.
At the tribunal, however, Callan countered that opinion articles were meant to "stimulate debate". The Times' counsel also referred to an internal email from Witherow to the assistant comment editor referring to O'Donnell's note: "Does she not have a point?" How, the lawyer asked O'Donnell, does that violate your dignity?
"When I read this piece," began O'Donnell, "it made me cry … it was such a foul piece, and derogatory" about trans people to the extent that it led her to wonder, "How can my editors not see that this is an awful thing?"
"Subsequent to this," she added in her witness statement, "I noted that Mr Witherow effectively ceased to speak with me." But the Times' counsel said this was due to her not being senior enough for Witherow to need to speak to her. Previously he had, O'Donnell replied.
In 2016, O'Donnell also wrote to Rebekah Brooks, the CEO of News UK (the parent company of the Times), to complain about a column by Jeremy Clarkson which, according to her witness statement, characterised trans people "as prostitutes and criminals and NHS-swindling fantasists and attacked the parents of a trans child".
She said that "the culture within the company was faulty when bigoted arguments and inaccuracies went unchallenged by editors". This, she wrote, "contributed towards making life for trans people even harder than it already was" and concluded, "I found it personally degrading."
Although Brooks referred her on to the managing editor, she asked O'Donnell by return email if everything else was OK.
"I replied that… there was a problem with the culture in the company as a whole in relation to trans people and my experience suggested that the company could not guarantee me or any future trans employee of the company equality of opportunity in an atmosphere free from discrimination," O'Donnell said.
O'Donnell alleges that after this, there was an increase in negative reporting on trans people, prompting her to again email Witherow in March 2017 about a column by Michael Gove, alleging "factual mistakes" in it, and again in August 2017 to both the editor and his deputy after "six negative inaccurate pieces about trans people appeared in the Times within two weeks".
One of those, O'Donnell wrote, centred on a report framed as a scientific study because it was written by a former employee of the Johns Hopkins Bloomberg School of Public Health but was, in fact, published in an "evangelical Christian magazine" and was "so discredited as to be publicly disowned by the faculty". The article did not mention this. As such, she said in her witness statement, it was a "failure of journalism".
In October 2017, O'Donnell again raised her "increasing alarm over the volume, tenor, and journalistic failures of the paper's coverage of trans issues" in a meeting with her line manager, according to her statement. "I told him that as in individual, I felt under siege." By which point, she said in her statement, the manager had emailed a member of HR, saying, "Feel free to contact Kathy if you have the time/energy/courage/patience."
She was made redundant soon after, which O'Donnell claims was unfair.
In her witness statement, she also said that during her time at the Times, as a result of the "stress and humiliation due to the company's treatment, I suffered an episode of clinical depression that lasted for a year".
The case comes amid an unprecedented period in the British media in its volume of stories regarding transgender people. Many outlets, including the Times, the Guardian, the Mail, the Sun, the Telegraph, and the New Statesman have received criticism from trans campaigners for their coverage.
If O'Donnell wins, it could also set a precedent for news covering a range of minorities that are protected under the Equality Act 2010 from discrimination and abuse: gay people, disabled people, BAME people, and those from different faiths.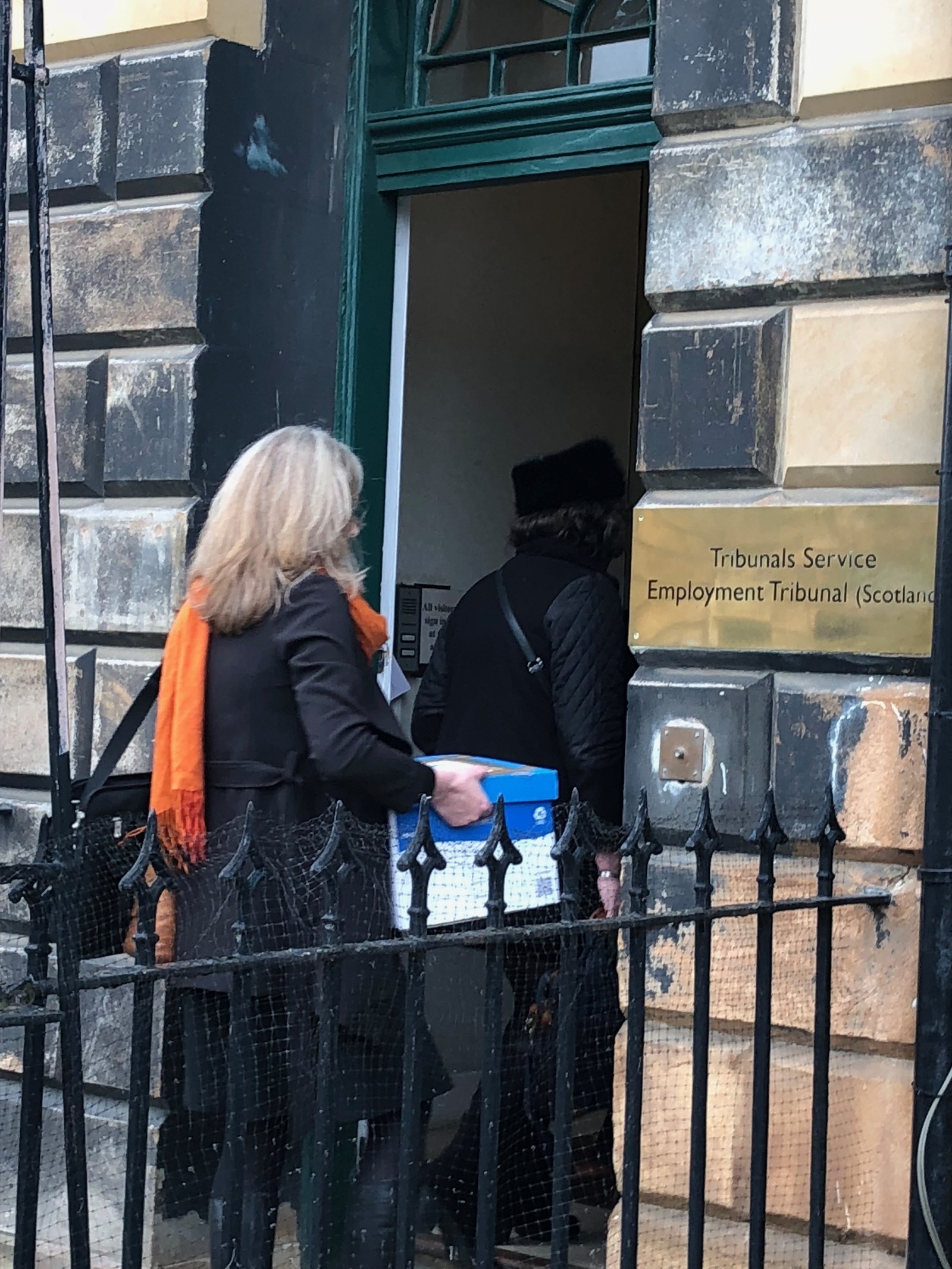 The tribunal is due to last six weeks. In addition to numerous current News UK staff appearing as witnesses for the organisation, multiple former employees are being called as witnesses for O'Donnell.
In a statement provided by her lawyer, O'Donnell said: "As a trans woman, I was subject to horrible discrimination and had to endure the Times adopting an increasingly hostile stance towards trans individuals … " She added she was "critical of the paper's journalistic flaws in the coverage of trans people," and therefore, "I believe, as part of that, my redundancy in 2018, which appears to me to make no business sense, was motivated by a desire to be rid of me as a trans woman."
In a statement to BuzzFeed News, a spokesperson for the Times said: "This matter is subject to an employment tribunal, which at this stage has only heard the evidence of the claimant. The Times is rigorously defending its case that the redundancy was not a matter of discrimination. We cannot comment further at this time."
The case continues.