Lacey Holsworth, beloved fan and friend to MSU superstar Adreian Payne, died early Wednesday morning, her parents said. "Princess Lacey" had fought a rare form of childhood cancer for three years. She was eight-years-old.
Adreian Payne released a statement Wednesday afternoon:
Words can't express how much I already miss Lacey. She is my sister, and will always be a part of my life. She taught me how to fight through everything with a smile on my face even when things were going wrong. I'm a better man because of her.

She said she first liked me because of my smile, but it's her smile that made America fall in love with her.

I know she's smiling and dancing in heaven right now. My princess is now an angel.
The Holsworth family posted a statement on Twitter and Instagram:
Princess Lacey has achieved the ultimate victory. She now dances among angels.... The world is a better place because you were in it. Our hearts are broken. We love you Doll. Dance all night... Mommy and Daddy, Will, Mitchell, and Luke #LoveLikeLacey.
Lacey's father, Matt Holsworth, said she died "with her mommy and daddy holding her in their arms."
The NCAA offered its condolences on Twitter.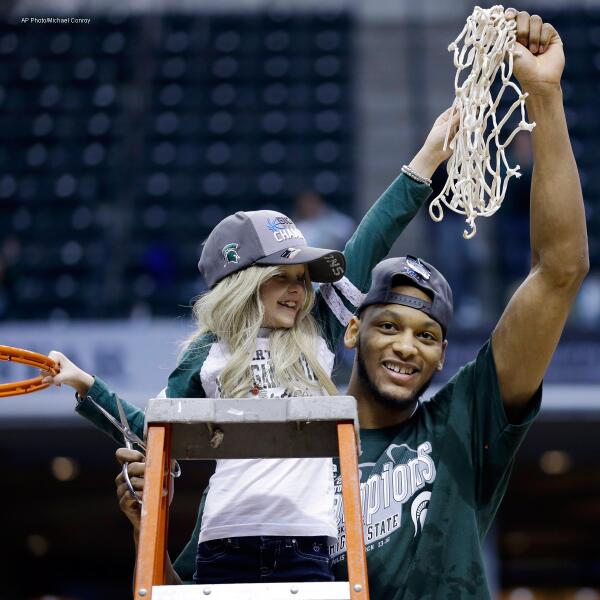 Michigan State basketball coach Tom Izzo issued the following statement on Lacey's death:
Our thoughts and prayers are with the entire Holsworth family today.

Princess Lacey has taught us all an incredible lesson about love, strength and toughness. We can all learn from her on how to handle adversity with class and dignity.

She has become an inspiration to our team, our families, our university, and most recently our entire nation. At just eight years old, she has given us all a lifetime of memories.

We are all saddened today, but we are all better people for having known Lacey. Her smile and passion for life will live in the hearts of everyone she has touched across our country.
Michigan State Athletics Director Mark Hollis also provided a statement:
Today, our Michigan State family mourns the loss of 8-year-old Lacey Holsworth. Our thoughts and prayers are with her parents, Matt and Heather, as well as her three brothers, Will, Mitchell and Luke.

It's remarkable how many lives Lacey touched in her short life here on earth. She had a zest for living and was so courageous in her battle against cancer. Lacey impacted not only our Spartan basketball program but the entire University community. And through her special relationship with Adreian Payne, Lacey captured the hearts of many people throughout our state and nation. All people had to see was that radiant smile that could light up an entire arena.

Our hearts are heavy today, but we'll never forget the life lessons Princess Lacey taught us.
Izzo told the Detroit Free-Press he spoke with Payne Wednesday morning:
Even though he knew this was inevitable, it's hard. But he took it with the class and dignity that she taught him. I told him, "Not everybody gets to touch somebody's life like you have. And sometimes other people impact your life, too."