So! In case you didn't know, the Philippines just had its national general election and everyone's still abuzz with the eventful race and official results.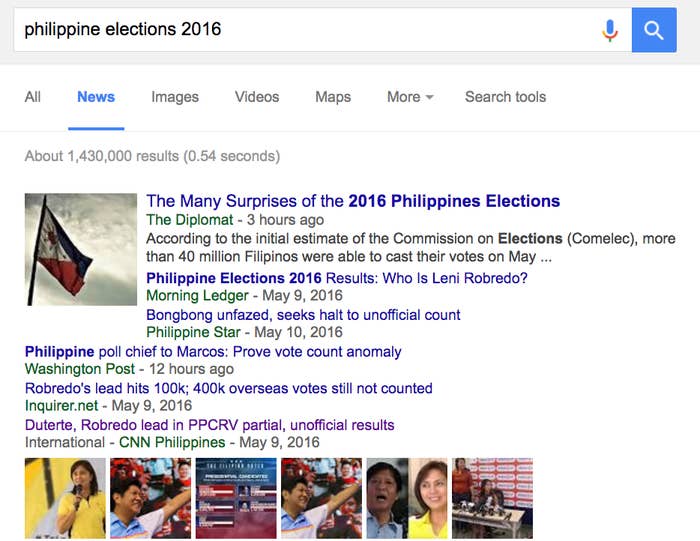 BUT. For those of you truly in the know, you've definitely seen the hashtag games Filipinos are playing to blow off steam post-election.
One of which is: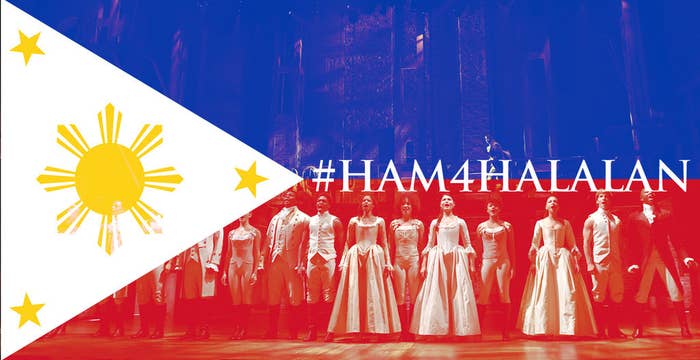 Yup! "Ham" as in Hamilton, the Broadway musical by Lin-Manuel Miranda that's taking the world by storm, AND "Halalan," a Tagalog word that translates to 'election.'
Below are some of the best ones, proving that Lin-Manuel's magnum opus is truly universal.
1.
The whole thing got off to a strong start.

3.
And vice president-elect was a good fit for plenty of the Hamilton characters.

4.
People quickly established her as the Eliza Hamilton, too.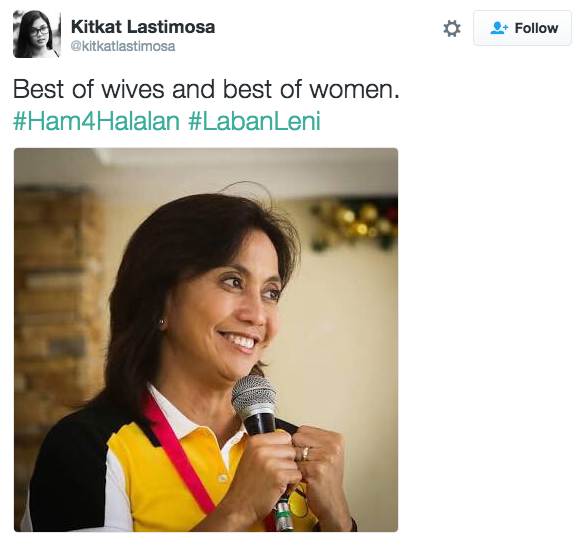 5.
Move over, Philippa Soo.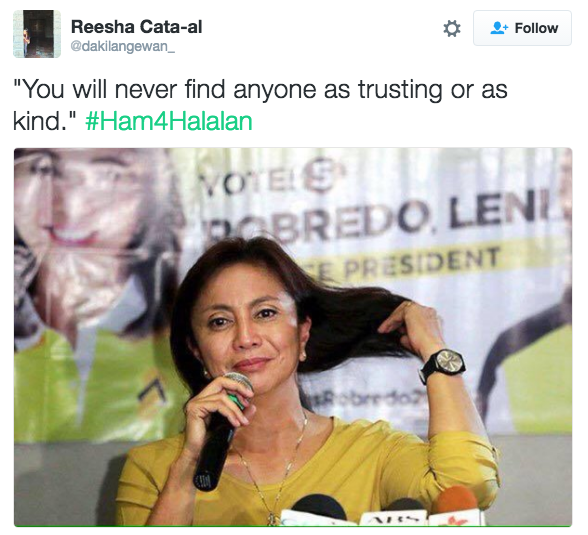 6.
And they didn't hold back from hitting you hard in the feels.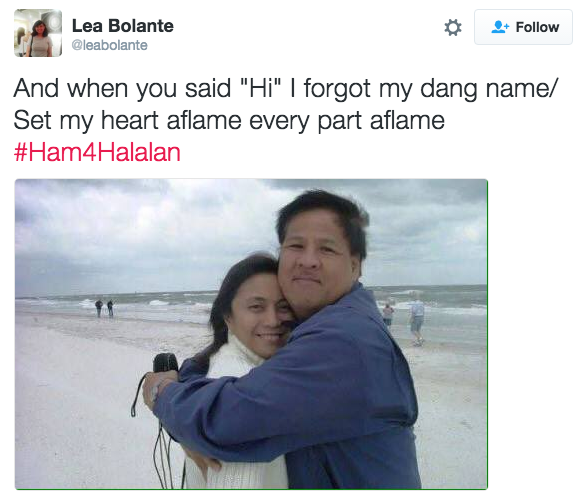 7.
😭😭😭

8.
Robredo had a little bit of A. Ham in her, too.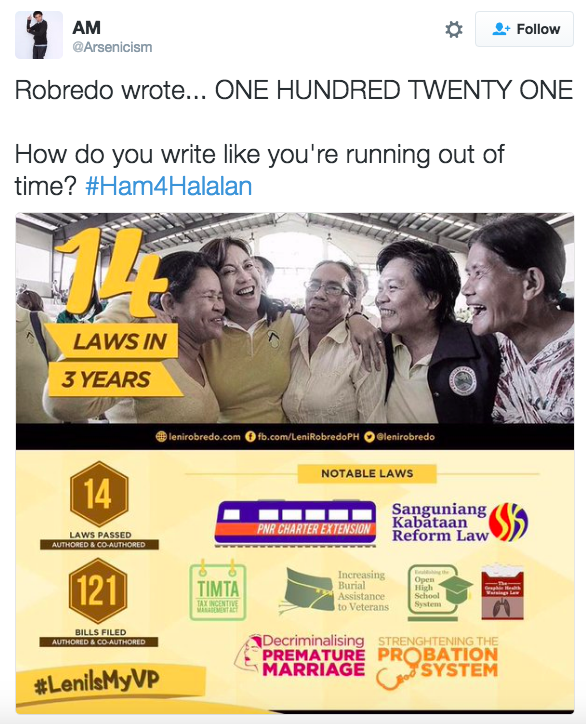 9.
The very tight race between Robredo and VP candidate Bongbong Marcos was the stuff Filipino politics was made of.

10.
BBM, how do you say no to this?

11.
Nailed it.

12.
The senators weren't spared from #Ham4Halalan.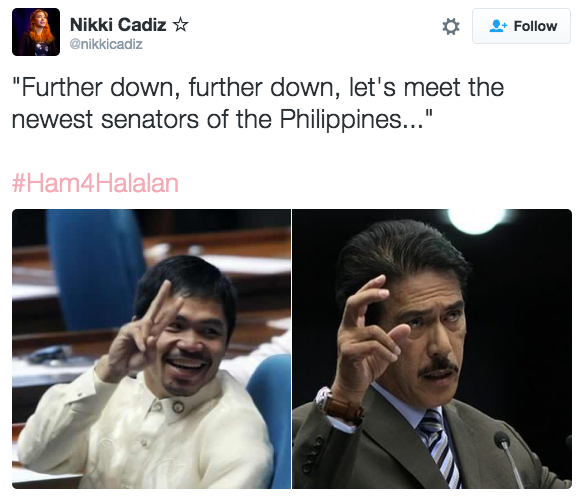 13.
Oh sweet Chiz.

14.
Pacman's in the senate, mga beh.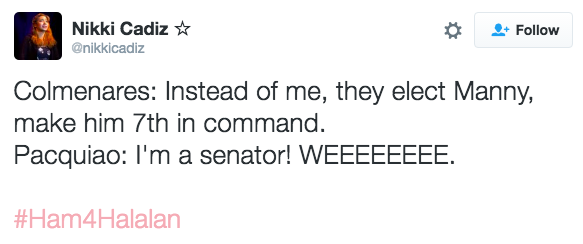 15.
And it'll be interesting to see if life imitates art.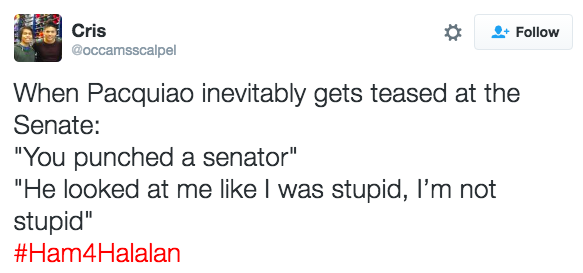 16.
Miriam's in #Ham4Halalan with enough sass to spare.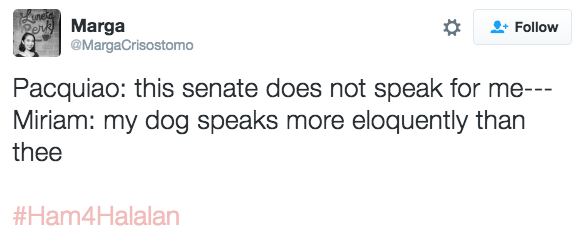 17.
Would not be surprised if this happened.

18.
Or if this happened.

19.
Nor were the candidates' kids.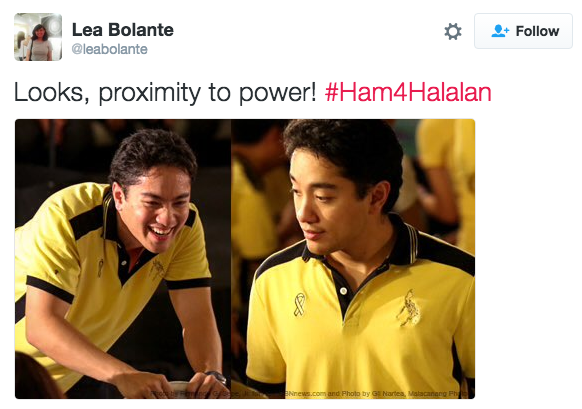 20.
If anything, the kids were the easiest to Ham up.

21.
The Marcoses lent themselves well to a musical and political drama.

22.
And let's not forget presidential candidate Grace Poe.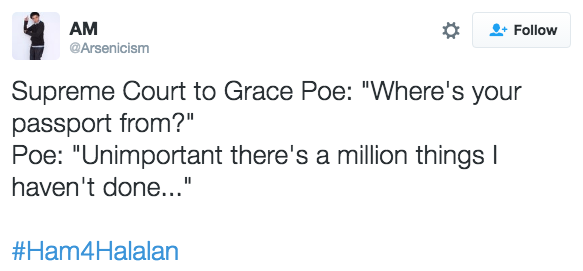 23.
Too real.

24.
I'm gone.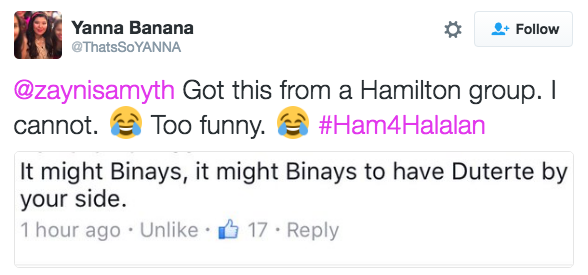 25.
Basically, the whole thing was a little too perfect.

26.
The Philippines is basically a Tony Award (ER, I MEAN PULITZER)-winning drama right now and it's incredible.

We just have one question: When are you coming back to see your Twittipinos, Lin??? 💖