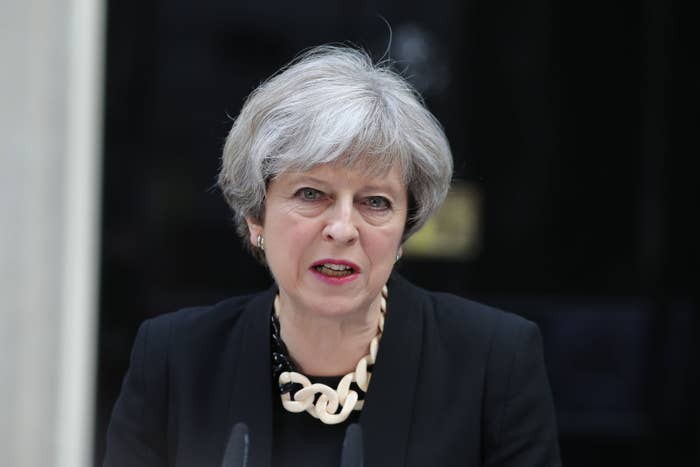 Theresa May's speech outside 10 Downing Street in the aftermath of the London Bridge terror attack may have broken an agreement between the main parties to suspended their national election campaigns, Labour's shadow foreign secretary has said.
Emily Thornberry told the BBC she "regretted" the fact the prime minister had outlined four long-term steps to tackle extremism, saying it went beyond what would have been expected in response to the third terror attack in the UK in three months.
This morning, after chairing an emergency COBRA meeting, May said "it is time to say, enough is enough," and that the whole country had to come together to confront Islamic extremism.
Seven people died and at least 48 others were injured when suspects drove a van into pedestrians on London Bridge and stabbed others around Borough Market on Saturday night before being shot and killed by police.

Excluding the perpetrators, 34 people have died in three separate terror attacks since March: in Westminster, Manchester, and now London Bridge.
"While the attacks are not connected, they are connected in one important sense: they are bound together by the single evil ideology that is Islamic extremism," May said. "Defeating this ideology is one of the great challenges of our time."

"We cannot and must not pretend things can continue as they are," the prime minister continued, saying more needed to be done to confront Islamic extremism in safe spaces online and the real world.
On Sunday morning Labour, the SNP and the Liberal Democrats joined the Conservatives in suspending national campaigning – meaning local canvassing could still continue – until later today, but said the general election would still go ahead as planned on 8 June.
Speaking to Radio 4's World This Weekend, Thornberry said she regretted the timing of May's speech.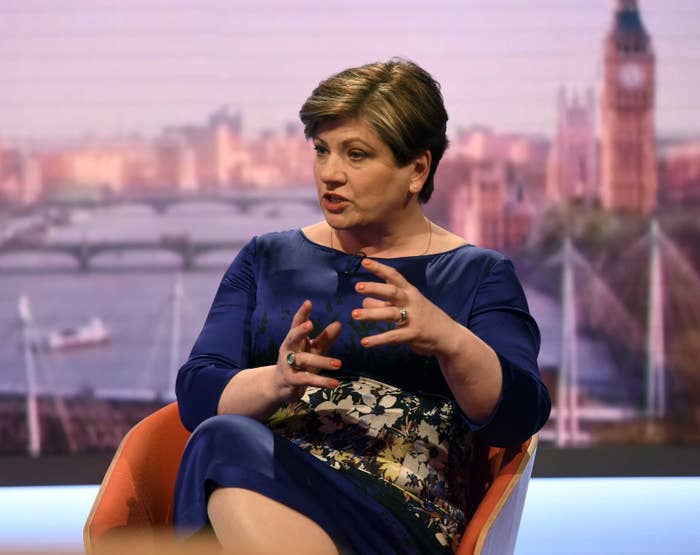 "None of the things which I understand she is proposing in a four-point plan are immediate steps, and so I regret the timing of this. Because there is an agreement between the parties that there would not be party political campaigning until this evening or tomorrow," she said.

"I think there is time enough to discuss these issues. I don't think that anything she is proposing is anything that needs to be or that will be dealt with tomorrow, I don't think there is anything which is an immediate step that she's is putting forward. And obviously if it was then, that would be different matter.
"But to come out on to the steps of 10 Downing Street immediately in the aftermath of a terrible outrage like this was not something that would be expected."
Thornberry added: "She has said 'enough is enough'. Of course enough is enough. Well I thought enough was enough after 9/11, I thought that enough was enough after 7/7, I didn't think that we should have taken any more of these attacks on our people, we all agree on that. So of course We need to do more but we also need to be sensitive to the fact that there are people who are only just discovering that their loved ones have died."
Former Labour minister David Lammy also said he believed May's comments amounted to a campaign speech.
In her speech, the prime minister had said the UK had to be "far more robust" in stamping out extremism. "That will require some difficult and often embarrassing conversations," she said. "But the whole of our country needs to come together and confront this extremism."
May, who did not announce a change to the UK terror threat level – currently at severe, indicating an attack is likely but not expected imminently – as was the case after the Manchester bombing, said the government would look at giving new powers to police and counterterrorism offices, including increased custodial sentences for terror offences.
"Is it time to say, enough is enough," she said. "As a mark of respect campaigns for the general election are being suspended today. But violence can never be allowed to disrupt the democratic process, so those campaigns will resume in full tomorrow, and the general election will go ahead as planned on Thursday.
"As a country, our response must be that it must always be when confronted with violence – we must come together, we must pull together, we must take on and defeat our enemies."