Amber Rudd's Tory Conference Speech Branded A "Hate Incident" Under Guidelines That She Backed
A University of Oxford academic complained after the home secretary's speech on British workers provoked a furious reaction last year, but police found no evidence of a hate crime being committed.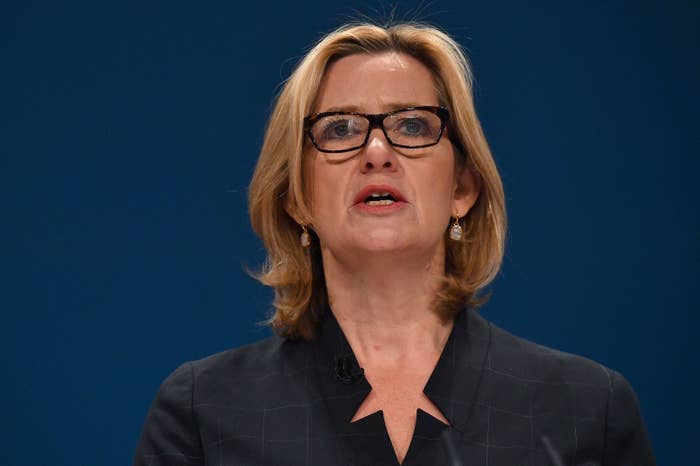 Amber Rudd's Tory conference speech has been recorded as a "hate incident" by police, despite no evidence of a hate crime being found, under policing guidelines that she backs.
Last year, the home secretary told delegates in Birmingham that companies could be forced to publish the number of foreign workers they employ, as part of a range of measures to help British workers.
The speech was heavily criticised and even compared to Mein Kampf, leading to a University of Oxford academic reporting it to police as a potential hate crime.
West Midlands police officially recorded Professor Joshua Silver's complaint as a "non-crime hate incident", The Times reported this morning.

However, a spokesperson told BuzzFeed News "no evidence of a hate crime being committed was found".
Despite this, Rudd's speech was still recorded as a "hate incident" in accordance with national guidelines that the home secretary backed last year.
The College of Policing guidelines state: "Where any person, including police personnel, reports a hate incident which would not be the primary responsibility of another agency, it must be recorded regardless of whether or not they are the victim, and irrespective of whether there is any evidence to identify the hate element."

A Home Office spokesperson said: "This was not a hate crime. The home secretary has been crystal clear that hatred has absolutely no place in a Britain that works for everyone."

Silver told BBC2's Daily Politics he believed the speech was "picking on foreigners".
"What I have been looking at is to what extent statements made by senior politicians about foreigners can be interpreted as some sort of mechanism, if you like, to help foster the idea in the country against the EU," he said.

Silver said he did not watch Rudd's speech but had read the text of it, and based his complaint on the "response of the public [that] this was discriminatory".