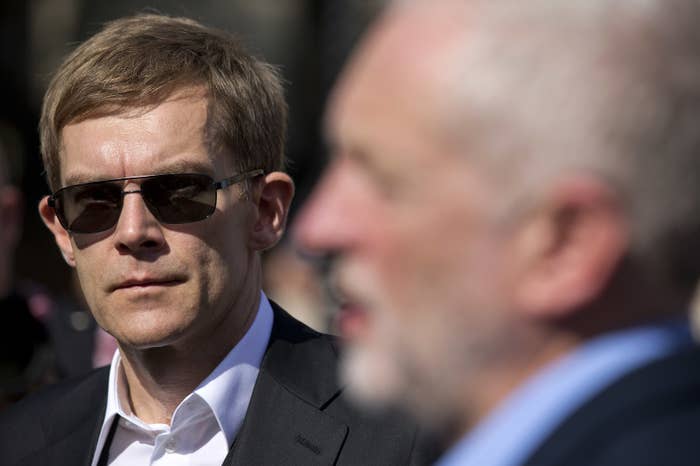 Jeremy Corbyn's chief of staff attempted to get a Labour activist thrown out of her hotel at the party's conference on Saturday, after she argued with Seumas Milne.
Nora Mulready, a Labour activist who describes herself as "pro Blair", was staying in the same hotel as Labour's head of communications.
She saw Milne in the lobby of the hotel and "took that opportunity to talk to him", Mulready told Buzzfeed News.
"I said that I thought he was helping to destroy the Labour party, and we had a bit of a discussion. It was pretty robust but there was no shouting or anything, it was a discussion," she said.
"It ended and I thought no more about it then two minutes later Karie Murphy, Corbyn's chief of staff, came over and tried to take a picture of my pass so she could identify me and wanted me thrown out of the hotel because I'd tried to intimidate a member of staff...The idea that Seumas Milne was intimidated by me is ludicrous".
A spokesperson for the Labour leadership team confirmed that the incident had happened, but insisted that Mulready had been abusive towards Milne, and stood by Murphy's actions.
He also said that a complaint about her behaviour had been sent to Iain McNicol, the general secretary of the Labour party.
"She [Mulready] was very angry, very agitated, and was having a massive go at him," the spokesperson said.
"What Karie said was 'abuse to members of staff is not acceptable and if you continue I'm going to ask you that you leave' – how she behaved towards Seumas was unacceptable".
The spokesperson added: "[Anti-Corbyn activists] are the first to complain about abuse but they need to get their house in order first."
Kevin Maguire, the associate editor of the Daily Mirror, witnessed the scene as he had been talking to Milne, and also told BuzzFeed News that Mulready had been "aggressive and rude".
This incident comes after it was revealed earlier this week that Labour staff and stewards had been sent a memo ahead of conference, explaining what to do if arguments over the five-day event got too heated.