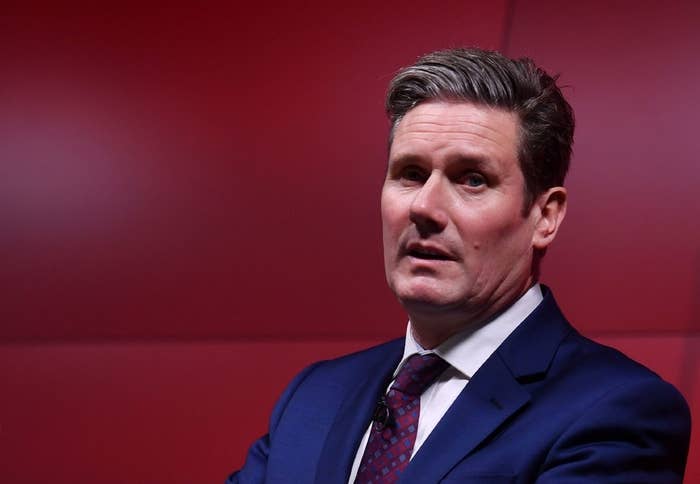 Labour's shadow Brexit secretary has urged his peers to back the Article 50 bill even if it is a "difficult" decision, as a heated debate over the issue rages on.
"We have before us a short bill and a relatively simple bill," Keir Starmer said on Tuesday. "But for the Labour party this is a very difficult bill."
Speaking in the House of Commons during the debate on the triggering of Article 50, which would kickstart the formal process of leaving the European Union, Starmer said that while he and most of his colleagues had campaigned for Remain, Labour had to accept the referendum result.
"We failed to persuade, we lost the referendum," he said. "Yes, the result was close; yes, there were lies and half-truths, none worse than the false promise of £350 million a week for the NHS; yes, technically the referendum is not legally binding.
"But the result was not technical; it was deeply political, and politically the notion that the referendum was merely a consultation exercise to inform parliament holds no water."
He added: "Although we are fiercely internationalist and fiercely pro-European, we are in the Labour party above all democrats. Had the outcome been Remain, we would have expected the result to have been honoured – and that cuts both ways."
Starmer's speech was in response to David Davis, who appeared before the house to open the debate on triggering Article 50.

The government was forced to draw up the legislation after losing an appeal at the Supreme Court, where judges ruled earlier this month that parliament must vote on whether or not to trigger Article 50.
Davis said the government's white paper on Brexit would be published "as soon as is reasonably possible".
He added: "The eyes of the nation are on this chamber as we consider this bill. ... We are considering a very simple question: Do we trust the people or not? For generations, my party has done so, now that question is before every member of this house: Trust the people."
Labour MP Margaret Beckett protested against the assumptions in Davis's speech, saying that although she planned to vote in favour of Article 50, she hoped "that the practice of dismissing any call, any queries, any concerns, however serious or well founded, as merely demonstrating opposition to the will of the British people ... will now cease".
Meanwhile, Ken Clarke, unlike many of his Conservative colleagues, used his Commons speech to reaffirm his belief that leaving the UK was a mistake and that he would be voting against Article 50.
He then caused uproar within his own benches by saying that the Conservative party had recently become "Eurosceptic and rather mildly anti-immigrant".

He added: "What I would point out to those who say that somehow I am being disloyal to my party by not voting in favour of this bill, I am merely propounding the official policy of the Conservative party for 50 years until 23 June 2016."
"I admire my colleagues who can suddenly become enthusiastic Brexiteers, having seen a light on the road to Damascus, [but] I am afraid that light has been denied me."

Clarke also argued that his position was tenable, as he would have expected similar behaviour from MPs who backed Leave had Remain won the referendum, saying: "I am somehow not convinced my Eurosceptic colleagues would have abandoned their cause if they lost the referendum."
In another passionate anti-Brexit speech, former Lib Dem leader Nick Clegg accused the government of pandering to "the eye-popping vitriol and bile we see every day from people like Mr [Paul] Dacre, the Daily Mail editor, and other members of the monied elite".
Clegg called for a second referendum as he believed that people did not know what they had voted for, adding that he thought "we should search our consciences about what kind of country we're handing to the next generation".
The shortest speech of the debate so far came from Tory Julian Lewis, who when called to speak said: "Thank you, Mr Speaker. In my opinion, the people have decided and I'm going to vote accordingly," then sat down again.
The two-day debate is expected to continue tomorrow with a vote on Wednesday evening.