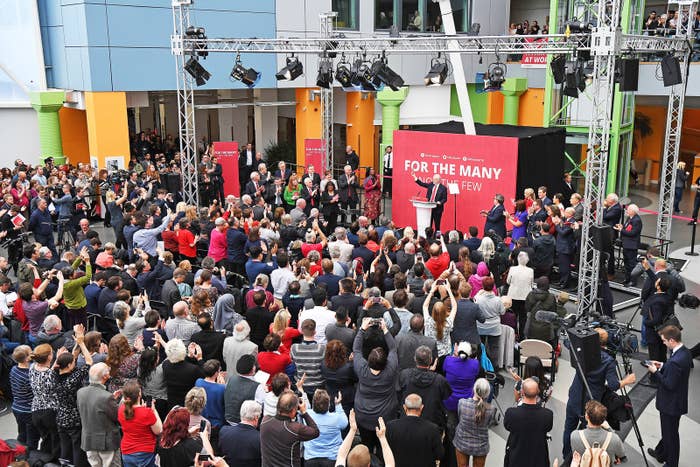 Jeremy Corbyn had to tell Labour supporters to stop booing journalists at the launch of the party's general election manifesto in Bradford on Tuesday.
After giving a speech introducing Labour's policies, Corbyn took questions from audience members and journalists.
When Channel 5 News political editor Andy Bell stood up to ask Corbyn if he thought that lower immigration would be a good thing for the country, the crowd began booing.
The Labour leader then intervened to tell his supporters: "No, please, let's have respect for everyone who wants to ask a question, including members of the media – by the way, I'm a member of the NUJ [National Union of Journalists]."
A question from the left-wing Morning Star newspaper drew cheers and clapping from the crowd when the reporter asked Corbyn: "Can anything be done about the shockingly biased media?"

While Corbyn agreed that some media outlets were "biased" against him, he added that "journalists, journalism, and a free press are intrinsic to a civil society", and said Labour "will ensure there is diversity of all our media outlets in this country so that everybody can take an informed opinion".
The audience started booing again as Daily Mirror political editor Jack Blanchard asked why Corbyn thought that his poll ratings were so low when his policies seemed popular with the public.
And according to a photograph circulating on Twitter, a Labour supporter stood behind BBC political editor Laura Kuennsberg with a sign saying "fake news" during the speech.