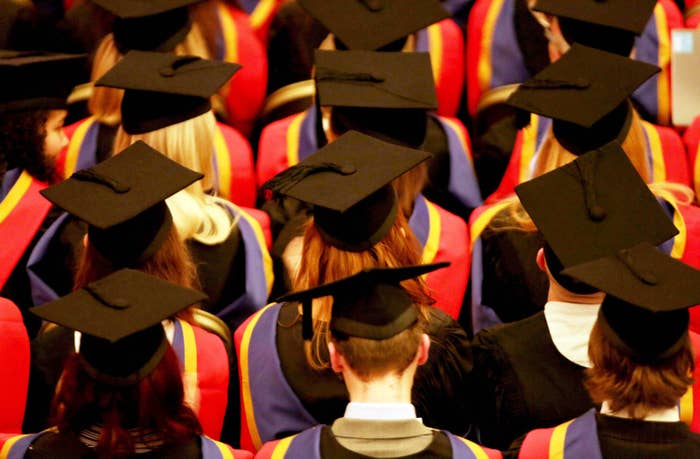 Senior higher education figures have told BuzzFeed News that proposals in the Conservative manifesto could risk damaging their sector.

Announcing her party's plans in Halifax on Thursday, Theresa May revealed policies aimed at drastically lowering immigration, which some have warned may trigger the closure of some universities.
Going against the wishes of some of her MPs, the prime minister said that a Conservative government would reduce net migration to the tens of thousands yearly, and keep international students in that cap.
In a statement released yesterday, the Russell Group, which represents the country's top universities, insisted that the policy might not be as productive as it seems.
"Recent polls revealed widespread support for maintaining international student numbers at current levels, or even increasing international recruitment," the spokesperson said.
"This suggests tighter restrictions on international student numbers would not address public concerns over immigration."
Sorana Vieru, the vice president of the National Union of Students, agreed and told BuzzFeed News that she was surprised to see May pushing ahead with the proposal.
"This goes entirely against the beliefs of some Tories – a lot of Tories did vote to remove international students from migration targets, so it's a very heavy-handed thing to put in the manifesto," she said.
Vieru is also worried that the Tories' plan to make it harder for migrants' spouses to join them in the UK will have a negative impact on higher education.
"There's a lot of research showing that any kind of disincentive for you to come here as well as your spouse can deter from applying," she explained, "and indeed we've seen Canada overtake the UK in the most attractive destinations for higher education this year."
Universities UK, the organisation representing the country's universities, issued a similar warning on Thursday, pointing out that "care must be taken to ensure that talk of toughening the visa requirements for students does not send out a negative message to genuine international students who may be considering the UK."
Another worry is the lack of detail in the policies: Though no one has announced a cap on the number of overseas students universities can enrol, it is hard to see how else the government could cut immigration so drastically.
"We have previously supported removing students from the net migration target," Russell Group head of policy Jessica Cole told BuzzFeed News.
"We've also had commitments from ministers in the past that there will be no cap on legitimate international students coming to the UK, so I think we really need to understand how some of the policy proposals in the manifesto, including the immigration target, could interact with this idea that there is no cap on legitimate international students."
Universities UK has also signalled that it would fight against any changes to the current situation, saying: "The UK government has been clear that there is no cap on the number of international students who can come to study at UK universities.
"This must remain the case if every region in Britain is to continue to benefit from the huge value they bring to local economies, British jobs, and the academic experience at our universities."
James Pitman, a spokesperson for campaigning group Destination for Education, said: "The universities sector is willing to work with the government to create a fair immigration system that cracks down on abuse. However, the lack of clarity from the government over when and how immigration will be reduced below 100,000 is concerning."
For Vieru, the policy means that universities will end up having to deal with tighter regulation around international students. "What is most likely to happen is that we'll see a differentiation in the rights of universities to recruit students," she said.
"What we could see is trying to rank universities according to quality and have limits on numbers they can recruit, which will have differential impact depending on what institution it is or where it is, because international students aren't distributed evenly across the sector.
"Some universities will be able to take on more than others, which could have a disastrous impact on entire courses, or entire institutions which could collapse."
For most, the elephant in the room was Brexit: While EU citizens currently benefit from a better status than non-EU immigrants, this may not last.
An area that could be a serious issue is the new Tory policy to charge companies £2,000 a year per non-EU immigrant they hire, doubling the current fee.
"Currently there is an exemption for PhD-level employees from the immigration skill charge, so for staff at that level hopefully that exemption will be maintained, though it doesn't say for sure in the manifesto," Cole said.
"We also don't know if the skills charge will apply to EU staff in the future, so there are a few questions to be answered."
Vieru agreed, adding that the sector could soon see those changes happen. "It's worrying because universities increasingly rely on both EU students and overseas students, and there's currently a lot about overseas students," she said, "but once we leave the EU, there isn't any good reason why you'd treat EU migrants separately, so they could put very strict controls in place.
"A lot of courses, especially some STEM PhD courses, tend to rely on students from the EU and there's also lots of staff coming from the EU, so it could have a huge impact on what courses are available, so it would impact the choices of home students as well, because there'd be less choice of what subject to study.
"This is quite concerning, and I'm not sure it's necessary, considering the fact that EU migrants and EU students do bring in a net benefit to the economy, and that's not just through fees, but also through the money they spend – overall, there's a gain. It feels entirely ideologically driven."