Here's What The Final 9 Opinion Polls Are Predicting For The General Election
While all the pollsters agree that a Tory majority is the likeliest outcome, ICM and BGM have Theresa May's party on 46%, while Survation has it on only 41% – but will they get it right this time?
Every opinion poll released on Wednesday and Thursday suggested the Conservative party is on course to win a majority in the general election, in what will be a make or break event for polling companies.
Of the nine pollsters that released their last set of data as the country started voting, ICM and BMG showed the biggest potential Tory majority – they both had the party on 46%.
Survation, meanwhile, was the least optimistic pollster for Theresa May, predicting her party would get 41.3% of the vote – which would still, however, be far more than the 36.9% David Cameron got in 2015.
The other six revealed figures between the two extremes: ComRes, Ipsos Mori, and Panelbase had the Tories on 44%, Opinium and Kantar on 43%, and YouGov on 42%.
Labour, meanwhile, is expected to do better than 2015's 30.4% and get between 33% (BMG) and 40.4% (Survation) of the vote.

ComRes and ICM both have Jeremy Corbyn's party on 34%, YouGov on 35%, Opinium, Ipsos Mori, and Panelbase on 36%, and Kantar on 38%.
The gap in predictions was smaller for the other parties, with the Lib Dems expected to get between 7% and 10% of the vote, and thus stay around the 7.9% share of the vote they got in 2015, and UKIP broadly expected to collapse, going from 12.6% in 2015 to between 2.4% and 5%.
The stakes are higher than usual for the pollsters, as they failed to predict the Conservative majority in 2015, and several of them did not see the Brexit vote coming in June 2016.
Here are all the major polls since the snap election was called: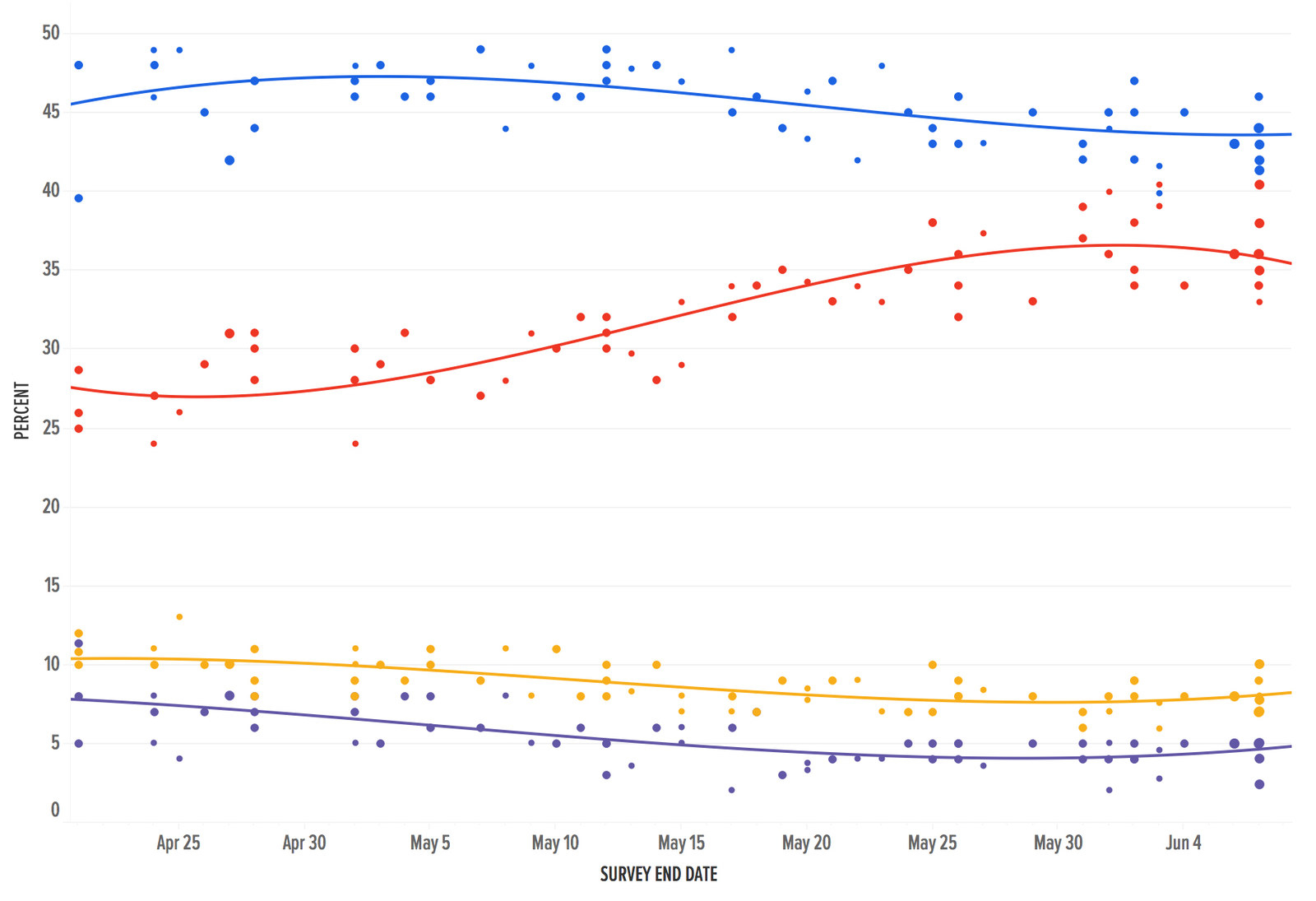 Polling in this election campaign was especially volatile – the gap between the Tories and Labour was around 25 points in mid-April when the prime minister announced the election, but this was reduced to under 10 points by the time the country went to the ballot box.
While some pollsters including Survation and YouGov forecasted scenarios earlier this month where the Tories could end up losing seats, there now appears to be a consensus that this election will be a relatively comfortable win for May, despite the surge in Labour numbers.
Some Labour activists are hoping that even if their party loses, Corbyn will manage to get a higher share of the vote than Ed Miliband did in 2015. Others worry, however, that the party's votes will be too concentrated in areas it already holds, which would mean losing seats overall.
The polls during the 2015 general election campaign: