Culture Secretary Urged To Explain Why She Blocked A BME Woman From Channel 4 Board
Fifty-six MPs have written to Karen Bradley to ask why she rejected the candidate, who was "of an extremely high calibre", but approved the appointment of four white men.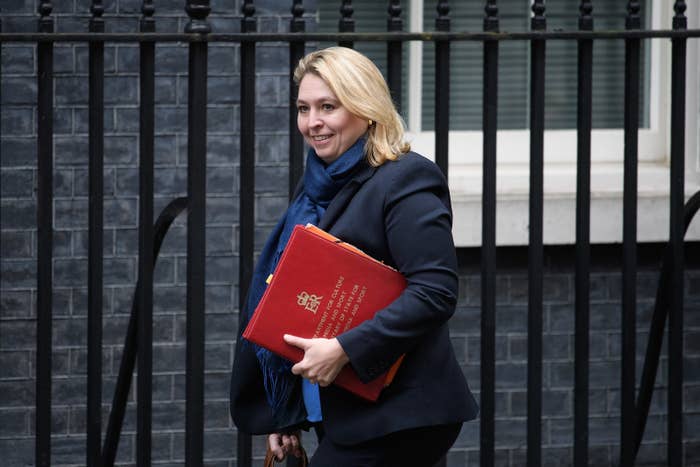 A group of 56 MPs have written to the culture secretary to demand an explanation of why she blocked the appointment of a woman from a BME background to the board of Channel 4.
The candidate, who hasn't been named, was one of a group of five people put forward by Ofcom whose nominations had to be rubber-stamped by the government. The other four, all white men, will be joining the board.
This means that only three out of the 13 board members of the public service broadcaster will be women, and all of them will be white.
Talking to BuzzFeed News, Labour MP Anna Turley, who signed the letter, said: "Ofcom proposed five very well-qualified people and the government could have approved them all.
"The rejection of the only BME woman on the list flies in the face of their commitments to supporting diversity and deprives the C4 board of talent and an alternative perspective."
The cross-party group of MPs is led by shadow minister for diverse communities Dawn Butler, chair of the all-party parliamentary group on race and community David Lammy, and Labour deputy leader Tom Watson, and aims to meet with Bradley so she can explain her reasoning.
An extract of the letter reads: "I am sure you will recognise that Channel 4's board does not reflect the demographics of their employees nor their audience and will hinder Channel 4's progress in its diversity programme.
"It is therefore a matter of urgency to find out the reasoning behind your decision to reject the candidate."
Lammy also asked Theresa May about the decision during PMQs on Wednesday, but the prime minister said she was "not aware of the particular case that he mentioned".
Alison McGovern, another signatory of the letter, told BuzzFeed News she hopes Bradley will not only explain her decision but also "think again".
"Diversity on boards is supposed to be a main feature of the government's programme," she said, "and surely, this matters now more than ever, when our country feels so divided."
Charles Gurassa, Channel 4's chairman, announced in April that the channel would be replacing four board members, and said at the time that he wanted the board to be more diverse.
BuzzFeed News has contacted Channel 4 for comment.