A 23-year-old San Francisco man has started selling shirts to encourage people to vote for Hillary Clinton in 2016. His tagline? "I'd Bottom For Hillary."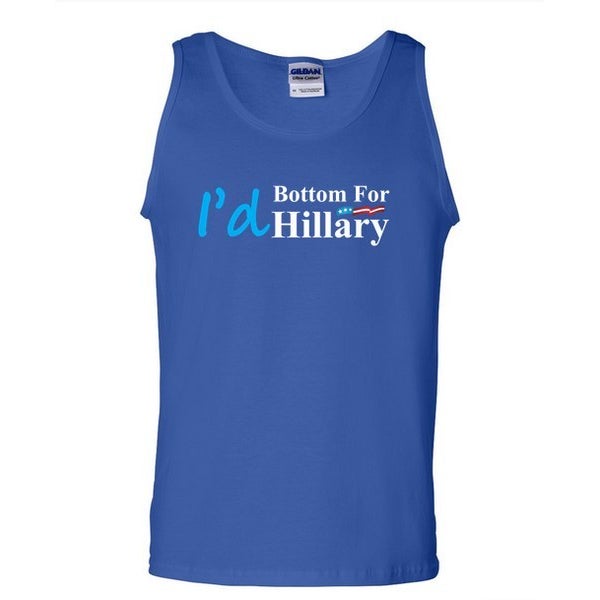 Ryan, who's requested that his last name be withheld, tells BuzzFeed that the shirts and Instagram account are "simply a light-hearted way to engage people in politics."
"Politics is a very serious conversation, but that doesn't mean you have to be serious in showing your support," Ryan says. "Finding new ways to catch voters' attention is going to be vital in the 2016 cycle, especially for millennials."
When asked about Hillary's fraught history with same-sex marriage, Ryan points out a similar evolution in other politicians' public policy:
"It is rare to find a politician that has been in favor of same-sex marriage since the start of his or her career. Even Barack Obama was publicly against it until 2012. The bottom line (no pun intended) is that Hillary supports it now. And as long as she's fighting for LGBT rights, I'll be happy!"
Clinton garnered attention yesterday for the inclusion of two same-sex couples in her presidential campaign launch video.
Ryan says that this speaks to the importance of LGBT rights in today's political landscape.
"After seeing how the country reacted to the religious freedom laws in Indiana, it's clear that LGBT rights are a serious topic in today's political landscape."
"Hillary knows that LGBT issues will be a huge asset during her campaign, because support of same-sex marriage and non-discrimination laws is a fundamental human rights stance to many young voters. The more that LGBT issues are a part of the conversation, the better Hillary will do with her millennial audience."
To those questioning whether #BottomForHillary needlessly sexualizes the candidate and/or the gay community, Ryan says to lighten up:
"We have 18 months of campaigning ahead of us and it's important to keep smiling. This isn't meant to be disrespectful to Hillary. It's a way to celebrate her!"